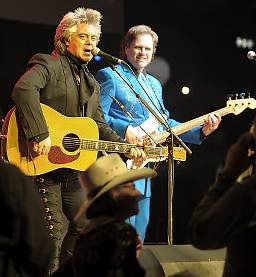 On Friday in Zurich Schutzenhaus Albisgutli, the International Country Music Festival began. Albi Matter and George Tannler have the 25th anniversary occasion organized. It is now the longest such event in the workd and lasts for seven weeks.
Under the hall ceiling, two huge southern plumes and U.S. flags wave. On the screen beside the stage flickers pictures of a Harley-Davison meeting. At the Chevrolet booth, emblazoned in the corner is a yellow-black Camero. At the entrance to the balcony, Stetsons, Native American jewelry, pointed cowboy boots and leather jackets with fringes, trapper kives, Zippo lighters and big belt buckles with eagles, bears, Indians, riles or even motorcycles are sold.
The guests at the crowded tables are cheerful, their teenage years have long gone. Many bear cowboy leather boots, jeans with embroidery, pearls, decorated shirts. It's the country music festival in Zurich at the foot of Uetilberg and runs until March 22 at the Albisguti Saloon.
The act has long put their instruments away. The hall is waiting for Marty Stuart and Connie Smith, two stars from the U.S. who have been married 11 years and have one of their joint appearances here. But on this opening night is the first stage the music agent Albi Matter and the Albisgutli host George Tannler, a moderator chats with them and speaks of the witty pair, which celebrates their 25th anniversary.
Finally, it is time for the appearance of the stars of the evening. With teased silver mane and a black suit, country-rocker Marty Stuart comes on the stage. His musicians wore turquoise glitter suits and seventies hairstyles, which were embarrasing when they were still considered modern. But you can play this picturesque hillbilly. "Shall we play some country music?" asks Marty Stuart at the jubilation of the audience. The acoustic guitar, the steel guitar whimpers that the soul is crying and Marty sings heart-rendering "It's lonely at sundown in Nashville."
A celebration until well after midnight
They play cleverly arranged follow rockabilly, hillbilly and boogie-woogie numbers. And evern surf rock, the former son-in-law of Johnny Cash and his accompanying musicians are on it. Even Connie Smith who was a huge star four decades ago and her two guitarists play and sing great. All together they form a country band, as they are here only very rarely gets to hear. After a series of encores, midnight is long past. The festival but continues.
By Neue Zurcher Zeitung