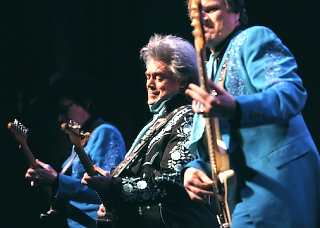 'The most outlaw, outsider, renegade thing you can do in Nashville these days is play real country music."
Thus spoke John Marty Stuart - better known as Marty - from center stage at the Tower Theatre in Bend on February 17. He and his band, the Fabulous Superlatives, were about two-thirds through their first set of the night, having already spent a half-hour drenching an enraptured audience in enough authentic twang to fill an Appalachian holler.
If playing real country music makes one an outlaw in Nashville, then Marty Stuart is Jesse James, swaggering down Music Row and challenging clueless label suits to a duel.
Know this: There aren't many folks who can draw quicker and fire country music faster than Stuart and his band.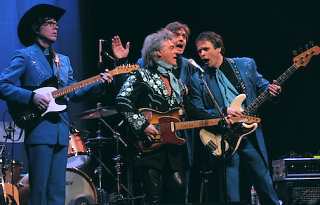 Honestly, my jaw was on the floor throughout most of the night. From the minute the quartet walked on stage - Stuart in a black suit (embroidered with flowers) and a turquoise scarf, his band mates in glittery, head-to-toe turquoise suits and all-white boots - this was a show so tight, so smooth, so perfect, it was like watching a video of a band that had been rehearsed and re-shot and edited until all mistakes were eliminated. Except this was live, right in front of my eyes.
Not a note out of place. Not a hair out of place. Devastatingly gorgeous harmonies swooping through the air. White-hot guitar playing as far as the eye could see. Big smiles, charming winks, witty banter. And a selection of wonderful songs, perfectly paced.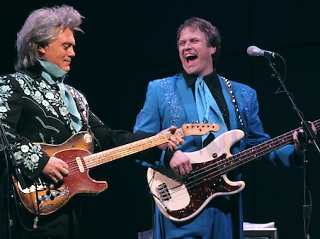 Stuart and the Superlatives organized the evening into nice, neat chunks. They started with a bunch of classically twangy, highly accessible songs cut from the cloth of the Bakersfield Sound made popular by Buck Owens and Merle Haggard. There was Waylon Jennings' hit song "Stop the World (and Let Me Off)," Stuart's hit duet with Travis Tritt called "The Whiskey Ain't Workin'," and three punchy numbers from Stuart's 2010 album, Ghost Train: The Studio B Sessions, including "Branded," "Country Boy Rock & Roll" and the instrumental "Hummingbyrd," which earned the man his fifth Grammy® a couple weeks ago.
After a quick detour through the catchy power pop of "Tempted" - in which Stuart, bassist Paul Martin and drummer Harry Stinson ably approximated Roy Orbison melodies and Beach Boys harmonies - Stuart downshifted, taking on a few serious subjects.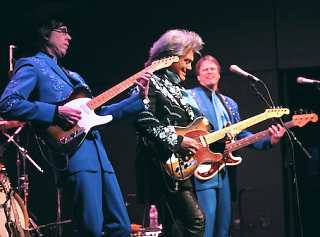 He paid tribute to the ground beneath him with a solo version of Johnny Cash's "Lumberjack," which references Oregon timber and Eugene. He moved straight into "Hard Working Man," a blue-collar anthem that no doubt resonated with the heavily cowboy-hatted and big-belt-buckled crowd. And he honored his friends on the Pine Ridge Indian Reservation in South Dakota with a harrowing version of "Wounded Knee."
By the halfway point of the show, Stuart and the Superlatives had already showcased their well-stocked toolbox, deploying more than enough flashy instrumental skill, heart-tugging tunes and country-boy charm to reel in everyone in the room. (Kenny Vaughan's eye-popping guitar leads were especially mesmerizing.) By comparison, the second set - littered with some of the American songbook's greatest works - seemed just for fun.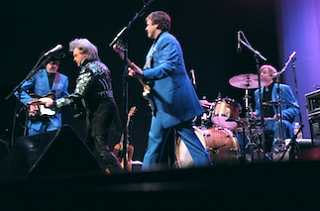 They kicked off with the theme song from the old TV Western "Have Gun Will Travel," nailed a dramatic reading of the old country saga "Long Black Veil," and let Martin take the lead on a breakneck "Bluegrass Express."
Somewhere in there, Stuart showed off his considerable mandolin skills with a dazzling, lightning-fast instrumental jam. He also paid respect to Johnny Cash - his long-time friend, former boss and next-door neighbor - with a touching story about their properties in Tennessee and a song called "Dark Bird" that drew a collective gasp from the crowd. It was a terrific moment.
The band closed the show with two or three gospel numbers, gathered around one microphone and heavy on the harmonies, before taking requests for the encore and playing perhaps Stuart's best-known song, "Hillbilly Rock." Finally, the well-behaved Tower crowd burst from their plush seats as if they'd been dying to do so for 90 minutes, turning the theater into a full-blown hoedown in Bend's hip, urban downtown.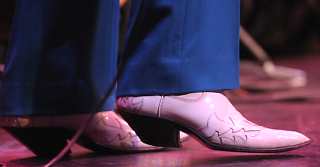 I said this on my music blog, Frequency, but I'll say it again: Country music has it fans, but it'll never be hip. And it's unlikely Marty Stuart will ever be hip, either. He's flashy and flamboyant, a living, breathing nod to country tradition who rebuffs the genre's current glitzy, pop-oriented climate without even trying.
But those who know, know. And those who know were there. I wish there had been more of them - I'd guess the Tower was about three-quarters full - but those who braved a cold February night in Bend to see Stuart and the Superlatives saw the first great local show of 2011.
By Ben Salmon; Photographs by Ryan Brennecke