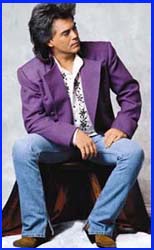 Marty Stuart's first new album in three years is not only a labor of love, it's an epic journey. "The Pilgrim is based on a true story I heard when I was growing up in Mississippi," says Marty. "It hit me that this story was more than a song. It had the force of an opera."
The album's songs spin a tale of a tragic love triangle about a woman who hides her marriage from her new love interest. After her husband kills himself in a jealous rage, she flees to escape the scandal, leaving the other man to be crucified by small-town gossip. This man becomes The Pilgrim -- wandering aimlessly around the country.
When Marty related the story to a friend in California in 1996, he realized the story would make a compelling record. "The more I talked, the more I thought, 'Boy! This is really a good story.' " he tells Country Weekly. "I went back to the hotel that night and couldn't sleep just thinking about it. Then an earthquake hit." Marty took it as a divine sign. "I went, 'This is really good. I understand you, God!' "
From then on, the creative ideas came fast and furious. "I'd be driving in Nashville and I'd get an idea," he says. "In the Bahamas, Hawaii, Tupelo, Mississippi. There was no rhyme or reason to it. It was like I'd get up to check my mailbox every day and see what God had to send me."
One of the first places God sent Marty was Memphis. "It's one of those mystical towns that's bigger than life," says Marty. "It has soul and offers a musical freedom that can't be found anywhere else. I followed my heart to Sun Records."
Marty believed if he booked it, the songs would come. So he scheduled two days of recording time at Sun -- without having written his first song. "I felt if I went there and waited, a song would come along. And it did on the second day."
That was the day his idol Bill Monroe died. "I got a call from Bill Monroe's manager that Mr. Monroe had passed away," Marty says. Devastated, Marty walked the back streets of Memphis. "I loved that old man -- he'd been a part of my life since I was 12. I was alone, but I couldn't cry. Not one tear would come. I tried dancing, singing his songs, praying, cussing. Finally, out of nowhere I said:
I am a lonesome Pilgrim, far from home
What a journey I have known
I might be tired and weary, but I am strong
Pilgrims walk, but not alone
Marty's stirring lyric launched the album's title track. The Pilgrim's first single, "Red, Red Wine and Cheatin' Songs," has Marty back on the charts. But the song's video release has been delayed until listeners get a chance to hear the entire album.
Does Marty relate to The Pilgrim? "Totally," he says. "When I said, 'I'm a lonesome pilgrim, tired and weary,' that's how I felt because my heart was hurting when I heard that Mr. Monroe had died. It was a growing up point for me.
"We had lost so many people that year," he continues. "It was like everybody I've known, everything I've loved concerning country music, everything about my life had disappeared. It made me so sad. I thought that everything I'd accomplished meant nothing. That's how lonesome I felt."
Parts of the story are based on Marty's life experience. "After the husband's suicide, The Pilgrim's downslide began in a bar. He's sitting there, sloshed. When you're that loaded, everything kind of looks blurred," explains Marty. "Boy! Have I done a lot of research in that area!"
Marty also did his research in tapping the best talent for the project. Along with his band, the Rock 'n' Roll Cowboys, Marty enlisted Johnny Cash, Emmylou Harris, George Jones, Pam Tillis, Earl Scruggs, Uncle Josh Graves and Ralph Stanley & the Clinch Mountain Boys.
From a 25-second instrumental intro to the six-minute title song, the album features 20 cuts. "Hobo's Prayer" is one of Marty's favorites. "I've never hopped a train, but it was my dream as a kid to be a hobo," he says. "One day back then, I met a hobo and he told tall tales and stories about another hobo who was really cool. Later on, the more I traveled, the more I had respect for that lifestyle.
"But it goes beyond that distant memory when I was a child. These days my heart goes out to the people who are running from heartbreak or whatever to ride the rails. It's a very dangerous world out there."
In "The Observations of a Crow," the MCA Records artist tells part of the story from the perspective of a bird. "I love crows," he says. They're pests, but so are we. I was thinking about a crow sitting up in a tree. He kind of watches everybody and he has a different take on what he sees. In the song, we discover the reason the crow's there in the first place is that his heart was broken too."
One of the most poignant moments comes in "Redemption," when The Pilgrim visits his mother's grave. The lyrics come from Marty's life.
In a little country graveyard, in the middle of the night
I'm kneeling by the memory of the one who gave me life
She always knew me better than I'll ever know myself
I keep hearing her and Jesus say, 'Surrender son and rest'
"There's something about getting back home, especially to Mama," he says. "At my worst point, when the entire world seemed against me, the one thing I could count on is my mama's arms. That, and a piece of fried chicken and a door that was open. I can't imagine the heartbreak to lose that and have it disappear. From time to time you have to still have a little talk with Mama."
There are others close to Marty's life and music. The song "The Pilgrim" is dedicated to Bill Monroe. And a poignant note praises his wife, Connie Smith: "This album is dedicated to Connie, the love of my life and the greatest country singer I've ever known."
Marty hopes his unique music will be well received. "Concept records are usually a huge success or nobody gets them at all," says Marty. "But this one -- in my own way -- turned into a love letter to country music. It became a big 25-year retrospective of running the roads and playing music with the people I've always loved.
"As we near the millennium, it's a time to write what's in my heart. Time to write about how much I've loved country music and the people who have been part of it. I had such a fire in my gut, such a dream and a vision -- that's all that mattered. I used that as a launching pad for the project.
By Gerry Wood