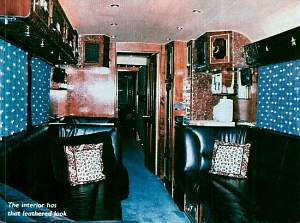 Nothing about Marty Stuart's 45-foot black and chrome tour bus is ordinary, From its horseshoe door pulls to its leather-covered cabinets, black leather walls and a table embroidered with colorful skulls, angels and crosses.
OK, OK -- so it's a 45-foot 1998 Prevost LeMirage XL, $500,000 of black steel and chrome. It has a shower, phones, a fax, stereo, big-screen TV and a steering wheel. But that's as regular as it gets.
"It's a high-tech, tragically hip, rock 'n' roll cowboy, hillbilly bunkhouse on wheels," says Marty. "It's really just an updated version of the old Ernest Tubb bus, which his driver Hoor Borden designed."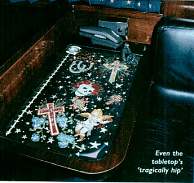 This bus also showcases artists whose work Marty admires, like the woman who designed that tabletop. "Rose Clements did a lot of the embroidery on Nudie's cowboy suits," Marty explains, "and I thought it might be interesting to have her do furniture."
A lot of the furniture is the creation of saddle maker Terry Lankford. "Like Rose, Terry is a world-class artist and I thought he needed a bigger canvas than a saddle," Marty says. "The horseshoe idea came from Tubb's bus. I got a kick out of it."
This is his first new bus, says Marty. "The last one was the one Gloria Estefan crashed in and the one before was Tubb's. My life has been a series of buses."
Maybe that's because he loves the road.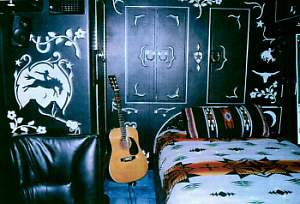 "Most of my life has been spent on the road. I love having my band with me -- I'm a band member at heart." He categorizes his bandmates by their TV network of preference. "Between the TNN and E!-channel mentalities, I love watching the games they play."
He loves the road, but not all the time.
"The road ain't nothing but a lonesome piece of ground," he says. "I hate sundown when I'm away from home. I keep pictures around that remind me of the people I love."
He thinks of his bedroom as a big black hole. Black cabinets with cowboy designs, black leather sofa, black leather walls. "Perfect for bouncing off of," Marty cracks. The pillow was made from a '40s Chimayo blanket; the bedspread came from a discount store.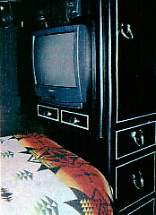 Nobody cooks. "The TNN boys keep chili, soups, potted meat and milk for cereal and protein shakes," says Marty. "The E!-channel boys keep salads, homemade salsa, cappuccino beans and the occasional tofu Yoo-hoo."
As the bus sails across the landscape, Marty's been scoring Daddy and Them, a film directed by Billy Bob Thornton. For Marty, switching mental gears on the road is a snap.
"A bus is like a submarine or a space shuttle," he says. "It's a bubble that masks reality."
Written by Catharine S. Rambeau
Photos by Adele Starr