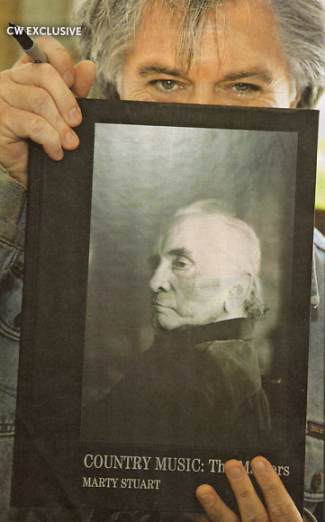 "The very first picture that I ever remember taking in my life was when Connie [Smith] came to our hometown," recalls Philadelphia, Mississippi native Marty Stuart of a concert he attended in his preteens. "On the way out of the stadium, I asked Mama if I could borrow her camera. And me and my sister got our picture made with Connie. That's when I went back to Connie's car and took a picture of her and handed the camera back to Mama."
That encounter with Connie was not only Marty's first meeting with the woman who would become his wife 27 years later, it began another sort of love affair as well -- between Marty and photography. A result of that nearly lifelong passion is Country Music: The Masters, a stunningly beautiful photo book featuring shots by Marty (and some of his favorite photographers as well), that chronicles what Marty lovingly calls his "country music family .... a beautiful vanishing race."
Throughout his incredible career, going back to the time he joined Lester Flatt's band as a mandolin prodigy at age 13, Marty has had a front-row seat observing country music history and the icons who've made it.
"I lived at Lester's house because my folks were still in Mississippi," recalls Marty of his early days in Nashville. "And his buddies became my buddies. It was those old-timers, like Bill Monroe and Stringbean and Ernest Tubb and Roy Acuff, all those kind of folks.
"And the thing that always struck me about it is that, whether they were sittin' in their dressin' rooms in their costumes or if they were just sittin' at a cafe or in a fishin' boat, it looked like history to me. It looked like old presidents hangin' out together.
"The thing is, there is a story with each photograph, and so many of those were like transforming moments of life, just heaven-sent moments from life. Blessing is the word that occurs to me."
While the stories represented by the photos don't actually appear in the book, Marty takes a few moments to share a few that run the gamut from touching to uproaringly funny. A tale about a wild 48 hours with Jerry Lee Lewis falls into the latter category.
"I was in my early twenties, playin' in Johnny Cash's band," declares Marty. "We were on tour with Jerry Lee in Paris and he didn't have nobody to rock with. And I thought, 'Well, I'm fixin' to earn my stripes.' After two days of stayin' up with Jerry Lee, I finally had to surrender. And I went to bed.
"So just as I was finally about to go to sleep, there was a big knock on my door, and he was covered in chocolate cake, from the top of his head down to his waist .... with his shirt off .... and he said, 'Can I borrow your fiddle?' " Marty laughs out loud. "And I loaned him my fiddle and I've never seen it since."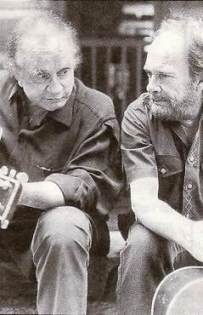 But a shot of Johnny Cash and Merle Haggard near the end of the book definitely falls on the other end of the emotional spectrum. Near the end of Johnny's life, he heard Merle was in town and asked Marty to bring Hag out to Johnny's house the next morning.
"I took Hag out to John's house," recalls Marty. "It was just the three of us and we'd had about two bites of breakfast when John said, 'Hag, the reason I wanted to talk to you is that the last time you came to see me in the hospital, I was in a coma. But I knew you were there. I just wanted to tell you I felt it when your tears fell down off your face and hit my face. And I heard you tell me you loved me. And I wanted to look you in the eye and tell you I love you, too.' "
Marty pauses. "That's what the whole meeting was about.
"John really didn't want his picture made much at that time. But I said, 'J.R., we need to make a picture of this. It's important.' He said, 'I know.' So he and Merle sat there, two old buddies, on the porch of a cabin in the middle of the woods. My job was to get it in focus.
"And that's country music."
By David Scarlett