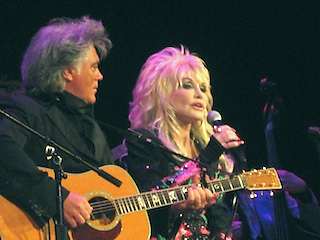 Nashville is such a paradox of country music - the new, the old, the retro, the 'this-is-pushing-it, I'm not sure if it's still country'.
Never was that more apparent than last night when I watched consecutive shows - The CMT Music Awards at the Bridgestone Arena and Marty Stuart's Late Night Jam right across the street at the legendary Ryman Auditorium.
It was a case of where country is (and wants to be), and where it's always been.
Traditional Country will always have a special place in my heart, and Stuart is trying to preserve that type of music.
Stuart, his band "The Fabulous Superlatives", and their guests all played for charity (MusiCares) and Dolly Parton's Imagination Library (a literacy program).
Stuart and his band were great, but Parton stole the show. I always knew she was a big star, and admired her. But there's nothing like seeing her in person.
She played about five songs, from her best-known song, "I Will Always Love You" - which was No. 1 thirty-seven years ago, this week. To "The Coat of Many Colors", a song about growing her youth in the mountains of East Tennessee.
She closed the set with an energetic "9-to-5", and brought down the house at the historic Ryman.
Legendary Cajun Musician Doug Kershaw and Bluegrass phenom Ricky Skaggs was excellent too, and "Diggy Liggy Lo" has been running through my head all morning.
Unfortunately, we left Stuart's Jam around 12:15, because we'd woken up at 5 a.m. for the flight to Nashville.
Note to self: Arrive on Tuesday (or later, Wednesday) so I can catch and appreciate the whole show.
Both shows were great and unique in their own way, but I think I'm going to have to tip my hat to Mr. Stuart and his late night Jam. An awesome time and a great cause - along with some of the most talented people in country music.
By Mike Sudhalter