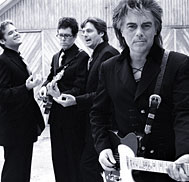 A true country music historian, Marty Stuart is temporarily putting aside his hillbilly rock for what he calls "Delta gospel." Stuart will release Soul's Chapel in August, with inspirational music that recalls his favorite radio stations as a kid in Philadelphia, Miss. Here, he answers fans' questions about his wedding on an Indian reservation, the qualities he's seeking in a neighbor and how Johnny Cash ruined his mandolin -- in a good way.
1. You are known for your all-inclusive country music memorabilia collection. What was your very first piece of country music history that started your collection?
Let me think. Probably handwritten lyrics from Lester Flatt. And I couldn't tell you the song. He gave them to me. I asked him for them, and he gave them to me. And I was like, "Oh, this is easy. ... So this is how you collect?" (laughs)
2. Do you plan to eventually open a shop or museum showcasing all of your country music memorabilia?
I don't want a shop. At the Center for Southern Culture Studies at the University of Mississippi in Oxford, they're working on renovating a building right now that will house the collection of the future.
3. What can we individual fans do to preserve the culture and history of country music?
Support it. Keep it alive -- the past, present and future of country music. Country music's culture is an ongoing sort of evolution. It's not just about the past. It's certainly about the present. So just supporting the culture of country music, I think, by way of buying records, buying tickets and supporting the artist morally, emotionally. It all contributes to the well-being of the world of country music.
4. You've become a "guardian" of the more traditional aspects of country music. If you could format your own country radio station which artists of the past would you feature to be sure that your listeners appreciated the roots of country music?
I don't consider myself a guardian. It's just something that I love and believe in. I'm as interested in the future as I am in the past. I just think there's a place for the history of it all inside the future. It's a bit of a guide to get us there. But as far as radio station? First of all, I wouldn't have a radio station. (laughs) Second of all, if I did, I think any traditional artist would be welcome ... anybody authentic.
5. I have enjoyed your music and also your duets with several of country's favorite musicians. What inspired you to do gospel songs for your new album? Will you continue to do more spiritual music?
I started out in gospel music. A lot of people don't know that I started out in gospel music, and I've never lost sight of it. Always written it, played it, sang it with friends of mine. The album that they speak of is called Souls' Chapel, and Souls' Chapel is a record truly that would just begin in dressing rooms and the back of the bus, just songs when we put the Fabulous Superlatives band together. Harry [Stinson] and Kenny [Vaughan] and Brian [Glenn] and I just sat around and worked on these songs to learn how to sing and play together. They were universal songs, old gospel songs. We found our way to sing harmony together and found a groove of the band inside of gospel music. We admired a lot of old and new gospel acts. So the next thing we knew, we had about 15 songs and somebody said, "Let's make a gospel record." And I'm like, "Good timing." (laughs)
6. Is the upcoming album, Badlands, actual Native American music, or is it songs about the Native American lifestyle? Either way, I like both topics.
It's songs about the Native American lifestyle -- once again -- past, present and future. But it's set to Superlative music, the Superlative sound and music. That is an October release, late October.
7. I know you and you wife, Connie Smith, were married at an Indian Reservation. Tell us about the reason for that and about the ceremony.
It was a spiritual matter more than anything. We felt led to do it there. The other thing was we wanted total privacy and to be with our own thoughts. Our families gave us their blessing, and we felt good about going up there just to be with each other and not to be in an artificial church or artificial surroundings. We wanted to be total reality and being married on a dirt road next to a buffalo pasture under God's sky is about as real as it gets.
8. I've always seen a little bit of gospel in you. Do you think being with Connie has brought it out in you more?
It certainly didn't hurt. (laughs)
9. How do you feel about the term "Americana music"? I would like to know your honest opinion about "mainstream country" vs. "Americana music."
I don't pay any attention to those labels. I truly don't. I understand it for what it is. It's Campbell's Soup needs a label on their can so they call it soup. It's basically more to do with charts and brands than it is music. To me, all music that is made under the umbrella of the United States of America is Americana music.
10. I know a lot of folks 'feel' the spirits or vibes of previous entertainers in the Ryman, where gospel music was the first genre sung on that stage. When you have played music in the Ryman, have you experienced any ghostly activities there?
I certainly feel the presence of the spirit. I think it's the Holy Spirit more than anything else. First and foremost, the building is a church, and even thought there's been every kind of style of entertainment that has taken place under the roof at the Ryman, to me, it's still a church. I don't think God's ever taken his eye off the fact that it's a church, and I do feel the presence of the Holy Spirit on that stage from time to time.
11. Where can I get copies of your photography book?
It's recently gone out of print. You might try the Ernest Tubb Record Shop [in Nashville] or Tower Records, but I'm just about to finish the sixth new one. There are six new books coming out. If you can wait a minute, I'll get you six new ones.
12. How do you stay so young looking? I saw you in concert last year, and you look the same as you did when I saw you 15 years ago.
Sell people seats that are far away from the stage. (laughs)
13. I was at your late night jam during the CMA Music Festival. You told us a story about your mandolin and something that Johnny Cash did to it. You said it cost a lot, and they messed it up or something. Will you please tell that story again? I tried to tell my hubby about it but couldn't recall all the details.
Well, I'd saved my money to buy that mandolin when I got a job with Lester Flatt, and it was $650. For years, I was real proud of the fact that it never had a scratch on it. It looked like a brand new instrument for probably 12 or 13 years. When I got a job with Johnny Cash, he got on a kick of wanting me to teach him how to play the mandolin. And he was a horrible mandolin player. He'd take my mandolin on the stage and just play along with June Carter when she was singin'. One night I looked over there and he had his pocketknife out and scratched a huge cross on it and put his initials, "JRC," on it and then flipped the mandolin over and autographed it and signed, "Johnny Cash." My heart fell. After the show, I said, "What did you do that for?" and he said, "I didn't want you to forget the Lord." And I told him I could have remembered the Lord without him wrecking my mandolin. But it was all in good fun. And that started a trend after that. People just felt compelled to sign the mandolin. It has Stephen King, President Clinton, Bob Dylan, Billy Bob Thornton, Chuck Berry, Quincy Jones, Natalie Cole, ex-girlfriends, my momma and a lot of people I don't know on there. I'm about to run out of places for people to sign.
14. I would like to know when you first met Johnny Cash -- like the day you first met him. What was that like for you?
I met him at Cowboy Jack Clement's recording studio, and I went with a friend of mine named Danny Ferrington. He'd built him a guitar, and I kept up with the progress of the guitar. I told Ferrington I wanted to go with him when he delivered the guitar. ... I went to Jack Clement's recording studio and met Jack Clement and John the same day. When we shook hands, he just kinda kept holding my hand and he says, "I know you." I said, "I know, and I know you, too." And he said, "Where you been?" I said, "Gettin' ready." He said, "I thought so." And that was the beginning of the whole deal. That's all it took. I think it was about 1979. I think that's right.
15. When you performed with Johnny Cash, what is the biggest lesson you learned from him that helps you today?
To have a song for every occasion. He always had a song for any kind of culture or any event, whether it was cowboys, Indians, prisoners, Christians, atheists. You name it, he had a song for it. Being prepared with a song and a story about it was a great lesson.
16. What was it like working on The Class of '55 album with legends like Jerry Lee Lewis, Carl Perkins, Roy Orbison and Johnny Cash?
Mind blowing. Sun Studios was where so much of American music exploded from. Being a kid raised in Mississippi -- you know, 150 or 200 miles below that studio -- to walk through the doors, and the only person missing that day was Elvis. The rest of the people helped invent American music. It was there, and the studio came to life. Jerry Lee, Carl, Roy Orbison, Cash, Sam Phillips, Chips Moman. Just people that came and went from those sessions at that time. It was absolutely phenomenal.
That's something that I really wished that so many of my young contemporaries coming up to play music could have had the opportunity to do, like I did. To be at the feet of the masters and learn ... it's about preparation. It made me so much more ready for what I've been through in the last 20 years of my life, by watching how the old masters handle it. There's a lot to learn from people who were there before you. I wish that everybody had that opportunity.
17. What would you like to see be done with Johnny Cash's house? I wish you could buy it, so I'd know it will be excellent hands.
I bought the one next door. I don't need to spend any more money. I hope somebody gets it that respects the house for what it is -- not just because it was his, but because of the integrity of the architecture. Preserves the beauty of the land. It'd be great to be a neighbor to somebody that just simply gets it and understands what's gone on there. Not just because it was Johnny Cash and June Carter's but because it's just a beautiful home. Today, when people build houses in 15 minutes, this is a house that was made to stand the test of time. It's going to take some work to make it fresh and new again, but it's worth whatever effort was put into it. Connie and I bought Roy Orbison's house next door, and it was built by the same architect and builder, a man named Braxton Dickson. I know Braxton's work, and he builds things to last forever and ever. They're one of a kind homes. Whoever gets it, I hope they come prepared to do the work and just let the integrity live again.
18. A few years ago, a friend loaned me a tape of a documentary called Rhythm, Country and Blues. I thought it was fantastic and would recommend it highly to any music fan. What was it like working with the Staple Singers?
Family. They're my family. More than anybody in the music industry, the Staple Singers were like family to me. ... Everybody always talks about Lester Flatt and Johnny Cash, but Pops Staples did as much for my life and encouraged me in ways that nobody else did -- to be myself, to try to make a difference. He was one of the people that encouraged me to do the kind of records that I'm doing now. To Pops, it was never about the biggest rock 'n' roll numbers or the chart position or those kinds of things. He taught me that it was about the difference you make in people's lives. Concerning Souls' Chapel and Badlands, those kinds of projects ... what I know already is that they're the kind of projects that do make a difference in some people's lives, and they touch me making them. It was a gift from God to get to do these projects. I think those are the kind of projects that Pops Staples would encourage me to keep doing.
19. What inspired you to sing the song -- one of my favorites -- "Farmer Blues" with Merle Haggard? Also, why did you choose to sing with him instead of someone else?
Well, we were touring together at the time, and we needed a song to sing on the tour. The song was inspired from ... I'd seen a Steinbeck film called Of Mice and Men with John Malkovich and Gary Sinise. Also, I come from those kind of people. Both of my grandpas were dirt farmers, and the idea of the farm is a subject that a lot of people have worn out on a sounding board and the soapbox. But I didn't do it for that reason. It just simply came out as a great country song. The fact that Connie and I wrote it -- and me and Merle recorded it -- gave it a pretty good country pedigree. It rings true to me.
20. Is there any moment in your life that you would like to erase or redo?
You don't have enough time or gigabytes to figure it out! (laughs). Of course, of course. And the thing I'd say to that is that I can't live in the past. Thank God for forgiveness and redemption and mercy.