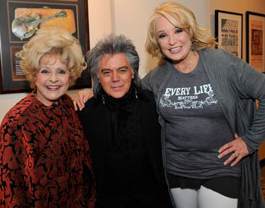 Inspired, no doubt, by Taylor Swift's ascent to superstardom while she was still a teenager, Nashville's Country Music Hall of Fame and Museum corralled former child stars Brenda Lee, Tanya Tucker and Marty Stuart February 20, 2010 to tell what it was like to become famous at an even younger age.
Dubbed "The Kid's Got Talent: Child Stardom in the Music Business," the panel discussion drew a standing-room-only crowd to the museum's Ford Theater.
Lee was just 12 years old when she signed to Decca Records in 1956. She charted her first single early the following year. Tanya Tucker had her first big hit -- "Delta Dawn" -- in 1972 when she was 13. Stuart was a month shy of his 13th birthday when he joined Lester Flatt's band in 1971.
Hall of Fame vice president of museum programs Jay Orr, who moderated the discussion, began by asking the three performers what drew them to music.
Lee recalled it was hearing her mother singing Hank Williams songs -- and the fact that her aunt kept entering her in talent contests. She also said she was inspired by the music she heard in church.
Stuart said his earliest musical memory was of being held in his mother's arms and listening to the bells ringing from the Presbyterian church in his hometown of Philadelphia, Mississippi. He said he was later moved by a high school marching band in a "backwoods circus" parade through town. Both experiences, he said, brought him to tears.
Stuart was additionally influenced, he noted, by the first two record albums he ever owned: one by Lester Flatt and Earl Scruggs & the Foggy Mountain Boys, the other by Johnny Cash. (After Lester Flatt died, Stuart would go on to play guitar in Cash's band.)
"I don't remember not singing," Tucker said. She admitted she pursued singing to make money. "We were poor," she explained.
Throughout the discussion, Tucker spoke lovingly of her father and longtime manager, the late Beau Tucker, who, she said, alternately praised and pressured her toward success.
The crowd, which appeared to be made up largely of museum visitors, regularly interrupted the panelists' stories and comments with applause.
Tucker said she was only 9 when her father first took her to Nashville in search of a recording contract.
"Nobody was ready to hear [a young girl sing], 'You Ain't Woman Enough to Take My Man,'" she said. "It wasn't believable."
"With you, it was," Stuart quipped.
Orr asked if they'd ever been shy or afflicted by stage fright. The answer was a uniform "no."
Lee remembered playing Las Vegas in venues where everyone smoked. "I smoked with 'em," said Tucker.
In those pre-bus days, Lee said she often slept in cars, lying on an inflated swimming pool float. Tucker said her father would fall asleep at the wheel on some of the long drives between dates, and she would lean against his shoulder and steer the vehicle.
"I haven't been to bed since 1972," Stuart interjected.
Tucker told of a show in a Wisconsin high school gymnasium when she was too hoarse to sing. "The place was packed," she said. Her father concluded that her contract didn't specify that she had to sing -- only that she had to appear.
"So I got out there and just talked to 'em," she said. The show was a rousing success.
At this point, Orr halted the discussion to show a 1957 video clip of Lee singing "Dynamite" -- the song that would become her trademark -- on the Rex Allen Show.
Lee married when she was 18 and soon after became pregnant. She said it took all the courage she had to reveal her condition to her manager (and surrogate father), Dub Albritten.
"I said, 'Dub, I'm pregnant.' He said, 'You can't be. You're booked.'"
In spite of the fact she had become internationally famous and was supporting her family with her earnings, Lee revealed she had a normal public high school experience. She said she was more concerned about school life than her career.
"I was a cheerleader and in the debating club," she said proudly. One of her schoolmates, she added, was future singer Rita Coolidge.
Stuart admitted he lost interest in school at age 12 after working with the Sullivan Family gospel group during a summer tour just before he joined Flatt's band. The attractions of the road, he said, were just too strong.
At one church the Sullivans played, the members handled poisonous snakes (to test their faith), and one of the gas stations where the band stopped to refuel had a pet monkey that chain-smoked. Compared to these lures, he asserted, school was just too tame.
He continued his schooling by correspondence after he went with Flatt, Stuart said, but found it an uphill battle. He told of studying a grammar lesson on the bus while Flatt and the other band members played poker. "I said, 'Can anybody tell me what a pronoun is?' And Lester said, 'I believe that's something that goes on a tractor.' I just threw my book up into the air and said, 'That's it.'"
Tucker's brushes with education were considerably less amusing. She said she moved around a lot and that even when she had her first hit with "Delta Dawn," the kids made fun of her. "I learned how to fight real early," she observed. "School was not a good place for me."
Orr then introduced a 1973 clip of a surprisingly mature-looking Tucker singing "Delta Dawn" on the Midnight Special TV series.
In one of Tucker's early visits to Nashville from the family's home in Arizona, she met Grand Ole Opry patriarch Roy Acuff. She said that when her father revealed his daughter's musical ambitions, Acuff took her hand and said, 'Honey, go back to Wilcox, Arizona, get married, raise some kids and bring them to see me."
Lee said her father died when she was 7 and that she felt "such gratitude" to be able to support the family with her musical earnings. Her main regret, she said, was that her mother went on the road with her and, thus, deprived the other children the comfort of having a mother at home.
Later, when Lee was writing her life story, she said she was happy to learn that none of her siblings held this against her.
"I wouldn't change a thing in the world," said Lee, looking back over her long career.
Stuart spoke of how important it was for him to grow up within a country music "family," where people always stood ready to support and encourage him.
"Taylor Swift needs time with you," Stuart continued, gesturing toward Lee and Tucker. "It's our turn now, like it or not, to hand it to the next generation."
The final video clip showed a smartly-dressed, cowboy-hatted Stuart playing mandolin with Lester Flatt & the Nashville Grass on Country Music Hit Parade. He even danced alongside Flatt as they romped through "The Ballad of Jed Clampett."
Stuart took time out to laud Don Light, who sat in the audience and who had been Flatt's manager. He recalled that Light was responsible for persuading Flatt to play a showcase in Cincinnati for talent buyers who booked shows at colleges and universities.
Flatt's bluegrass ensemble played for the buyers on a bill that also included Kool & the Gang and jazz keyboardist Chick Corea. Stuart said he was afraid that the band, which seemed so out of place with the more contemporary acts, would be hooted off the stage. Instead, it took nine encores, and Light was able to book 55 shows within the next two days.
All three panelists agreed they still feel young at heart. "You know what I attribute that to?" said Lee. "Music."
When Orr asked what advice they have for young artists, Stuart quickly responded, "Follow your heart. What we don't need in this town is more of the same."
Stuart advised parents of aspiring artists to "let them be what they are. ... Unconditional love goes a long way."
"Make sure it's your dream, not somebody else's," Lee counseled.
Said the ever practical Tucker, "Don't get a new bus. Keep your money."
Orr was going to open the discussion to questions from the audience, but Tucker told him she needed to use the bathroom.
Before making her exit, though, Tucker had one more matter to get out of the way. Turning to Stuart, she said, "We started out the same year. Why didn't we ever get together [romantically]?"
"What a divorce we could have had," he marveled.
By Edward Morris