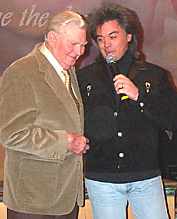 On a chilly winter night, scores of people from the Nashville music industry found warmth inside the BMI offices on Music Row. The warmth came not from the shelter of the building, but from their shared adoration of an American television icon -- Andy Griffith. It's hard to be starstruck when you work around stars every day, but most of us stood wide-eyed and tongue-tied in Griffith's presence. Even the eloquent Marty Stuart stumbled for words as he talked about the grand old man of American television.
The reception honored the 76-year-old actor for his support of country music and the Nashville music community, but it was abundantly clear that the event really honored Griffith for his work as a sheriff (on The Andy Griffith Show) and attorney (on the Matlock series). With Marty Stuart serving as master of ceremonies during the reception, Griffith received special plaques from several dignitaries, including Nashville Mayor Bill Purcell and Davidson County Sheriff Daron Hall.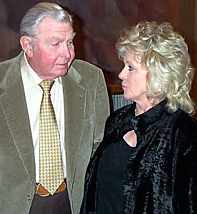 The January 15 reception coincided with Griffith's visit to a Nashville recording studio where sessions took place for his upcoming Christmas album. At Stuart's request, Griffith shared a holiday story that will be included as a recitation on the album. Stuart, as it turns out, is producing Griffith's album of gospel music for Sparrow Records and wanted to share his good fortune with his friends. "I'd call and say we were having a party for Andy Griffith," Stuart said, "and they'd say, 'I'll be there.'" The man who made sheriff Andy Taylor seem so wise and attorney Ben Matlock so wily arrived without fanfare, neatly dressed in a tan sport coat and brown trousers. White-haired and slightly stooped, he leaned on his wife Cindi's arm as he moved slowly through the deferential crowd. He wore the fixed, Buddha-like smile of one who's grown used to adoration.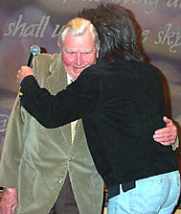 After a few minutes, Stuart took the stage to tell about the album and describe what it's been like working with Griffith. "You hang around Andy," he beamed, "and you get hot real quick. ... Bob Dylan said it best, 'If you want to learn, you've got to sit close to the teacher.'" Stuart, who knows more about country music than almost anyone else, pointed out that the cast of Griffith's first big movie, A Face in the Crowd (1957), included Grand Ole Opry comedian Rod Brasfield and bandleader Big Jeff Bess, whose wife founded Nashville's world-famous Tootsie's Orchid Lounge. He also noted that when country and bluegrass music was still a rarity on network television, The Andy Griffith Show gave the Dillards (who played the Darlings) and the Kentucky Colonels a home.
"I 'preciate it," said Griffith, bowing to the applause that followed Stuart's introduction. "I'm not a musician. I don't have a good ear. But with the miracle of electronics, I think we're going to make it." Holding a wireless microphone, he seemed to draw power from it, like a battery. Before long, he was pacing back and forth and gesturing with far more energy than his entrance suggested he still possessed. He told of being a music major in college and of the discouragement he met as a singer after he moved to New York. "Gradually, I drifted into acting," he said, "and that's been my good life. Now, here at the back end of my life, I'm a singer again. It took me 76 years, but I made it."