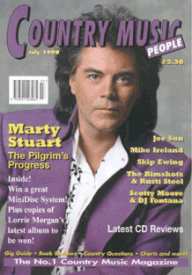 It started with three napkins, an English seamstress and a rhinestone memory. It involves a tapestry, the death of a legend and one of the most unusual sales pitches in Nashville history. It's the story behind Marty Stuart's finest musical moment and one of the most interesting country albums of recent years, The Pilgrim.
"Do you remember Nudie?" begins Marty, closing his office door and settling down to unfold the tale. "The western tailor who made all the beautiful rhinestone cowboy suits for Porter Wagoner and Roy Rogers? Nudie's shop was on Lankershien Boulevard in North Hollywood, California. Manuel had a cowboy tailor shop there too. There were boot makers. It was the Savile Row, if you will, of cowboy clothes. There's a young man out there called Jaime who carries on that tradition now. He's the last one.
"Behind the scenes there were people like the boot menders and the people who sewed the clothes. A lady from England called Rose Clements. They were just laborers but they were artists in their own right.
"As time passed, every shop out there except Jaime's went out of business. It was the passing of an era, the passing of a way of life, a little piece of America that just kinda vanished. I found inside myself that I was a little sad about that because a lot of my past was spent on Lankershien Boulevard. I loved those people.
"So, on three paper napkins, I drew out my idea for a tapestry, a wall hanging. In the middle it was like the face of comedy and tragedy. On the top everything represented heaven. The bottom was hell, and all throughout this tapestry -- five feet by four it turned out to be -- were all these gorgeous patterns that were all on those cowboy suits.
"When Tony Brown (President of MCA, Nashville) started telling me I needed to do an album, I was saying....I don't have anything to say right now. Finally, he said 'We've got to talk about this record today and make a decision.' The only thing I knew to do was take this tapestry that Rose Clements had made for me. It was so beautiful to look at. I laid it down on the floor and said, 'Tony, this is what I want my next record to sound like!' He went, 'What are you talkin' about? You're nuts!" Then he said, 'Cool -- I think!'
"I said, 'What I'm gettin' at is I want my next record to sound as pretty as this thing looks. It's all about country music and those great cowboy clothes. A grand overview of where we've been and where we're headed.' "
That was three years ago. Since then, Stuart has been on a musical pilgrimage that took him from the legendary Sun Studios in Memphis to Jamaica, where he recorded with Johnny Cash. Along the way, he was joined by fellow pilgrims Emmylou Harris, George Jones, Ralph Stanley, Pam Tillis and Earl Scruggs.
Together, they created a CD that plays like a movie. An epic tale of adventure and romance based on a true story from Marty's hometown. It's the story of a man who had the misfortune to fall in love with a married woman. A man who fled the resulting scandal, who trawled the hobo jungles and honky tonks, eventually to return to triumphant.
The link between that story and Marty's tapestry was the death of Bill Monroe. Stuart had booked two days at Sun without a single song to record in the hope that the historic surroundings would provide inspiration. On the second day, he got the call from Monroe's manager, breaking the news and inviting him to play at the bluegrass pioneer's funeral service.
"I took a little walk around the back streets and, for just that little moment, I felt like I was the only human being on planet Earth. I felt that lonely. I thought, 'Man, I feel a long way from home.'
"I was actually only two hundred miles from home, but I felt a long way from home. And as I looked back from that vantage point to the first time I met Bill Monroe when I was 12 years old and, as I thought about how far I'd come and how far he'd come, I thought, 'Man, I'm in the middle of a strange land. A strange land that leads to nowhere.' At that moment, I felt like the pilgrim. I really identified with that guy."
With those feelings uppermost in his heart, Stuart wrote a verse from which his album would grow: I am a lonesome pilgrim, far from home / What a journey I have known / I might be tired and weary but I am strong / Pilgrim's walk but not alone.
It would be a year and a half before Stuart had another song to join the one he recorded in a single take in the darkened Sun studio that night, but he knew he had stumbled on something of far greater potential than the average three-minute single or ten-track album. "It had the force of an opera or, in my case, maybe an Opry."
Stuart is quick to thank his label, MCA, for its patience in allowing him to follow his creative muse and for the freedom to stretch the parameters of country music with a daring concept album while harking back to the genre's traditional sounds and spirit.
Tracks like Harlan County, for example, are as country as it comes, while the first single, Red, Red Wine and Cheatin' Songs, keeps the honky tonk flame borne proudly aloft.
"They showed a lot of trust and faith in me because this is totally different to most things out there right now. It was a brave move and they were totally supportive of me."
Not that Stuart was surprised by the attitude of the label he has now been with, through successes and flops, for a decade.
"The thing about MCA that impresses me is that heart and soul and integrity still feature heavily in their whole roster. Bruce Hinton, our boss, serves as Chairman of the Country Music Hall of Fame and I'm the President of the Hall of Fame, so we both understand our heritage."
Warming to his theme, Marty adds more forcefully: "This town don't need to do any more chasin', because I think a lot of the time we're chasin' our own tails around here musically. It's time for a little innovation."
Among Stuart's happiest memories during the making of The Pilgrim was traveling to Cash's holiday retreat in Jamaica where the great man recited a passage from Lord Tennyson's poem, Sir Galahad.
"I wasn't going to let this record go out until he'd done his part," says Stuart, who served his apprenticeship in Cash's band.
"I'd always had deep admiration for people like Alan Lomax and Ralph Peer who went and did field recordings of people like Muddy Waters and Jimmie Rodgers. So I took my sound engineer down there and set up microphones in his living room. In my mind, it was like going on a field trip to capture an American icon in his natural habitat."
Before joining Johnny Cash's road show, Stuart worked as a teenager in the late Lester Flatt's band. It was only natural, therefore, that Flatt's bluegrass partner, Earl Scruggs, would join Marty on The Pilgrim.
"That was like playing with my daddy. The very deepest part of my soul goes back to his music. We get together a his house quite a bit and just play music in his living room."
As for George Jones' guest spot on The Pilgrim . . . . .
"The great thing about living in Nashville and living inside the country music family is that it's as simple as a phone call sometimes. Country artists are wonderful in the way you can call them up and say, 'Hey, I need you to come and help me out,' and, if it interests them and it can be done, they do it.
"I thought, 'this one little place needs George Jones real bad.' I thought, 'I don't want to have to go through managers, so maybe I'll just try this phone number I got on George.' I called and George Jones answered the phone. I said, 'Possum, what're you doin' this afternoon?' He said, 'Whatever you want me to do.'
I said, 'I need you in the studio for about thirty minutes.' He dropped by and did his part, then he said, 'Hey, come out in my car. I want to play you some songs I'm thinking about recording.' It was that natural. Just singing some songs and telling some war stories. That's a pretty good life for a guy like me."
Sure sounds it. But does country's younger generation share the same sort of camaraderie?
"No," says Marty without hesitation. "And I'm sure sad about that. But it's something that's there if they want it because this is a family affair. Country music now is huge and corporate, but to me it's still a family affair and there's a lot of love waitin' for everybody at the table. They've just got to get off their tour bus and get out of their bubble sometimes."
As well as the featured vocalists, a listen to The Pilgrim may evoke memories of other greats like Buck Owens, Mother Maybelle Carter and Hank Williams. That's because Stuart played a host of vintage guitars from his personal collection. They include a 1939 Martin D-45 originally owned by Hank Williams and Johnny Cash, the 1950 D-28 played on Bill Monroe's Uncle Pen and the '64 Fender Jazzmaster played on Roy Orbison's Pretty Woman.
"When you hear the tone of Don Rich's Fender Telecaster that he played on all those Buck Owens records like Buckaroo and Sam's Place, it sounds exactly the same on this album. Half of Johnny Cash's sound was Luther Perkins' guitar. Hank Williams guitar, Mother Maybelle's guitar .... they're all great instruments that helped country music sound the way it does. Instead of sticking them in a museum, it's nice to have them back in front of a microphone working.
Perhaps, surprisingly, one singer who doesn't appear on The Pilgrim is Stuart's wife, Connie Smith. Although Marty produced Smith's last album, the couple has no immediate plans for a George and Tammy style duet outing. The reason? Marty doesn't want to be shown up.
"She's probably the best singer in the world," he says with pride. "When I can keep up with her some day, maybe I'll try to sing with her."
But that will be another story. Another chapter in the life of a pilgrim who is helping country music progress while staying true to its roots.
Written by Douglas McPherson