Just a few months before this backstage photo was snapped, bluegrass picker Lester Flatt had taken a 13-year-old mandolin prodigy under his wing and on the road. The youngster would go on to become a star in his own right, but he never forgot the lesson he learned from the legend.
"Lester was the one who gave me my start," says Marty. "He showed me the ropes of the music business. He was 59 years old and already a legend and he could have retired if he wanted. Why he decided to put a 13-year-old kid in the middle of a bunch of seasoned pros, I'll never know. But the lesson he taught me was that you pass it on.
"Lester was universal without even trying. His music appealed to bluegrass, country, gospel, rock 'n' roll and blues fans. It was Southern music. It was roots music. Those guys weren't about coming into town and stealing all the awards and money. It was a career. It was showing up that really mattered, and making a lifestyle of it."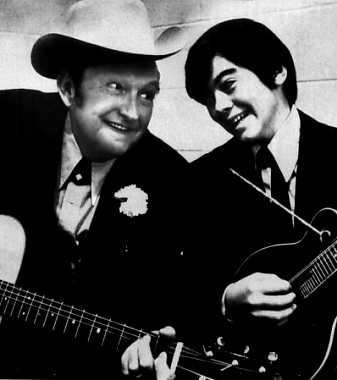 Lester Flatt and Marty, 1972