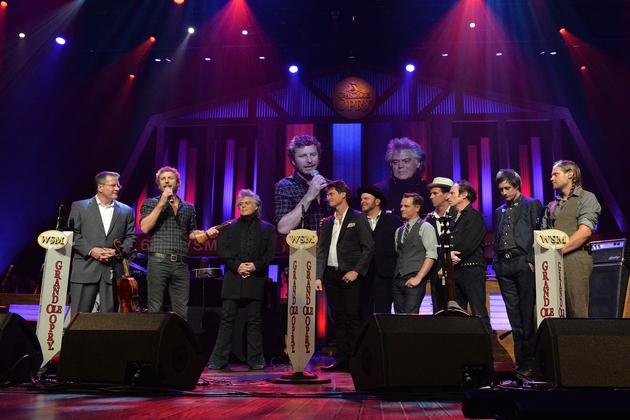 Old Crow Medicine Show joined the ranks of country music royalty Tuesday night (September 17) at the band's induction into the Grand Ole Opry. On the Opry's stage, Opry members Dierks Bentley and Marty Stuart joined Opry VP and General Manager Pete Fisher in welcoming the band.

"Old Crow has over the years become a favorite of Opry audiences and everyone backstage, as well," said Fisher. "It's fun for so many of us that in many ways Old Crow looks and sounds a lot like some of the great early Opry bands likeRoy Acuff and his Smoky Mountain Boys — bands which helped propel the Opry to national prominence. Tonight represents a great full circle, and as the great Jimmy Dickens says, 'The circle can't be broken.'"

The band performed their much-covered hit 'Wagon Wheel' at the event and were later joined on stage by Bentley, Stuart, Connie Smith and Del McCoury in renditions of 'Will The Circle Be Unbroken' and 'I Saw the Light.'

"We're standing out here on the most beloved broadcast anywhere on earth. I think we made it big on radio!" said Old Crow's Ketch Secor. "We the Old Crows are just so proud to be entrusted to carry on the traditions of the Grand Ole Opry's good-natured riot."

After the show it was announced that Old Crow Medicine Show have two shows scheduled at the historic Ryman Auditorium in Nashville, on December 30 and 31.


By Hannahlee Allers