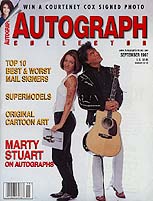 About a year ago, I called my friend Marty Stuart, country singer, songwriter and musician extraordinaire, and told him that I'd like to do a cover story on him for Autograph Collector. He immediately agreed and, over the next 12 months, we tried to coordinate our schedules to do just that.
Marty's a busy guy who's much in demand on the concert circuit. He also produces his own TV series, The Marty Party, for the Nashville Network, appears on other TV shows, records albums and scours the country looking for items to add to his impressive country music memorabilia collection. While we talked often, it wasn't until June that we were finally able to get together.
Since I had a concept for the cover, any old publicity photo or stock shot just wouldn't do. But everything jelled and Marty drove to our offices to do the photo session and answer our 10 Questions survey.
With Marty being such a consummate collector, it's hard to get his attention when he visits our offices which are filled with autographs and memorabilia ranging from George Washington to John Lennon. I think he enjoys coming here almost as much as we enjoy having him.
For the photo which graces our cover this month, we enlisted the aid of Odyssey Group's own Christi Lange (our Director of Corporate Sales & Acquisitions) to serve as Marty's companion.
Marty Stuart may be only 39 years old, but he's got a music career under his belt that rivals that of many stars twice his age. He began professionally at the tender age of 13, when he landed a job playing mandolin with legendary bluegrass artist Lester Flatt. He remained with the band and honed his already-impressive skills until Flatt's death in 1979, at which time he ventured out on his own.
Marty is a man who can pick up any stringed instrument and play it like a pro. In fact, he's so good that he's at the top of the list when other artists want the "Marty Stuart Sound" on their albums. While many stars' egos would not allow them to play as studio musicians, Stuart sees his contributions simply as one friend helping another. In fact, when Johnny Cash (Stuart's friend and mentor) asked him to fly to Los Angeles and back him up on The Tonight Show With Jay Leno while Cash sang his single Rusty Cage, Stuart booked a reservation and jumped on a plane to join The Man in Black.
Stuart has amassed an impressive number of awards, including several Gold records, Grammys and Country Music citations, but he's much more impressed with his collection of other artists' memorabilia than he is with his own.
I first got to know Marty as a result of our mutual interest in country music memorabilia. Our mutual friend, Johnny Cash, suggested that Marty give me a call. We talked for quite a while and Marty mentioned that on his next trip to California he'd like to come out and visit me. Several weeks later, he was here and that day he left with a great Buddy Holly signed document. That night, my partner Darrell Talbert and his wife Kym enjoyed Marty's concert and hospitality. From that point on, our friendship deepened to the point that we'll do anything for Marty and vice-versa.
Marty's country music collection is second to none. It is so important, in fact, that even the Country Music Hall of Fame calls on him when it needs material on an artist not already in their collection. The Hall currently features a Hank Williams exhibition that draws heavily from Marty's comprehensive archive on the late country music legend. Even Stuart's. first tour bus was a piece of vintage country memorabilia. He bought and toured in Ernest Tubb's vehicle for several years before retiring it in favor of a more modern "home on wheels" worth an estimated mid-six figures.
We felt that Marty's perspective on autographs would be of particular interest to our readers, since he's such an avid autograph collector himself. Before he filled out the survey, I wondered if he was more sympathetic to collectors as a result of his own penchant for collecting. Sure enough, Marty didn't disappoint. He proved that he's a gentleman all the way around. We're proud to call him our friend and we're sure that if and when you meet him on the road some day, you'll feel the same way.
Here's how Marty answered our 10 Questions survey: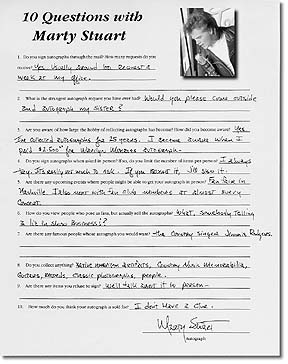 AC: Do you sign autographs through the mail? How many requests do you receive?
Marty: Yes. Usually around 100 request a week at my office.
AC: What is the strangest autograph request you have ever had?
Marty: Would you please come outside and autograph my sister?"
AC: Are you aware of how large the hobby of collecting autographs has become? How did you become aware?
Marty: Yes. I've collected for 25 years. I became aware when I paid $2,500 for Marilyn Monroe's autograph.
AC: Do you sign when asked in person? If so, do you limit the number of items per person?
Marty: I always try. It's really not much to ask. If you bought it, I'll sign it.
AC: Are there any events where people might be able to get your autograph in person?
Marty: Fan Fair in Nashville. I also meet with fan club members at almost every concert.
AC: How do you view people who pose as fans, but actually sell the autographs?
Marty: What, somebody lie in show business!?
AC: Are there any famous people whose autograph you would want?
Marty: The country singer Jimmie Rodgers.
AC: Do you collect anything?
Marty: Native American artifacts, Country Music memorabilia, guitars, records, classic photographs, people.
AC: How much do you think your autograph is sold for?
Marty: I don't have a clue.
Article written by Bill Miller