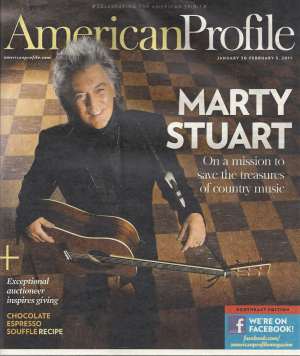 Marty Stuart was in an antique store in Nashville, Tennessee, in the early 1980s when he spotted a makeup case with the words "Patsy Cline" stamped on it.
He opened the case and found an address inside: "Patsy Cline, 3024 Hillhurst Drive, Madison, Tennessee." Could this really have belonged, he wondered, to the country music legend who died in a plane crash in 1963?
Stuart ducked outside to call Cline's widower, Charlie Dick, to confirm. "The store did not know what they had," Stuart recalls. "I said, 'How much?' 'Seventy-five dollars.' 'Can you do any better?' 'Nah.' So I gave 'em 75 dollars."
His fortunate discovery sparked a passion for preserving the artifacts of country music. "I kept seeing things like that case, and suits and guitars, that were just getting thrown away in the junk shops and thrift stores and yard sales," he says. "Country music's treasures were disappearing."
Stuart, 52, gestures around the Hendersonville, Tennessee warehouse where many items from his collection of more than 20,000 pieces are stored.
The collection fills a climate-controlled room the size of a six-car garage from floor to ceiling. It includes hundreds of unpublished photographs, original letters, musical instruments, stage props, rare recordings, long-ago bric-a-brac, and clothing from Elvis Presley, Johnny Cash, Jerry Lee Lewis, George Jones, Merle Haggard, Dolly Parton, Porter Wagoner, Bob Dylan and dozens of other iconic performers. "It became a mission," he says, "as you can see."
Treasuring artifacts
Stuart's love for country music began during his youth in Philadelphia, Mississippi (pop. 6,676), where he learned to play guitar and mandolin as a boy. By the time he was 13, he had moved to Nashville and was playing in the band of bluegrass titan Lester Flatt.
"When those guys would get through with their neckties or their picks, they'd just throw them aside," Stuart remembers. "When Lester would write out a set list, he'd wad it up and throw it in the trash can after the show. I'd ask for them, or just get them out of the trash and put 'em up. As time has gone on, I'm more and more glad I did that."
Even after he shot to solo fame in the late 1980s and early '90s with the hits "Hillbilly Rock" and "Tempted," Stuart continued to seek out country memorabilia with the fervor of a true-blue fan. When his collection outgrew his house, he moved it to a small storage space—then a bigger one, and a bigger one than that.
Soon after he began working with Grand Ole Opry singer Connie Smith in the mid-1990s, he took her to his warehouse. "We walked in and he said, 'Hold out your arm,'" she remembers. "So I did, and he slipped this jacket around my shoulders. I put it on, and he said, 'That was Hank Williams' jacket.' I got chills all over."
Stuart and Smith married in 1997, and each still lights up at the mention of the other's name. "We know the cost of not keeping it together," Smith says of their relationship's longevity. "We do a lot of praying, and we make sure we see each other. When he's not around, I'm not quite all here—so I like it when he's around."
Sparkle & Twang
Stuart was approached a few years ago by the Tennessee State Museum about sharing his collection with the world. He agreed and helped the museum assemble Sparkle & Twang: Marty Stuart's American Musical Odyssey, an exhibit showcasing more than 500 of his precious music history items.
"There were some things that had never been seen by anybody except Marty and people he knew," says exhibit curator Renee White. "It was a joy to look through all the stuff."
Sparkle & Twang was an immediate success after opening in Nashville in 2007. "The attendance still stands as the second highest for an exhibit in the history of the museum," Stuart says. "Genghis Khan beat us by a few tickets!"
The exhibit has crisscrossed the nation for the last three years, helping fans to connect with history in a direct way. "When people stand in front of Hank Williams' handwritten lyrics for 'Your Cheatin' Heart,' or see the boots Patsy Cline was wearing when she lost her life, I think it touches a chord with people, whether they're country music fans or not," he says.
Stuart's role as a keeper of country music's history is well recognized among a new generation of artists. "We all seem to turn to him, because he is like a walking history book and he truly appreciates the past," says singer Carolyn Dawn Johnson, who saw a childhood dream fulfilled when Stuart played mandolin on her first album. "He is the link between the past and the future."
TV and beyond
Stuart's love for great American music is also reflected in The Marty Stuart Show, the country-themed weekly program that he has hosted since 2008 on the RFD-TV network. "We talked about doing an old-style television show that was totally hip, totally outlaw," he says. "I completely walked away from any of the rules."
The old-school feel and hay-strewn set of The Marty Stuart Show echoes some of country music's iconic syndicated television programs of the 1960s and '70s, which included programs hosted by Porter Wagoner, the Wilburn Brothers, Ernest Tubb, and Flatt & Scruggs. The RFD show, now taping its third season, also inspired Stuart's latest album, Ghost Train: The Studio B Sessions.
"All of a sudden I had a way to play traditional country music again," he says, "so I wrote a hard-hitting traditional country music record. It was a humble attempt at starting a new chapter for a kind of music that we dearly love and believe in, a music that really is on the verge of extinction. It's too precious to let it slip away."
And he has no intention of allowing that to happen, continuing his nearly lifelong crusade to collect and protect the totems of country music's colorful history.
"Until further notice, that is my mission," he says. "This music is a part of us as Americans. It's part of our story."
By Chris Neal