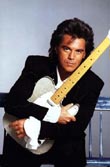 After four Gold albums and 10 years, Marty Stuart has parted ways with his record label, MCA Nashville. Stuart enjoyed a string of hit singles as a solo artist ("Hillbilly Rock," "Now That's Country") and with his pal Travis Tritt ("This One's Gonna Hurt You," "The Whiskey Ain't Workin'"), the latter earning the pair a Grammy.
But, since Stuart's acclaimed current concept album, The Pilgrim, which Stuart felt was among his best projects, has not achieved his normal sales levels, his record contract was discontinued.
Still, Stuart's influence will be felt at the label since the "Hillbilly Rock"-er produced some tracks for the soundtrack of the forthcoming film "Daddy And Them," which is set for release on MCA Nashville this year.
The final song selection for the soundtrack had not been finalized at press time, but according to Stuart's management company, Marty has produced three songs for the album, one recorded by him, one by labelmate Mark Chesnutt and one by his spouse, country great Connie Smith.

Stuart's immediate future will include some more book signings to promote his photography/story collection "Pilgrims: Sinners, Saints and Prophets," and some possible sit-ins with Bob Dylan. The two met a few years back and Dylan invited Marty to play guitar with him for his Nashville show last fall.
Look for Marty Stuart picking and singing in the upcoming music video for "Blue Collar Dollar," the latest zaniness from Jeff Foxworthy and Bill Engvall, which is scheduled to debut on CMT March 15.
Written by Michael Hight