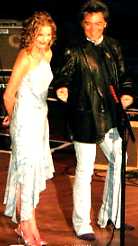 A stellar list of performers gathered at the Ryman Auditorium during Chet Atkins Musicians Days to honor two great musicians--the great rock 'n roll instrumentalist Duane Eddy and country guitarist Grady Martin. The main hostess for the evening was Lisa Stewart. Marty was listed as "Musical Tour Guide" in the program.
The evening opened with guitarist Muriel Anderson performing her tributes to the great Chet Atkins. Australian guitarist Tommy Emmanuel also performed his tribute to Chet.
Duane Eddy opened the show and did a 13-song set, performing his great songs. I'd forgotten just how many hits he'd had--everyone knows "Rebel Rouser" but I'd forgotten about a real favorite of mine "(Dance With The) Guitar Man." Duane had everybody rockin'. Vince Gill and John Fogerty came out and played guitar on a couple of songs. When Vince wasn't on the stage performing, he and Amy Grant sat on the steps between Sections 15 and 16 in the balcony and watched the show. He and Amy are also in some of the pictures sitting backstage watching the show from there.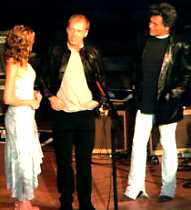 Chet Atkins was then introduced and brought on stage. Funny as ever, he also mentioned he'd suffered a couple of mild strokes recently and the doctor would no longer let him drive, so his grandson was driving him.
Nashville Mayor Bill Purcell presented Duane Eddy with a proclamation making him an official "Titan of Twang."
Marty came out and joined Lisa Stewart for a few words and to introduce Peter Frampton. Marty said, "Good evening. I'm Marty Stuart. This is my sister, Lisa." This event........ when I first came to Nashville, Lisa, you're from Louisville, MS I'm from Philadelphia, MS, you're from way up north, 25 miles. And when I first came to Nashville, it was the sound of the music. I didn't want to go to New York City, didn't want to go to LA, I wanted to follow it with my heart to Nashville and so I did. I started playing right here on this stage."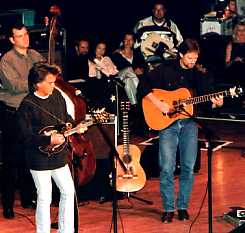 "There was a song about "Nashville Cats." I don't remember how many guitar pickers they said there were in Nashville but that's about the truth. Back in those days, pickers ruled. The picker was the absolute thing. Hillbilly stars were cool, but to be a hillbilly picker was really the thing. And so now it's cool to be a songwriter and it's cool to be a hillbilly singin' star, makin' records and come and go in about two years now. (Everybody laughs) But the thing that kinda got buried along the way was the dignity and how great it was to be a picker. There are people like Vince Gill, Steve Wariner, Ricky Skaggs, and so many greats. It's so important. I want to get a guy up here to help me nominate some people. I was a fan of this man's work for a long time. Never met him."
Lisa Stewart introduced British rocker Peter Frampton. I'm proud to say I was one of the millions that purchased his album "Frampton Comes Alive" and wore out the song "Show Me The Way." Peter talked about why he and his family now live in Middle Tennessee.
Marty continued, "I talked with Scotty Moore. You remember Scotty Moore? How can you forget? Scotty Moore played guitar on all of Elvis Presley's records. He and D. J. Fontana were the first band guys to be inducted into the Rock and Roll Hall of Fame. I always hated to turn sideman. It's not the right thing. A musician to be honored to be a musician. And there are so many guys with this talent. You think about Merle Haggard, you think about a guy like Roy Nichols. Think about Johnny Cash, you think about Luther Perkins, Lightning Champ, Jerry Byrd, Pete Drake, on and on and on and on. I'd like you to help me nominate that all these guys get elected into the Country Music Hall of Fame."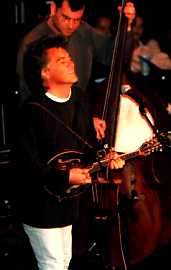 Peter talked about hearing Duane Eddy for the first time. Peter still has the voice and energy of 22 years ago. Need I mention that all of this sounded wonderful in the Ryman.
After a brief intermission, Marty finally was introduced. While he played mandolin, Rock and Roll Cowboy Brad Davis joined him in acoustic guitar, Brad's brother Greg played banjo and "Superman" played the upright bass. They performed a bluegrass instrumental I should know, but don't. They also played "Marty Stuart Visits The Moon. and dedicated it to Grady"
Willie Nelson walked out on the stage. One of the honorees of the evening, Grady Martin, played guitar and toured with Willie Nelson from 1980 to 1994. Marty said, "The first tour that we were ever on Willie let us go open for him and I used to go out every night just in time to watch Grady played the solo." Willie picked up his faithful guitar, Trigger, and Marty said, "Willie, that guitar suits you just fine." With an all-star band that included Vince Gill and Marty, Willie played some of the hits that Grady Martin played on--which included "El Paso," "Don't Worry," and "Pretty Woman," Since Grady Martin is in ill health, his son, Josh, came up to accept his father's Chettie award.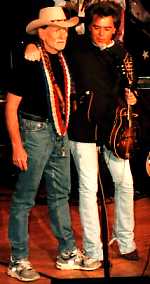 Willie then performed "On The Road Again," "Blue Eyes Crying in the Rain," "Valentine," and joined Nanci Griffith on "Gulf Coast Highway." Bonnie Bramlett performed "Superstar" and "Dark Moon" with Vince Gill accompanying on guitar.
Former Creedence Clearwater leader, John Fogerty closed out the show, performing hits like "Green River," "Centerfield," "Proud Mary," and "Bad Moon Rising." Vince provided harmony on some of the songs. John has lost none of his voice or talent. His short set was phenomenal.
For one final instrumental, Duane Eddy was joined by Peter Frampton, Vince Gill and John Fogerty. It appeared that Marty and Willie had left the building. An after-party meet and greet for Duane Eddy was to take place in the lobby of the BellSouth Building. Mario and I went over, ate some food, waited a while and then left before Mr. Eddy arrived.
Enjoy these other pictures from the show.
Marty, Willie and Vince
The finale with Duane Eddy, Vince, Doyle Dykes,
Peter Frampton and John Fogerty
Review by Sherry Mattioli
Photos by Mario Mattioli