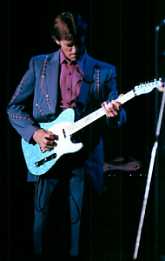 Marty and the Rock and Roll Cowboys headlined a show for Fender Guitars and its employees and members of the National Association of Music Merchants at the Wildhorse Saloon in Nashville. Fender's VIPs were seated in an area directly in front of the stage (covering about half of the Wildhorse dance floor). Areas upstairs were also roped off. Marty's fan club members were admitted free if they showed a valid membership card.

Fan Club Prez Jodee Stocki was there to make sure the members got in okay. Saw Gregg before the show and Mario spent some time talking with him.

We'd gotten there early, hoping to grab a decent seat, but the seats were pretty much taken, so we stood at a railing for a while and then decided to sit on benches that were on the side of the dance floor. It wasn't long before a video screen was dropped and it said "Fender Presents a Musical Tribute to Marty Stuart."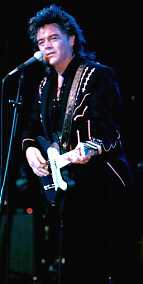 The video "Cry, Cry, Cry" came on. Next, it was "Hillbilly Rock," and then "Little Things" and "Tempted," and it didn't take long to realize we were being treated to a chronological journey through Marty's music videos. They were all shown except "The Whiskey Ain't Workin'," which is really a Travis Tritt song. When the videos ran through, they started them again! It was such a nice compilation.
We were treated to two opening acts, both very talented. We also were able to watch the dancers on the dance floor. Even some little ones were out there trying to do the line dances. One little girl in particular was studying the foot moves very carefully and trying to emulated them. She was a doll.
While they set the stage for Marty's show, we were treated to a set of Marty's recorded music with "Western Girls," "Hey Baby," "Shake Your Hips," "Rocket Ship," "Don't Be Cruel," "Honky Tonk Crowd," "Goin' Nowhere Fast," "If I Ain't Got You," and "Sometimes The Pleasure's Worth The Pain."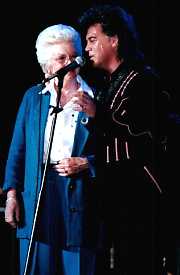 A local disc jockey (from a Nashville radio station that never plays Marty's music) had the honors of introducing Marty. He read a short bio on Marty. In talking about the new album, The Pilgrim, it was mentioned that it was one of the top selling albums at the 1999 Fan Fair and that the single, "Red, Red Wine and Cheatin' Songs," is burning up the Americana and European music charts.
He read, "I think we all agree that Marty Stuart bridges the strong traditional bluegrass/gospel past of country music with the new rockabilly, southern rock, contemporary sound. And the history of country music definitely lives within Marty Stuart."
He then introduced a video clip of Buck Owens playing one of the new Marty Stuart signature Telecaster guitars. Buck congratulated Marty on having the honor of a signature guitar.
To just keep us waiting, we were told that Marty was not in the building and they were waiting on him. They didn't know if he was looking for his hair or he was trying to get his hair into the building or trying to get into his jeans.....they said they'd talked with the FAA and he's flying in. Then the sound of a jet engine roars through the PA system and it appears Marty has arrived. The curtain goes up to reveal the Rock and Roll Cowboys. Marty's spaceship from 1994 has landed and Marty emerges through the door.
They open with "Swinging Doors." Brad and Marty are using the new Telecaster guitar, Steve has the matching bass and Gregg is playing a new metallic blue drum set. Even Gary has the blue metallic around the steel guitar. They all looked sharp! The Wildhorse Saloon was packed to standing room only and all eyes were on the stage.
When they performed "Tempted" next, we realized we were not going to get the usual Marty show! The reason Marty uses different guitars during the show is that each has its own special sound and is better suited for certain songs. I believe he wanted to play the new guitar for several songs, thus the set list was adapted to that.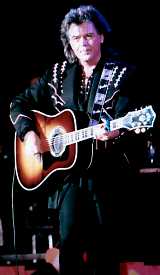 The metallic paint in the new guitar was selected by Marty because he always admired the sparking gold on Don Rich's Telecaster. It wouldn't be a Marty show if he couldn't play a Buck Owens song, so they performed the instrumental "Buckaroo."
"Red, Red Wine and Cheatin' Songs" was next. After the song, Marty brought his mom on stage and presented her with the first Marty Stuart Signature Telecaster Guitar. She was dressed in appropriate blue. Marty told the story of how he had mowed lawns to save up enough money to buy his first guitar. His mama took him to the Fender store and Marty picked out the Fender Jaguar because it "had the most knobs on it." He told them "It was the sorriest guitar you all ever made." He then added, "and it still ain't worth a s**t." His mama shook her finger at him as if to say "you bad boy."
Marty then played "Blue Train." As usual, Gary had the steel guitar singing the blues. Marty then introduced the band and performed "Sometimes The Pleasure's Worth The Pain."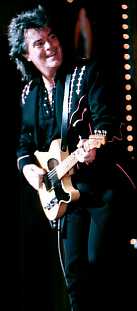 Throughout the show, Marty thanked Fender Guitars and said how proud he was of new guitar and how Fender has always been there for him. He mentioned these southern California folks who were in town and probably couldn't understand the Nashvillians which was the prelude to "Southern Accent."
Marty was definitely in a "rocking" mood as they continued with the old Waylon number, "Are You Ready For The Country."It's been a while since we'd seen Brad and Marty perform "A Soldier's Joy," but it was so GREAT. "Rocket Ship" was next and then "Long Black Veil."
Marty closed with "Hillbilly Rock" and left the stage. The set was only 11 songs, but the selection of music was incredibly genius. I know that the Fender folks and NAMM members enjoyed the performance.
Mary Runyan and I walked over to where Mario was and talked with Margie Sullivan (who had brought little Anna). Tami Krato had traveled from St. Charles, MO to be at the show. Cindy Allred and her friend were there as well. Since the Wildhorse was back to the dancing, the music was extremely loud and it was difficult to talk with people. Leslie Anne Rawlings joined us as did Brenda Metz (Marty's Knoxville girl). Jodee and Michelle Copelin came by to talk with the group. Gary came out for a few hugs. Brad walked by but really didn't notice us. Jodee took Anna back to see Marty (a private meet and greet. I guess you need to be three years old, a huge Marty Stuart fan and cute as a button).
It was late and time to say "goodbye" to everyone. Just so sad to not have enough time to really talk with these friends. It was nice to see Marty performing in Nashville, too! It doesn't happen often enough.
Review by Sherry Mattioli
Photos by Mario Mattioli