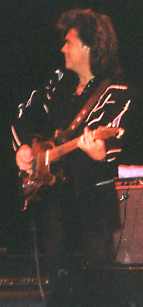 I'm sure you've heard: "'Things Are Bigger And Better In Texas," so on Saturday, September 25th, I left my Okie home, full of great expectation. I was going after a *bigger* Marty high, and a *better* Marty memory than ever before. I was putting Texas to the test, Oklahoma style. We arrived in Wichita Falls mid-afternoon, and found "Falls Fest" had a lot to offer. There were various foods, drinks, shows, and games, but nothing interested me more than the metal stage looming at the far west end of the park.
Slyly, I moved my husband in that direction. There were several booths along the way, so I was able to draw his interest to them, thus inching our way slowly westwardly. Soon, I was faced with a wide bit of territory, completely bare, separating the last attraction from my intended destination. As I stood there, the stage, like a metal giant, continued to beckon. Out of ideas as to how to get him there without him realizing my true motives, I gave up and just walked in that direction. He followed. We arrived to find a handful of people already there, we chose our spot and sat down. It was still 4 to 5 hours before 'Martytime.' Bev and Serena arrived later, then I knew for sure, it was "MARTY PARTY IN PROGRESS!"
Unfortunately, we had to sit through a rock band called 'Big Loo' (which I dubbed 'Big Boo' rather quickly) I guess they were all right if you like that style of music, but to me it was just a continuous, loud and irritating, noise. As the sun sat, a huge full moon appeared, hanging over Texas like a soft spotlight, ready to welcome a man who truly deserves the moon and all the stars. Then suddenly, Wichita Falls was rockin' hillbilly style!
Marty stepped out on stage among the thunderous applause of a very appreciative audience. Dressed in black, and looking magnificent (as always) he began singing 'BROWN EYED HANDSOME MAN.' Next we were treated to Buddy Holly's 'WELL ALL RIGHT,' then entertained with 'THE WHISKEY AIN'T WORKIN'. Afterwards, we were taken for a ride on the 'BLUE TRAIN' then we were 'TEMPTED.' During the songs, Marty would often look our way and smile. I leaned over to my husband and said, "Doesn't Marty have the sweetest grin." This remark only caused him to give me a strange look, so I decided, this must be a gal thing.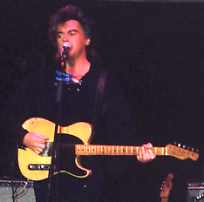 After informing us of the sad news of Randy's grandmother's passing, Marty tugged at our heart strings with 'DARK AS A DUNGEON'. Next he pleaded 'TOUCH ME, TURN ME ON, AND BURN ME DOWN' (which Bev, Serena & I would gladly have done, but we couldn't reach the stage). We traveled through a 'RING of FIRE' and agreed 'SOMETIMES THE PLEASURE'S WORTH THE PAIN.' We were offered 'RED, RED WINE AND CHEATIN' SONGS' followed by 'HOBO'S PRAYER.' By this time my head was too intoxicated with sheer Marty pleasure to function properly. I enjoyed every song after, but I can't tell you what they all were, or what order they were sung in. Gary did a beautiful job of playing 'LAST DATE.' It sounded so smooth, and almost haunting. Soon we found ourselves caught up in 'HILLBILLY ROCK.' People stood, some danced and swayed, others clapped and kept beat with the music, everyone was singing. It was truly awesome!
During the show, Marty spoke of the recent CMA awards, and asked our thoughts on what Alan Jackson did. He said he had sent Alan a telegram of support, and then he gave us a short version of his personal feelings on the subject. "I have nothing against the country music of today," he said, "in fact, I like a lot of the songs, but let's face it, now you're Texans, you know... it just ain't hillbilly!"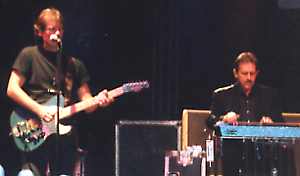 At one time all the lights went out, plunging us into darkness. Marty walked to the front of the stage and was looking out when the spotlight suddenly came on, bathing him in extremely bright light. He jumped back and shook his head, "Now I know how a deer feels when they're caught in the headlights!" he exclaims.
The 'Meet And Greet' took place after the show, so around back we all headed, lining up for our personal few seconds of heaven. We had a bit of a wait as Marty wanted to shower and change before meeting with us. While we were waiting, Jodee stopped by to visit. Then, two things occurred almost at once. The police informed us that anyone with a car parked within a particular fenced area would have to hurry and remove them or the gates would be locked, and we'd not be able to get to our vehicles until Tuesday. Almost everyone in the line had their car parked within that area, so the policeman took one load of people up to move theirs and was coming back for the rest of us, but before he could return, the gates opened. Marty won, we all went in, leaving our cars to fate.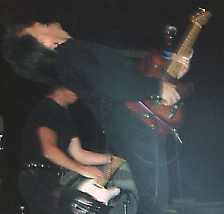 When my turn arrived to meet with Marty, I floated over to him. (I know I didn't walk because my feet weren't touching the ground). My husband had bought me a 'Pilgrim Shirt' and that was what I wanted Marty to sign. I was carrying a Frisbee in which I had placed my little notebook, pen, and other such items, and the shirt was draped over that. I step up to Marty and reach out handing him the whole kit-n-kabootle, of course he has no idea I have all this stuff under the shirt, so when he takes the shirt, the Frisbee starts to fall with all my junk rattling around in it. We both grab for it, I'm embarrassed, but he's laughing. I guess he's all too use to people who go 'brain dead' in his presence. It would be nice if I could talk to the man once, just once, without doing something stupid! Anyway, I got my hug, we spoke a little, then all too soon it was over.
As we left, I turned for one more final look. All the bright lights were off, the stage was devoid of equipment, and the park was empty and silent. A policeman drove up and offered to give us a ride back to our car. I was happy to ride. My feet were beginning to tell me I'd been on them too long. Back at the car, as we loaded our things, I thought how much God had blessed me that day. I saw Marty Stuart and The Rock And Roll Cowboys perform, I met with Marty afterwards, I met Bev and Serena, and later Jodee, and experienced all this with my husband at my side. Who could want anything more?
Review and photos by Darlene Renteria, Ringling, OK