"THE HILLBILLY HIGHWAY"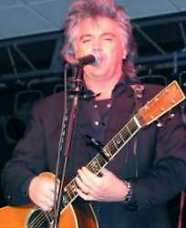 The greater part of my day this past Saturday was going to see Marty in concert. I live in the Twin Cities area, so I was anticipating my 4-hour drive up north to Walker, located in north central Minnesota. Stopping at a church along the way there, I went to mass at this church, to thank God for the day and that along this trip, that He guide me along the way. Don't know what the congregation thought of this stranger that walked into their church, wearing black boots, a Johnny Cash t-shirt, and his best cowboy shirt (stylishly untucked); but the stop off the hillbilly highway northward was worth it.
Got to the Casino about 2 hours early; not a great place to kill time. I just ended up killing my wallet. But 9 o'clock rolled along, and I went in to take my front, yes, front row seat. Then our host Jim Hill came in to stir up the crowd, in hopes of a livelier bunch than the 7 p.m. show. It was.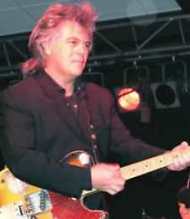 It's difficult to recall every song that Marty and the Fabulous Superlatives played, especially when you are so close to the energy on stage and busy enjoying every minute. But here goes. We'll call them highlights. The boys sang a stirring rendition of "Homesick". Then the spirit of John R. Cash entered the room, as Marty sang "Ring of Fire" and "Luther played the Boogie Woogie," which also tipped its hat to one Kenny Vaughan, as "Kenny played the Boogie Woogie." That's what's great with the Superlatives that play with Marty. They each get to share the spotlight and display their talents. And this was driven home being front and center in the crowd. Plus it was a prime spot to catch a guitar pick when thrown into the crowd; the second time I have gotten one at a Marty show.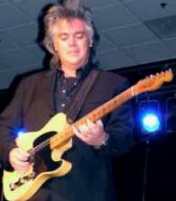 Some classic Marty tunes of yesterday were played along the way, including "Hey Baby," "Shake your Hips," and Hillbilly Rock". Then with some appropriate humor, Marty led into his song "Casino" from his new album Badlands, which struck a chord with the crowd of nearly 800 fans.
The band did an encore, highlighted by an instrumental by Marty on mandolin. My only wish from the show that was left unfulfilled was for some bluegrass; more Marty on mandolin. Otherwise, the show touched numerous flavors in the Marty spectrum, country old and new, rockabilly, and gospel soul.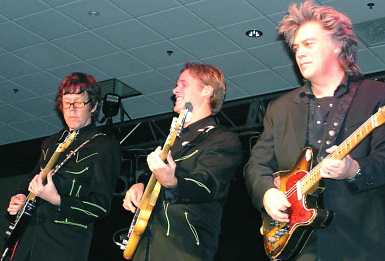 The announcement was made prior to the show that Marty and the boys would be signing CD's and photos after the show, to my surprise. He is always cordial with fans, but with this size of crowd and being the final show, I guess they wanted to mingle with the people. I got in line, got a cool 8x10 photo signed, and exchanged pleasantries with Marty and the band. I asked Marty for a more personal photo, and I think that since he recognized me from the front row, especially after blazing my Cash shirt when he broke into "Ring of Fire", he accommodated. "Wait around til after the line ends." he said. I hung low amongst security and waited. I greeted him before the photo, saying "serve God, love all", a mantra on his last two CDs, to which he smiled. I thanked him for his time, his music. It was 11 p.m., and I had the trifecta, an autograph, photo, and a guitar pick. Then the drive home, back down that hillbilly highway, was one hard haul, arriving back at 2:30 a.m. It was made a lot easier with the happiness of a great evening of the musical brotherhood that is Marty Stuart. and his Fabulous Superlatives. It's always worth the ride.
Review and photos by Aaron Rother, Hastings, MN