Mario and I were fortunate enough to attend wHITEwATER's CD release party for "No Gold On The Highway". Marty Stuart fans are very familiar with the members of this band. For the past 10 years, lead singer Brad Davis has played guitar with Marty in his Hot Hillbilly and Rock & Roll Cowboy Bands. Brad's brother, Greg (banjo), has performed onstage with Marty at the Ryman Auditorium, Randy Childers (bass) has been Marty's guitar tech for many years, and Junior Sturdivant played drums in the Hot Hillbilly Band.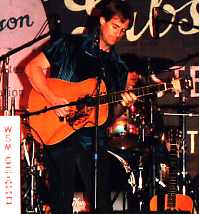 Upon entering the room, we ran into Gary and Barb Renfro and daughter Melanie. Junior came over and said "hello." We had to walk by food as we found our way to a table. The spread was fabulous and delicious! We ended up sitting at the center table in front of the stage.
We watched the crowd arrive. Fellow Marty fans Cindy Allred, Margie Sullivan and Judy Trickett were there. Bluegrass musicians Jon Randall, Roland White and Tennessee Mafia Jug Band member Mike Armistead were also there. Rock & Roll Cowboys Steve Arnold (with wife Debbie) and Gregg Stocki (with wife Jodee and kids Rachel and Elliott) came in support of fellow Cowboy Brad. The room was so full, they ended up bringing in additional tables.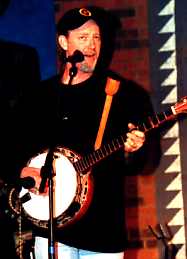 Keith Bilbrey (WSM-AM radio) introduced the band. The event was to be covered live on the radio, but I have no idea if it happened. Things got started late! Marty was supposed to have introduced the band but had to be out of town, so he did the introduction via videotape.
The band performed about 45 minutes, doing the songs from their album as well as some new songs. They are very excited to be with Rose Records and their CD will now be released in stores. I spoke with Brad after the show and he said the video they taped didn't turn out the way they wanted, so they were going to do another one. They will be touring in support of the CD--probably at bluegrass festivals. He's very proud of their website. Be sure to check it out and join the mailing list.
Contemporary Bluegrass is how I'd describe their music. Most of the songs are written by the band members. wHITEwATER is a great alternative to the mainstream country music being played on the radio. Their CD also features great session players, the late Roy Huskey, Jr., Stuart Ducan, Larry Marrs and Sam Bush as well as Marty Stuart.
---
---
If the band comes your way, I hope you'll go and enjoy their show.
Review by Sherry Mattioli
Photos by Mario Mattioli