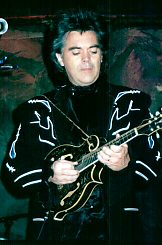 It took me longer to get going Saturday morning than I expected, so I didn't get to Mohegan Sun until a little after 10:00. Two friends were already there, waiting for me, so I found them and we sat at the tables in front of the stage for a while. We knew we wouldn't be able to stay there, but before long we were going to have to go stand where the line would be anyway, which we did at 12:00. The buses got there a little after that, and some of the guys came in to look things over. The stage is in the center of the casino and it's wide open except for a circle of railing, so we were able to watch them set up and test the system. They didn't do a full sound check.
They didn't start seating anyone until 6:30, and our feet and backs were pretty sore by then, after standing on a wood floor for 6-1/2 hours! There were a lot of ushers coming to the desk at the front of the line, crossing off reserved tables, and some of them said it didn't look good for many people in the line getting a floor table, that we might be seated around the outer ring or even end up standing behind that. I don't know what happened, though, because when they did come to seat us, they took our group straight to the two tables right in front of the stage. We could hardly believe it, and we were *really* happy! I think they took pity on us for having been there so early and so long. :) Pat Johnson and her sister Colleen were there but were farther back in the line, they got a table in the outer ring but it looked like they had a pretty good view. There were several other people there that I know, too. The show didn't start until 8:00, so we had time to talk, check the merchandise, and all that stuff.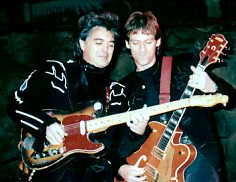 A little after 8:00, Mike made the announcement that the M&G would be after the show, and a few minutes later Marty and the band came out. Marty had on a black jacket with white stitching (which had blue inserts on the sleeves and shoulders), black pants, and a black ruffled shirt; the arm ruffles kept falling out of the jacket sleeves so he had to tuck them back in. They looked like they were all in a really good mood and having lots of fun. They opened with "Hey Baby," then did "Doin' My Time," "The Whiskey Ain't Workin'," "Red, Red Wine And Cheatin' Songs," " Blue Train," "Burn Me Down," " Tempted," "Oh, What A Silent Night," "Going Nowhere Fast" (first time I've heard this; parts of it sounded a lot like "It'll Be All Right With Me"), "Southern Accent," "Hobo's Prayer," "Soldier's Joy," "Now That's Country," "Hillbilly Rock," and for the encore a Hank Williams song that I didn't know ("Since My Sweet Love Ain't Around"?) and "Little Things."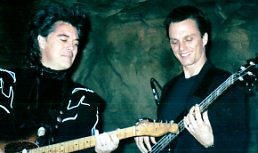 During the show Marty made a comment about "all my friends that came down from Indian Ranch in Massachusetts" (heck, half the people he could see go to Indian Ranch!), mentioned being in the studio recording the new album, and said the most rebellious thing you can do in country music these days is to play country music (when he introduced "Red, Red Wine And Cheatin' Songs"). He tried to get the audience to sing "We Wish You A Merry Christmas," but as he said, "it s*cked." I think he forgot what he was doing when he started to introduce the band, because Brad and Steve were actually from Dallas and Memphis! Everyone else was from Connecticut, though. He brought up Travis, asking didn't Travis play around there somewhere the night before (Lowell, MA), and said he was watching Macy's Thanksgiving Day Parade and saw the Bullwinkle balloon, which made him think of Travis. So he called him up and asked what he was doing, and, to show how much things have changed, Travis said "watching Barney on TV." And they really stretched out the instrumental breaks on "Now That's Country." Marty said "Have a great Christmas," and then came to the edge of the stage and shook a lot of hands before he left, but we stayed back since we'd be seeing him in a few minutes anyway.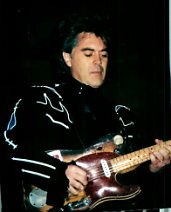 We went and got in the M&G line, which wasn't awfully long. I had Marty sign his shirt that he gave me at the fan club party, got a really good hug, and he said he hoped I had a nice Christmas. I talked to Mike for a few minutes, and to a couple of the others, and did eventually see all of them before they left. We went and did some other things, and finally left there around 12:30. I didn't win any money, but then, I only gambled with and lost about $2.00, too! :) It was only a two hour drive home, but a friend had gotten a room at a hotel nearby and said I could stay with her, so I did and drove home in the morning.
The show was awesome, and they all looked really good. It was a wonderful day, despite the sore feet and back!
Review by Margie Brodmerkle, Oakham, MA
Photos by Ellie Viscione, West Roxbury, MA