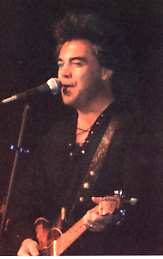 We got there just in time to see the Texas Playboys. We found a seat on the front row. We no more sat down and they asked a man, sitting on the side of the stage, (who was watching and listening intently) to come up and sing "Misery" with them. Well, that man was our man, Marty Stuart. So it pays, not only to stay for the whole show, but to be early for whoever goes on first. After that, Marty sat on the side of the stage for their whole show. Gregg has family in that area of Oklahoma, so he had a cheering section.
After the Playboys finished, Gregg walked by and gave me and Serena a big hug. I asked "How's Jodee?" and he said, "Fine. She is home with the kids." Everyone behind us was impressed, that we knew someone in the band. They found out later we knew everyone in the band.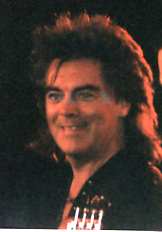 Then, it was time for the show. Out they all came. All in BLACK. Brad and Steve only wore their jackets for 1 song. It was hot. Marty was even hotter. They started off with "Doin' My Time." Then he went into "The Whiskey Ain't Workin'." Then he talked about brother Travis (the banker/Cobb story). Seems like he adds to it and makes it funnier every time he tells it. The crowd loved it. I love the way he changes his voice. After that he talked about Johnny Cash and sang "Blue Train" and "Tempted."
Well, It's hot and the show is going great. Marty's voice is sounding great. The lights went down, he got his mandolin and "Dark as a Dungeon" had begun. He puts so much emotion in this song. I got chills listening to it. Everyone was so quiet. I couldn't believe it. It was an older crowd, and you could tell they liked this song.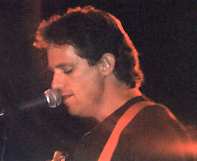 After that, he woke up the crowd with "Touch Me, Turn Me On and Burn Me Down." He and the band burned us down. Then he asked if he could sing some songs from his new album. You know we wouldn't tell him NO. So he sang "Sometimes the Pleasure's Worth the Pain," "Red, Red Wine and Cheatin' Songs" and "Hobo's Prayer."
Then he did something he usually doesn't do. He sang "Long Black Veil." I've never heard him perform "Long Black Veil" and "Dark as a Dungeon" in the same show. It's usually one or the other. Then he let Brad show off his guitar expertise. They performed "Flatpick." That really got you jumping. They then jumped into "Now That's Country" and "Hillbilly Rock." You could tell these people hadn't been to a Marty performance before. After that song, the guys left the stage and everyone started leaving. I told Serena, "Wait, he'll come back." And they did. People started going back to their seats.
He said since everyone loves Gary, he could play the next song. Gary played "Last Date." The only time I've heard him play this was at the IFCO show when Marty got the Tex Ritter Award. It was so quiet when he played. It was great. Then it was time for the end. Marty jumped into "Western (Oklahoma) Girls" and then it was over.
It was time for the Meet and Greet. I went up to the stage and Randy gave me a play list from Brad's spot since some man came out a grabbed Marty's. As I read it I noticed they had changed some songs. He was supposed to have opened with "High on a Mountain Top." He left out "Rocket Ship" and instead of "The Pilgrim" was Gary's "Last Date."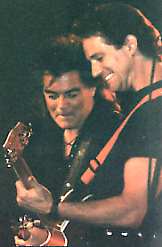 We went back for our meet and greet by the bus. Said "hello" to Mike. We were standing in line and saw Brad. The police would not let him through. Poor Brad says "but I'm the guitar player" and showed his tag thing. I said I'll vouch for him. He is the best guitar picker there is. Brad laughed and came over to hug us. That was two hugs so far. We talked and he thanked me for the photos that I sent to his website. Then it was our turn to see the man. I told him I had to give him 49 hugs for everyone. He laughed and we settled on one big group hug without the group. (It felt like a group though.) He hugged me tight. I didn't want to let go. He smelled good too. He signed my new fan club photo, playlist and the photo he let me take of his tattoo at Fan Fair last year. Then it was Serena's turn. I'll let her tell you her story.
Review and photos by Beverly Kerr, Lawton, OK