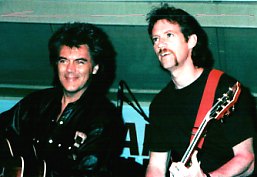 There were two shows and they were very different. We always love it when they do two shows because most of the time they try to mix it up a little bit and do some older stuff the second show. This time was no different. There wasn't a meet and greet so we didn't get to talk with Marty.

We were very lucky and got to be in the section right up front for both shows. The first show was the standard set for this year with the new song, "Red, Red Wine and Cheatin' Songs." They also did the new one about Bill Monroe. I don't remember the name, but it is the fast one with Marty on mandolin. I am so glad they finally got a monitor for the mandolin because that is one of the best parts of the shows now!!! And when he does the solo on "Oh, What A Silent Night," you can hear a pin drop. They did a fairly short set with no encore.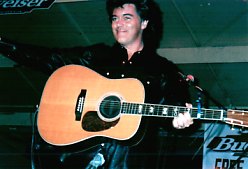 The second show was amazing!! They did all kinds of older songs: "Half A Heart," "Doin' My Time," then did one of my faves--"Long Black Veil." They also did "Western Girls," which we all know is our song! The boys were rockin!! And Marty was wonderful. They closed with a very stirring rendition of "Tomorrow." He was his usual, playful and hyper self, dancing and wiggling and smiling. It once again proved what a consummate professional he truly is.
Review and photos by Heather Rusché