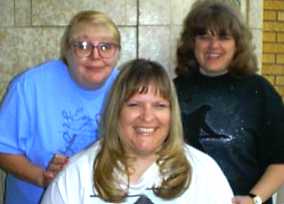 It was the morning of April 5th, 2003 and outside it was misty gray. The sky still wore her night colors but, slowly and silently the sun was pushing it's way upward with a soft pink halo to guide the way. The aroma of fresh brewed coffee filled the room as I crammed the last of my things into my bag. I don't know which was louder, the steady clicking of the clock, or the excited beating of my heart. I would soon be on my way to see Marty Stuart!
With my daughter Britney driving, and her husband Roger settled in the back seat, we headed north for the five-hour drive to Tulsa, but ... our first stop would be McDonalds in Moore, Oklahoma, where we would meet our other Okie Marty Pals, Bev and Serena along with their children.
We arrived at McDonalds almost an hour early. Considering most aspects of my life, I'm always running late, but it does seem that when it comes to Marty ... I'm always early! I guess only another true Marty fan wouldn't find this to be the least bit odd.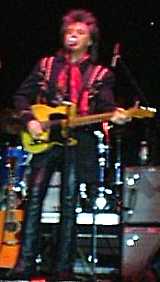 It was a joyful reunion when Bev and Serena arrived. After hugs with everyone chattering at once, we handled the last bit of odds and ends and soon were on our way in our own little two-car convoy, heading to Tulsa, most surely the happiest bunch of people on the entire interstate.
Britney, being a new driver and not being accustomed to driving in heavy traffic, followed Serena's car. She did a great job, although she did get confused a couple of times when she would see hands flying about in the car ahead of us. She had trouble figuring out if they were trying to tell her to change lanes, or if they were just talking to one another.
We eased though Tulsa traffic and quickly checked out the site of the night's concert, then drove on down to an Arby's where we left Bev and Serena with plans to meet up again later at the Pavilion. We went on to get our room and freshen up.
It was about four o'clock when we pulled back up at the Pavilion. I spotted a bus parked on the north side of the building, but there was no activity around it, so we passed time by just walking around. They had all sorts of things going on from gun shows to carnival rides. They also had a big sign on the corner telling about that night's concert, but they had it worded 'MARTY STEWART.' (This seemed really unforgivable at the time, but little did I know what the band would be called later on in the evening)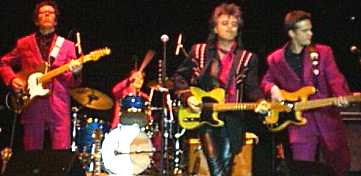 We finally tired of our little excursion around the grounds and headed back towards the west side of the Pavilion. Britney spotted Serena's car immediately, and they saw us at about the same time. When they began honking and calling out to us, I realized, as Bev would say, there was a Marty Party in Progress!
It wasn't long after that, that we were at the door, and the plan was quickly hatched that the young ones would go in ahead of us and run like mad to the front to secure our seats. When the time actually arrived, it didn't quite go as planned. The adults ran too! (not me, mind you, I'm too crippled up to make that mad dash, not even for Marty unfortunately) Bev, Serena, and their children got on the first row and Britney, Roger, and I, were right behind them. It was front and center and we couldn't have been more pleased.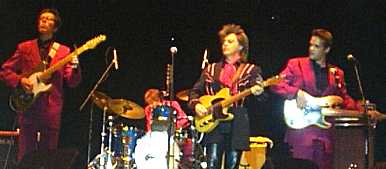 Baillie and The Boys opened the show. They were good, and I had a pleasant journey into the past as they did some of their songs. After Baillie and The Boys, and a short intermission, it was time for Marty and The Superlatives! The announcer walked out on stage, spoke loudly into the microphone and said, ' Now Welcome Marty Stuart and his band The Super Laxatives! '
So here we had traveled all this way to see Marty Stuart and The Superlatives, but instead we were going to see Marty Stewart and The Super Laxatives! Do you think that with the 'fair atmosphere' of the place, that perhaps these people had Cotton Candy for brains?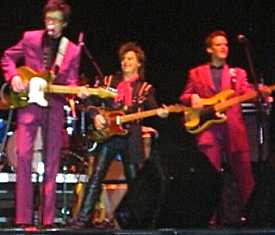 Marty and our guys came out on stage to a roar of approval from the crowd. Kenny, Brian & Harry were all looking so handsome in their fuchsia suits with black shirts and Marty in his black leather pants, black shirt, and a black jacket just took your breath away. I was so into the show that I forgot to write down the songs they did, but every one of them were as fantastic as ever. Marty did a lot of strutting and dancing on stage, which brought great sounds of approval from the female portion of the audience.
Each of The Superlatives received their chance to do their own thing, and each one was just fantastic. From the sober-faced Buddy Holly persona of Kenny, to the 'keep the beat in perfect time' drumming of Harry with talented Brian (that looks so much like Steve to me) they each pleased the audience with a song or two while Marty accompanied them as he smiled with pride at his band.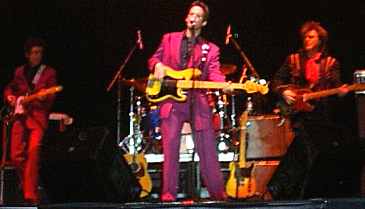 As usual, the show was over before I was ready for it to end but, we still had meet and greet! There wasn't many of us and we were led back stage where we visited with one another while we waited for Marty. I felt a bit out of place because just about everyone there had on their Marty shirts, Marty pins and what not. I was in a blue tee shirt with Winnie The Pooh's buddy, Eeyore on it! Don't know why I didn't ware one of my Marty shirts, or at least have my ten-year pin, but I didn't. Soon he was there and I was the second in line to see him. I wanted my hug first, it had just been too long between hugs as far as I was concerned! After a great hug, we chatted a bit and I told him that I felt really bad because I was there with my Marty Pals, and they all had on shirts with his picture on the front and here I was wearing one with a jackass on it. He looked at the picture on my shirt then said, "Oh ... that's all right, it suits me too."
It wasn't long after, that we were heading towards the exit, another Marty Party quickly becoming a memory. As we stepped out the door into the night air Serena said ... "do you think we can find our cars?" I looked up and only two white cars sat out by the large lot, as usual we had pretty much managed to be the last ones to leave.
With a round of hugs and good-byes we got in our cars and rolled away from the Pavilion, with each of us looking forward to the next Marty Party.
Review and photos by Darlene Renteria, Ringling, OK