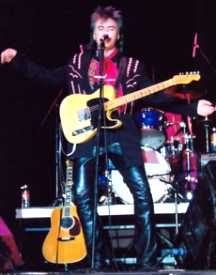 Laura, Jarred and I started our trip to the Tulsa Expo Square by traveling to Norman to meet up with Serena and Kaitlyn. We had to meet up with Darlene and her daughter and son-in-law along the way. Before we met up with them, Serena took us by Toby Keith's house. All I can say is...it's big and awesome. We thought about taking his Daily Oklahoman newspaper but decided against it. We didn't think Jarred could whoop him. So, we went to meet Darlene. I did take pictures of the house.
Anyway, back to our trip.
After we met Darlene we were on our way to Tulsa. We arrived in Tulsa around noon. Our first goal was to find the place, which was easy. They had a lighted marquee sign out front. We were so exited that we were going to see Marty's name in lights. I got my camera out and readied to take a picture of it. It said, "Country Music's Marty Stewart". I couldn't even take the picture. All four of us at the same time screamed "agh!" We were so disappointed that they spelled his name wrong. We were hoping he wouldn't see it and go home.
After that we had lunch at Don Pablo's Mexican Restaurant. Then we went on a search for something with the University of Tulsa on it for Jarred. But every where we went only had University of Oklahoma (OU) and Oklahoma State University (OSU). We finally found him a shirt and a hat and drove him by the stadium.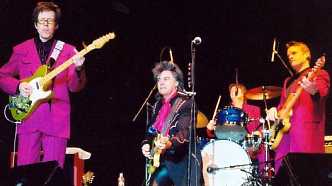 Around 4:00 p.m. we went to the Pavilion at the Expo Center to watch for a line to form. We also watched the band go in and out of the bus. We finally got our tickets which were every fan for themselves. (general admission, run and get a seat). They finally opened the doors at 6:30 p.m.. We ran. I know Serena has a bad leg but she got there first. I was right behind her. Our fast children wondered how we got there so fast. We had front row center seats. It was great. We were sitting there and I was looking around at the crowd and noticed a couple of familiar faces in the crowd. It was Cindy and Lisa from Alabama. They drove over 10 hours to get there. We visited with them for a little while wondering if they were going to have a meet and greet. Besides one other lady we were the only fan club members there. We saw Les Banks setting things up on stage and Cindy asked if there would be a meet and greet. He first said "no" and smiled. He then asked her what day it was. She said "Saturday." He said,"OK."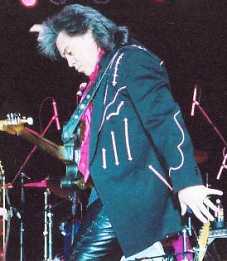 It was finally time for the show to start. Baillie and the Boys were on first. They did an acoustic set of their old hits and some new songs from their new album on their own record label. They were great. They have a 15-year-old daughter, Alyssa, that has a beautiful voice. She sang two songs that she wrote. She is very talented and very pretty. She looked right at Jarred when she was singing. It could be that he was the only guy on the front row. But we won't tell him that. Finally, Kathy Baillie sang an a capella version of "God Bless America". It was wonderful.
Next was a brief pause while they set up the rest of Marty's stuff. It didn't take Les very long. The MC came out and announced where to meet for the meet and greet. Then he introduced Marty and the guys. I don't know if Marty heard him or not but the guy messed it up big time. He said "From Oxford Mississippi, Marty Stuart and The Fabulous Superlaxitives".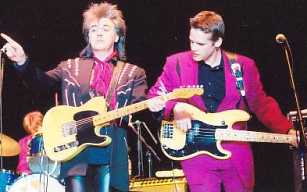 They had already spelled his name wrong, now they got where he was from wrong. And I won't make any comment about the Superlaxitives. Marty didn't say anything. They came out on stage and put on an awesome show. The guys were dressed in fuchsia suits with black shirts. I hope my pictures do them justice. I really can't describe the color but fuchsia. Marty was dressed in black leather pants, black shirt with embroidery on it and a black jacket with pink trim that looked like it glowed in certain lights. He also had on a fuchsia scarf that matched the band's suits.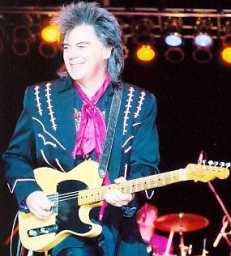 They kicked off the show with "Back to the Country". Then he did a new song called "Too Much Month at the End of the Money". Next came "The Whiskey Ain't Workin" and followed it by telling the Banker Cobb story. Travis gets drunker every time he tells that story. He said he had a new album coming out in July. He said it was called "Country Music" and followed that by saying "if you don't like country music then don't buy it". He went into "Satisfied Mind" which he mentioned they recorded for the new album. Next came "Rock Island Line" and "Tempted".
After, that was another new one called "Homesick". He sang a Waylon Jennings song called, "Cowboy Sing the Blues". I really liked that one. Next up was Kenny Vaughan. He sang "Country Music's Gotta Hold On Me". He was really rockin. The crowd loved it. Marty stepped up then and sang "This One's Gonna Hurt You" and "Burn Me Down". Then he did a song that he said Johnny Cash taught him . I think the name of it was "The Wall". It was a great tribute for Johnny because Marty did an awesome performance.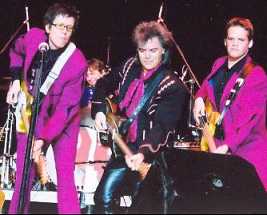 Next was my favorite that Marty performs live, I wish he would record it. It was "Long Black Veil". Kenny added some thing toward the end of the song where he sings "she cries o're my bones". It almost sounded like a coyote or mournful cry in the distance. It gave me a chill. Brian stepped up to the main microphone next. He sang Foster and Lloyd's "Crazy Over You". Everyone really liked it. I like his voice. Harry went right into Marty Robbins' hit "Don't Worry 'Bout Me". Marty Robbins is one of my favorite singers and I think he would have been proud of the way Harry sang it. That man is really talented to sing like that while playing the drums. Next, Marty called the Fabulous Superlative Quartet front and center. They did a couple of gospel songs. The first one he said was a Lester Flatt and Earl Scruggs song "Who Shall Deliver Poor Me" I believe was the correct name of it. And the second one was "Get Down on Your Knees and Pray". They really harmonize well together.
Almost last was "Hillbilly Rock". I've gotten where I don't like that song. It means the show is almost over. He tossed his towel to me, I had it but it got away. About half way through the show my daughter, Laura. got a guitar pick.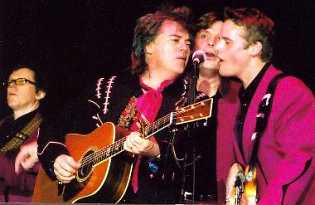 They left the stage but we knew they would be back. They came out and did "Okie From Muskogee" and "Hey Baby". Then it was over. It was a truly awesome show. We picked up our things and went to the meet and greet. While waiting Laura made friends with Brian and got her picture taken with him. She just has a thing for bass players. He told me that he liked my shirt. Jarred was talking to Kathy Baillie's daughter. He got an autograph. He said she was flirting with him. But I don't believe it. Again, he was the only young guy back there. She is cute and very talented. Marty finally came out to meet with us. I went up to him and got my hug first. He signed a couple of pictures and my shirt and gave me another hug. He told me that really liked my shirt. Which everyone in the building was trying to purchase at the merchandise booth. They thought it was the new Marty Stuart shirt. It then came time to leave. We told everyone goodbye and we were on our way home. Now, I have to look forward to June for Fan Fair.
Review and photos by Beverly Kerr, Rush Springs, OK