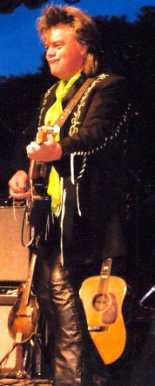 I left work at noon that Friday. I stopped and picked up my niece Ariel. It was her first Marty concert. I then proceeded home where I would meet my cousin Serena and her daughter, Kaitlyn. My daughter, Laura, started loading everything in the car. I didn't even have to ask her.
Then the five of us were on our way to the southeastern part of Oklahoma. Also, I might add, the prettiest part of our state. Upon arriving in the parking lot at the WinStar Casino, we found lots of water. It had rained earlier. There were also more clouds looming in the west. We found our way to the gate where we called out for Darlene, she had our tickets. She had saved us five general admission seats, which were about 12 rows back, plus there was a huge open space between the stage and the front row of "VIP" seats. They had told Darlene when it got closer to show time that we could move up if the "VIP" seats were not filled. We did move up a couple of rows but I knew we wouldn't be there long. Knowing Marty like we do, we knew he would want us all right up front.
Laura and I went over and talked to the Governor (Jim Hill) a little while. He is really nice. Then it was time for the show. The Governor came out giving stuff away if you had a picture of President Lincoln, divorces, birthdays and such. Then the countdown began. It was time for Marty Stuart and his Fabulous Superlatives. They all came out wearing black suits with green trim. Except Marty had on those leather pants. I'm thinking as humid as it is, he is never gonna get those off. Apparently he didn't cause he wore them the next night at the Beaver's Bend show.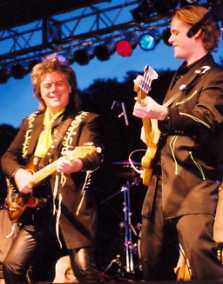 Well we were right, Marty called us to the stage. So much for their "VIP" seats. They got the show started with "Hey Baby." Then he sent out "Too Much Month at the End of the Money" to the President of the United States. He said the gas prices were too high. Next came, "The Whiskey Ain't Workin'." As it got darker, the bugs started flying around the lights. As Brian started to sing his part, a bug flew into his mouth. Marty asked him if that skeeter tasted good. Brian was good and never missed a note. Now that's talent.
Marty sang one of my favorite songs from one of his old albums, "Mirrors Don't Lie." Next came "Homesick" and "Burn Me Down." He did a lot of guitar solos. I think he likes showing off a little. Okay, he showed off a lot. But we didn't mind. He is so talented and the crowd loved it. "This One's Gonna Hurt You" came next. He then talked about Johnny Cash's band and they did "Luther Played the Boogie Woogie in the Strangest Kind of Way." After that, "Tempted" was performed. Then it was UH, OH, it's time... time for Cousin Kenny Vaughan to sing. Marty took out his throat spray and sprayed the microphone, Kenny's mouth, his own mouth and then Brian's mouth. He sang "Country Music's Got a Hold on Me." This got a lot of reaction from the crowd. Then Laura's favorite bass player got to sing one. She said he sang it just for her. Brian sang "Crazy Over You." Somewhere in the middle of all of this Marty sang a song he wrote for Johnny Cash. It wasn't listed on the playlist, so I don't remember when he sang it. It is called "Dark Bird" and it is an absolutely beautiful song.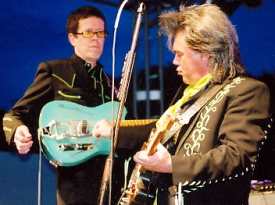 Next came my favorite part of the show. Marty took out his mandolin and started playing. It was so pretty. I just loved to hear him play it. Then Harry came out front and sang "Slow Train" with Marty playing mandolin. It was really wonderful. Harry has a wonderful voice. Then something sad happened. They sang "Hillbilly Rock," which we all know means it's the end of the show. But Marty didn't disappoint us, after the Governor urged us to holler for them and they came out and encored with "Draggin' the Line." Then we were off to the merchandise table to get our autographs. But not before Laura sweet-talked Kenny out of a playlist on the stage. We got our autographs and we told them we would see them the next night and we were outta there. Off to the hotel.
Review and photos by Beverly Kerr, Rush Springs, OK
---