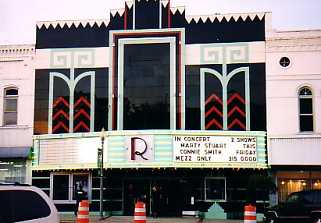 This is a "double" review by two fans who attended this show, Judy Simonton and Diane Gilmore. Each had their own experiences to share so both views were put into one review. Sorry it's a late entry, but with two career gals working crazy hours, it was a slow go getting all of our impressions in one review, but here it is.
DIANE: I arrived in Talladega before Judy. Given my love for antiques and historic sites, I wanted to go to this show especially for the theater, and jumped at the opportunity when the owners of the theater invited me to see it before showtime. We arrived early and I got to explore this magnificent piece of history, one of the highlights of my trip. The building had its original art deco décor and the front was covered in vitrolite glass, which you antique lovers like me know is rare. A lot of work needs to be done on that building, but I was impressed that the community is completely behind their landmark theater, pouring millions into an upcoming restoration project that I was told will get underway next year.
While there, we pitched in with the staff to prepare for Marty and Connie's entourage, as a tiny theater like this could use a few extra hands to help welcome three tour buses and a bunch of staff. I also met two wonderful gals who came from South Carolina to see the show, Gail McCall and her friend Judy. We shared a pizza together for dinner at a café down the street and I had a ball meeting and chatting with those Marty fans before the show. It's always great to go to a show and meet new friends.
JUDY: We got to the theater around 5:30 and saw Jim standing at a side door. He let us in and we went into one of the offices to visit with him and Diane. It was great seeing them again and I enjoyed meeting Jamie.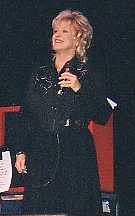 The first show started right on time, with Connie coming out in a mid-calf black skirt and black fringy top. She looked beautiful, as usual. She started the first show with 'If It Ain't Love', then welcomed all of us to the theater. After that, she sang 'I Never Once Stopped Loving You' , 'Cincinnati, Ohio', 'Darlin' Are You Ever Coming Home' and 'The Hurtin's All Over'. She introduced her band, The Men in Back, and they did an instrumental version of 'Alabama Jubilee' while Connie danced along. She was in such a great mood, laughing and cutting up with the band. As a matter of fact, she mentioned what a good time they were having, but said the next song was a sad one. It was 'Cry, Cry, Cry' followed by 'Run Away Little Tears'. Rod Hamm, Connie's lead guitar player, sang a solo as well, 'What a Way to Live'. Really has a good voice, too!
After she did 'I'll Come Runnin' ' Connie said she wanted to add a little spice to her show and called Marty out. He came out in his black leather pants and a black turtle neck shirt, looking mighty fine! They kissed on each other a little bit, then sang 'After the Fire is Gone'. Connie held the microphone for both of them and Rodd joined them on the chorus. They really seemed to enjoy performing together.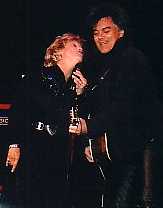 After Marty left the stage, Connie sang 'Once a Day', then did a wonderful version of 'Fight On' before ending with a breath taking 'How Great Thou Art'. How does such a big voice come out of such a little woman????
DIANE: I watched Connie's first set with my great friend Judy and her family. Judy was a great "show guide" partner for me, as I had never seen Connie perform and being a rock and roll girl all my life, I never heard a single one of her songs! Judy not only knew every one of Connie's songs, she told me the history behind each one as well, so I got some music education as well as a great show to watch. My chatty husband stayed in the back helping the caterer and doing what he does best, talking. That boy fits in well in the rural community where we moved from the city 5 years ago. He can talk till the cows come home with just about anybody, sheesh!
During the intermission meet and greet, I went through the line and showed Marty a "lifestyle" newspaper article the city had written in their paper about his upcoming show. He seemed awfully interested to read it, seeing as me and another fan, Bette Brown from Texas, were in it and it was strictly about the fans who came from out of state to see the show. The reporter told me she tried to reach Gail as well but couldn't, and the story had to go to press within hours, unfortunately.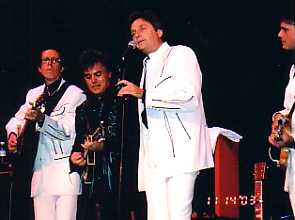 In the office hallway between shows, I watched Marty autograph several promo posters for the Ritz staff. Then he turned to me and asked me if I had another copy of that news article for him to take with him. I said I did (they gave me two) and gave it to him. He really appreciated it and thanked me for it, and shook my hand warmly. After a few minutes of chatting in the hall, he attempted to read the same copy that was posted on the bulletin board where we were standing, which was a challenge, seeing as the hallway wasn't well lit and the newsprint was awfully small. I don't know why, but he sure seemed interested in that article.
I went to track Jim down and he was in the dining room with Charlotte, the caterer, lighting up her warming trays again. Connie came in and greeted me and said, "I'm hungry." I said, "Well, if I sang all that like I just saw you do, I'd be hungry too!" Then of course Jim, so male clueless about being in the presence of Connie Smith, belted out his infamous line he gives all older ladies he meets, "Well, hello there, young lady!" in old-time Walter Brennan style, at which point I wanted to die right there (ladies, can you relate to embarrassing male behavior??) But Connie took it in stride, bless her heart. He got her a plate and she finally got to sit down and eat. I must add here, too, the catered meal they put together was first-class--baked chicken with a white cream sauce, potatoes, two vegetables, a colorful salad, and two rich-looking desserts, plus every kind of drink they wanted. We all oughta go into show biz just to get a meal like that (or make a living crashing wedding receptions, LOL!) Marty did not eat the meal but instead, stayed in a dressing room chatting with who I now realize was his surprise guests of the evening. I did see Brian Glenn come in at one point to get something.
I then went back out to see the second set with Judy, leaving my family behind to help the caterer clean up. Jamie just wanted to stay with dad so I let her. Once again Judy was great at filling me in on years of talent in Connie that I had missed. In fact, later, when Marty's surprise guests came out, Judy helped me along there, too. I sure love going to a performance where I can both enjoy it and learn something new.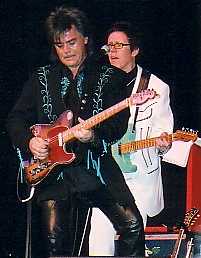 JUDY: Marty came on after a brief intermission. He looked so good! He was wearing the black suit with the blue trim and the Fabulous Superlatives were in off-white with black shirts and trim. He started with 'Back to the Country', smiling and dancing around a lot. When he finished the song, he asked us to give Connie and her band another hand and said "Isn't she great? I hope I get to go home with her tonight!" After that, he sent 'Too Much Month...' up to Washington for us, did 'The Whiskey...' and told us to buy the new CD and send it to Travis Tritt for our money back if we don't like it. I can't remember the order of the songs, but he did 'Farmer's Blues' which he sang after telling the story about writing it with Connie and giving it to her, 'Tempted', 'Rock Island Line', 'A Satisfied Mind', 'Homesick', Kenny did 'Country Music's Got a Hold on Me', and Marty did a wonderful mandolin solo that ended with 'Dixie'. After that, they went right into 'Slow Train', with Harry singing lead. He has such a great voice! At some point, Marty called his "baby" back out and talked about how much he loves to hear her sing around the house. He said he loves "old songs that tell a good story and earlier today I asked Connie if she'd sing this one." Marty ended his first show with 'Hillbilly Rock' and then did one of my new favorites 'Draggin' the Line' for an encore.
Connie's second show was pretty much like the first one. She said she was driving the band crazy changing things around, but I can't remember what she did differently except she added 'Singing the Blues' this time. She again called Marty "the spice in my show" when she had him come out to sing with her. This time, he came dancing out from the side of the stage and Connie danced with him for a few moments.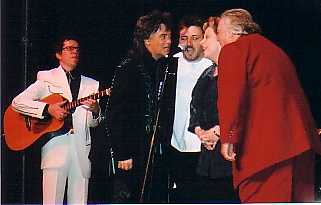 Marty's set list for the second show was also basically the same as the first. Brian did a gospel song this time and Connie sang two songs when he called her out to join him. She did "Long Black Limo" again, after telling about first hearing the song on a Bobby Bare album. She asked Marty "Who's the first person you heard sing this song?" Marty said "You, when I was just a little kid, about this tall!" and held his hand about two feet off the floor. Connie laughed and said "That's too much information, honey!" Marty cracked up! After she had finished 'Limo' and was walking off stage, Marty called her back and asked her to sing another song. Before she started, she said "I have to tell them the story first." Marty laughed and said "Okay", so Connie told us "when Marty was a little boy, his mama had a record of me singing this song that she used to play a lot. Marty never liked sad things, he always liked happy things, so he didn't like to hear this song. So when his mama played it, he knew just when to jump on the floor to make the record skip over the part he didn't want to hear!" She turned to Marty, who had the cutest grin on his face, and told him, "Just remember this isn't a record. It won't work tonight!" She then sang 'The Deepening Snow' with Marty playing along on the guitar.
During this show, he surprised the crowd by bringing Jerry and Tammy Sullivan out for a song - an accapella version of 'Blind Bartimas" that was absolutely fantastic!
DIANE: I did finally locate Jim and Jamie after the show but was also handed a bottle of wine to deliver to a dressing room, where Kenny sat alone. He said, "oh, nice wine, open it." I said, "You know if I open this, I'll drink the whole thing." He laughed and said, "You got a corkscrew?" I went to find one and the Ritz owner handily had one in her desk drawer. I left it with him to open because at this point, it was time for us to go and leave the band alone to rest after a very long night of pleasing two sell-out crowds and the chaos of talking to people repeatedly at two meet and greets. For me, this was a great show because I learned a lot about Connie Smith and about gospel greats the Sullivans, and I also got to see a fabulous historic building that, with the restoration work planned, will be a jewel for all of Alabama to brag about.
Review by Diane Gilmore, Springfield, TN and Judy Simonton, Lawrenceville, GA
Photo of the Ritz Theatre taken by Diane Gilmore, all other photos taken by Judy Simonton