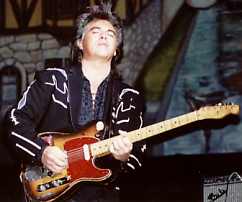 When we first got to the Tarrant County Convention Center, we went inside to find a seat. There were belly dancers on stage. We met Cindy Allred (aka heybaby) and her friend Lisa Phillips. They are cool. We had a blast. There were reserved tables up front. They were for VIPs. We said we are MIPs (more important persons). LOL:)
The opening band was a country band. They were all right. (nice wranglers on the lead singer) LOL:) While they were playing, Cindy and I saw Gary and Brad. We ran and got hugs and talked to them. They smelled real good. Serena and Lisa saw us and joined us. The policeman didn't even try to stop us. He figured four women and one of him. He was out numbered. We talked to Jodee for a while. Saw her father-in-law and children. We also saw Willie's mom and aunt. (That is Willie from Marty's office)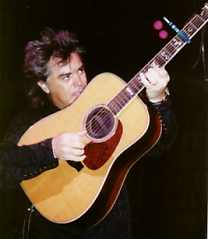 Finally it was time. A DJ from a local radio station (two of the VIP tables which no one was sitting at) introduced the guys. She also said that Marty likes people to dance down front. So the four of us went up in front of the stage. We stood in a line and danced where we were. You could call it a line dance. LOL. They didn't make us go back to our seats, so I guess we showed those VIPs who rules.
Marty and the guys came out, all in black. No surprise. Except, Brad had on some velvet pants. They looked dark purple. They fit well. They started off with "Brown Eyed Handsome Man." This song sounds so good. Then they jumped into "Well All Right." WELL, WELL. Talked about Texas and different entertainers from Texas. Then talked about the Dallas Cowboy's Cheerleaders. We won't go into that on this review. I wouldn't want him to get in trouble. Well, well, well and then "The Whiskey Ain't Workin." After that he talked about Johnny Cash and sang "Blue Train." After that came "Tempted." And believe me we were.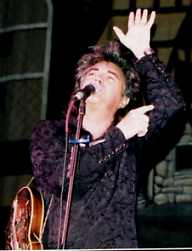 Serena was teasing Steve. She smiled at him and he stuck his tongue out at her. She would try to take his picture and he would hide behind the microphone. He was looking at her for a while. So the next time he looked down at her, she blew him a kiss. That made him smile a little. He finally gave her a big toothy fake grin.

Next, he started to play "Dark as a Dungeon" but then threw us a curve with an beautiful rendition of "Faded Love" on his mandolin. Then he performed "Dark as a Dungeon." Then we were treated to everyone's favorite, "Burn Me Down." He then said something to the guys and he sang "Today I Started Loving You Again." I've never heard him do that one before. It was great.

He then talked about his album. They jumped into "Sometimes the Pleasures Worth the Pain" and "Red, Red Wine and Cheatin Songs." He started talking about hobos and asked us if we wanted to hear "Achy, Breaky Heart." Everyone said NO! Marty said,"Speaking of Hobos, I didn't mean Billy Ray. I meant me." There was a lot of laughter. He then finished talking about hobos and sang "Hobo's Prayer." Next was "Rocket Ship" and he was all over the stage. Then came "Hillbilly Rock" way to soon.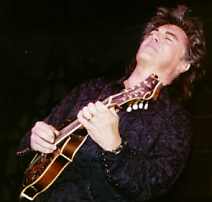 He left the stage. But, as always, he came back for one more. Coming back on stage, he threw his sweaty towel our way. Serena caught it. You think she would have cut it in half and shared it with me. She didn't. He then sang "Western Girls" and it was over.

We went to our Meet and Great. Serena and I made him a birthday card that gave him a good laugh. We also gave him a big package of Reese's Peanut Butter Cups. He grabbed them away from Serena and said something about getting a lardbutt. We got our autographs and hugs. Said goodbye to Jodee, Cindy and Lisa and headed back to Oklahoma on a Marty high.

The above review was written by Beverly Kerr, Lawton, OK. She took these fabulous photos as well. She also sent along this review written by her son Jarred and included a picture of him. Girls, hold on to your hats, I mean your hearts.
---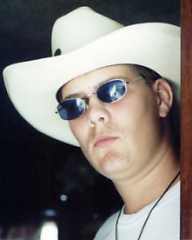 My son wrote this review. It is really kind of funny. I am typing it exactly the way he wrote it. He does know how to spell and he really doesn't speak this way. He was just being funny. Please don't take this seriously. LOL:):):)

Marty Review According to Jarred.
-Saw sum people with chickens on their heads.
-Met som people frum a country called Alabama.
-Talked a bit to Marty's fan club Prez.
-My momma talks a lot!
-Cowboys instruments match the color of this pen I am using.
-Marty sang sum sawngs.
-Introduced cowboys.
-Sung more sawngs.
-Plugged album.
-I didn't know Billy Ray Cyrus was a hobo.
-Sung sum more sawngs.
-Marty leaves stage.
-Marty comes back (BIG SURPRISE)
-Large cousin catches Marty's sweaty towel.
-Marty sangs one more sawng.
And that is my review according to Jarred.
Thank you for your time.
I, Beverly, Jarred's mother, wishes not to be held responsible for her son's review.