Hi everyone,
This night has got to be one of the best "Marty Memories" for me (and for my husband Kevin too, although he doesn't get as excited as I do).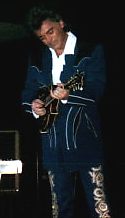 We got there early enough to get great seats - 1 row behind the 4 rows of VIP tables. The opening local band was good. Then Marty hit the stage around 9:30 p.m. opening with 'Western Girls'. He was dressed in an awesome blue suit. Jacket covered in rhinestones and pants had a large stripe of rhinestones down each leg. White 'puffy' shirt. Maybe a little Vegas sticking with him. The R&R Cowboys were dressed in black with black jackets. Marty was in very good humor. He said "hello Wisconsin" then apologized and knew he was in Iowa! He then joked about his suit. Said it came from Elton John and all day long he's wanted to squat when going P!(no fly in pants). Well that brought the house down!
He next told the story of how he came to work with Johnny Cash. (it all happened in Iowa). How he married and divorced his daughter. "I'm glad I divorced her a_ _ !" he said "But don't tell her I said that or she'll sue me again"! The crowd went wild! Then he played 'Doin my Time'.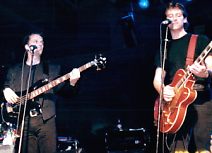 Next was the Mr. Cobb story before playing 'Whiskey'. Then out came the mandolin for 'Oh, What A Silent Night' - Awesome as always! Then he started taking requests. He did some Hank Williams and Waylon's 'Amanda'. Then he did that story song about Travis getting married and Tanya Tucker, etc. All the band members were from Iowa towns, Marty was from Ames. (That's were I work). He told more stories in between playing 'Burn Me Down', 'Southern Accents', 'Tempted', 'Hobo's Prayer', 'Blue Train', 'Today I Started Luvin U', and 'Hillbilly Rock'. I never would have remembered this except Kevin went up after the show and got the set list. The encore was 'That'll Be Alright'. We sat with a really nice couple from Des Moines and she went up and shook his hand after and was thrilled!
Wow! What a show. Almost 2 hours of Marty's music, stories, and fun. We'd never seen him in a Honky Tonk or bar concert and it was really a different show. He had so much energy and was really letting loose and having a great time. But wait, there's more. The M&G was even more exciting!
There were 30-40 people in line and we were all getting a little restless since we had to wait about an hour. But when Mike finally let us in the room (by 10's) we realized why such a wait. Marty had changed. Had on jeans, silky shirt, black leather jacket and this really cool top hat! What a look! Mike was over talking to others and not rushing us thru as usual. "Thank You Mike" because we talked with Marty for almost 5 minutes!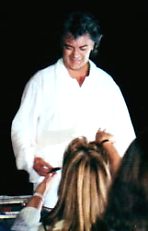 First Kevin asked Marty "what's with the hat. Thought you didn't like hats?" (no hats tour). So Marty took off the hat and told us the story behind the hat. He'd had one just like it years ago but gave it away to Bob Dylan and has been looking for another one ever since. Well he found this one 2 weeks ago in California and loves it. Just standing right there listening to this story gave me goosebumps! He then signed a poster I had earlier asked the bar owners if I could have.
Then came my turn. I showed him the newspaper from Kewanee, IL. (He made the front page). He said "What's this? Did I make the front page? Where is this from?" I told him Labor Day, Kewanee, but he didn't seem to remember until Kevin said "Hog Festival". Well then he said "Oh yeah, I was celebrating 26 years in music at a Hog Festival!" He tried to read to review (short caption under pix) but couldn't so he told me to read it to him! It started out about the local opening act and while starting to read it Marty acted like he was sleeping! So I said "OK, OK, I'll just read your part". So I did and then he signed it "To Lori, Hogs are Cool, Marty Stuart". I then had him sign my ticket stub also and brought up Sherry and the website. He first said "Mattioli" in a real Italian accent. Then said " she knows more about me than I do". I said yes, she keeps us informed. I told him he was great. He said 'Thanks for coming again." And we left.
It was a great night I'll remember forever! Marty was so exciting, so funny and so awesome! Hope you enjoyed reading this and have the chance to see him soon.
Review and photos by Lori Shirley, Boone, IA