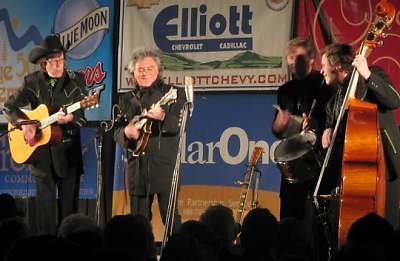 It was a dark and stormy night…but that didn't stop the sellout crowd from squeezing into the Cochran Pavilion at the Frontier Culture Museum to hear some good, old-fashioned country music that Saturday evening, September 26th.
And to think, I almost didn't go to the Fortune Williams Music Festival but my friend persisted and I'm so glad she did because I certainly would have missed a classic event.
We arrived in time to hear several songs by Jimmy Fortune, formerly of the Statler Brothers. His voice is amazing – a smooth, soaring tenor that makes you sit up and take notice. The sounds of the rain pounding on the roof combined with the warmth of the crowd and the delightful, classic tunes gave me a sense of stepping back in time to a simpler day and age. As Jimmy sang songs like "On the Other Side," "More Than a Name On the Wall," "How Great Thou Art," "When One Door Closes," I found myself smiling with contentment.
During the break we braved the elements and ventured down to the refreshment tent to get something warm to drink. While there Jimmy showed up to sign autographs and pose for photos. As I thanked him for his wonderful performance he replied, "I have some of the greatest fans in the world!" Indeed he does.
We returned to the Pavilion to dry off and warm up, ready for Marty Stuart and His Fabulous Superlatives. When Marty came out we forgot all about the weather. His sunny personality radiated from the stage and he kept us thoroughly entertained with his wit and musicality. Marty got the crowd singing with "Whiskey Ain't Workin' Anymore," and "Tempted," and I was enthralled as he wove the story of "Little Big Horn" using both words and instruments to pull us in.
Ever the encourager, Marty frequently shared the spotlight with his fellow band members, giving them each a chance to shine. One of the more memorable moments occurred when Kenny, his guitarist, took the lead on "Walk Like That," showcasing his quick fingers and delightful facial expressions.
Marty even called Jay Unger, a popular fiddler, to the stage and complimented him on his composition entitled, "Ashokan Farewell." Marty suggested they play it together. The crowd cheered its approval at the idea. Marty picked up his mandolin and softly played in the background allowing Jay to shine, taking the lead only when Jay nodded. They watched and read each other's cues smiling with delight at the opportunity to make music. The end result was breathtaking! When the last note faded away the audience came to their feet for a standing ovation. I felt as though I'd witnessed something truly special.
Review and photo by Cheryl Walker