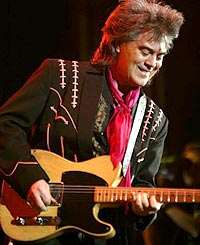 The Sony extravaganza, which ran from 7 to 10:30 p.m., featured performances by Clint Daniels, Tammy Cochran, Colt Prather, Buddy Jewell, Cledus T. Judd, Brad Martin, Patty Loveless and Marty Stuart, who served as master of ceremonies. Although the show's producers -- and fans -- had steeled themselves for rain, the clouds cleared away long before the music started.
"I was wanting to hug me a waterlogged Fan Fair woman tonight," Stuart sighed to the crowd, "but the sun came out."
Stuart and his Fabulous Superlatives (surely the cheekiest and funniest band name ever coined) turned in a rousing but too-brief set. The band has such a firm and determined drive that its music sounds almost martial as it rolls out from the speakers. They began with Neil Young's "Get Back to the Country" and thereafter ranged through Billy Hill's "Too Much Month at the End of the Money" and the Stuart/Travis Tritt hit, "The Whiskey Ain't Workin'." Stuart said he wanted to send "Too Much Month" up to the White House. "With all due respect," he added, "you know what I mean."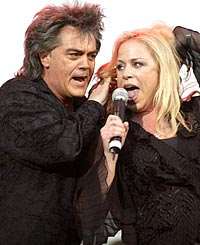 Fans rushed the stage to take pictures of Buddy Jewell, treating him like the superstar he may very well become given the momentum he's achieved by winning the Nashville Star talent contest and getting an album contract with Sony. He sang four songs but earned the most applause for his high-charting first single, "Help Pour Out the Rain (Lacey's Song)." Tammy Cochran did her hits -- "I Cry," "Angels in Waiting" and "Life Happened" -- but really raised the attention level when she essayed a cover of Tammy Wynette's "Your Good Girl Is Gonna Go Bad." Cochran's version was more throbbing and sensual than the original and hot enough to lure Stuart onstage for an impromptu duet.
Stuart described new Sony artist Colt Prather as a "guitar slinger." He is that. In fact, his guitar slinging was so loud and upfront that it sometimes obscured his take-charge voice, which sounds a lot like a smoother Hank Williams Jr.
Review by Edward Morris, Photos by Ed Rode