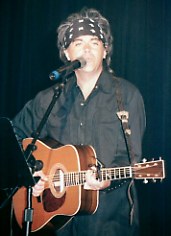 Marty joined host Gary Chapman, singer Natalie Hemby, pianist Dino and the great J. D. Sumner and the Stamps at the Ryman Auditorium for the Sam's Place Series of spiritual and inspirational music.

Marty performed without his band, accompanying himself on mandolin and guitar. Dressed casually, he opened with "I'm Working On The Building" displaying his talent on the mandolin. Marty talked about how he liked being a Christian--a struggling Christian. He said "The only thing I haven't mastered in my walk is that I know what to do and I don't do it. I know how to do right but the only thing sometimes it comes out is wrong. I can't keep from fighting. You gotta fight back. I wrote this song after a big old spell of doin' wrong." He then sang "He Knows My Name."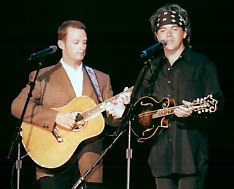 Gary Chapman joined Marty for an instrumental and Marty had to entertain the audience with one of his wonderful stories. The entire cast of performers returned to the stage for the finale "I'll Fly Away."
I believe Marty has only missed one year of not performing in this series. He's appeared solo and he's brought his band--but the music has always been enlightening and made for an evening of inspired music.
Here are a few more pictures from the evening: