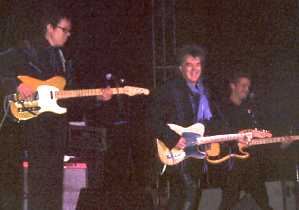 Firefighters, the men and women who put their lives at risk to protect their fellow men and women kind. What a wonderful charity to raise money for: The Roanoke Firefighters Association. This is the charity who had delivered a Marty Party to my part of the country. The date was April 17th, a Thursday and a work night, but what better way to get energized than to see Marty and the Fabulous Superlatives. Needless to say, I wasn't worth much at work Thursday or Friday either one, but luckily my boss had been at the show as well and had told me what a wonderful time she and her husband had, so hopefully I got by with it.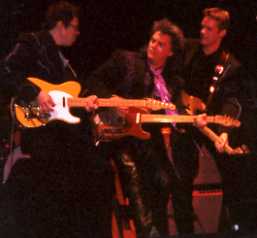 We arrived early in the cold and windy weather to take our front row seats. They weren't too bad even though we did end up in front of the speakers, needless to say we were pretty hard of hearing the rest of the night. I had the pleasure of sitting beside a lady I work with, Carol Perdue, who loves Marty but had never had an opportunity to see him perform. He did not disappoint. Bailee and the Boys opened the show with their daughter joining them for a few songs. They ended up with "God Bless America" which got a much-deserved standing ovation. Now it was time for everything to be switched around on stage, carrying on guitars and carrying off others. Saw the famous telecaster of Clarence White's and Marty's own famous mandolin being carried up to the stage both very carefully. Kenny Vaughan appeared to check out his guitars, Brian Glenn appeared on the other side of the stage to get ready for the performance. Soon out went the lights and the screams and applause began! WYYD a local radio station had two personalities on stage for the introductions they also told us that Marty Fan Club members could gather to the right of the stage for a Meet and Greet after the show. Then came the announcement "Ladies and Gentlemen please make welcome Marty Stuart and the Fabulous Superlatives".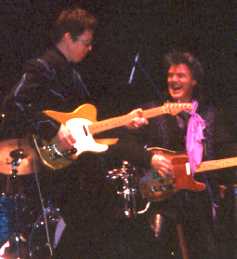 They wasted no time in rocking the place! They appeared on stage in black suits with purple stitching, Marty was dressed in his black leather pants, shirt and a purple scarf and fancy jacket also with purple stitching. Started out with "Back to the Country" and "Too Much Month at the End of the Money." Since this was the first show of the weekend, they were high on energy and having a ball. Marty said he was glad to be there for the Firemen and to be in Salem, VA. They performed "The Whiskey Ain't Workin' Anymore'." Afterwards, he mentioned he sang that with Travis originally. He also said he noticed that Travis was going to be performing there next Friday, told everyone if they had bought any of his (Marty's) CDs and didn't like them to bring them to Travis' show and return them, Travis would give them their money back. Then he laughed really big. I won't say what else was said about Travis. Good thing he and Travis are tight! Just kidding. He said he and Travis were brothers.
The show moved on with a song from his new CD which is bound to be a hit "Satisfied Mind", "Rock Island Line", then on to a song he said he learned from Johnny Cash. Hopefully I am correct in saying it was called "The Wall". It is a really nice ballad. He went right into "Long Black Veil" after that and the crowd loved it!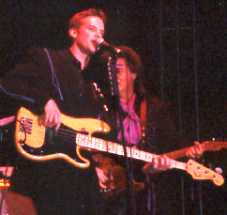 He brought around Cousin Kenny Vaughan to do this thang on "Country Music's Got a Hold on Me" and he smoked it! Brian Glenn came forward to sing "Crazy Over You" then it was Harry Stinson's turn from the drums to sing "Don't Worry About Me". What a talented group of guys!! At this point Marty called around the quartet and picked up his mandolin for a few gospel tunes. The first one was "This Little Light of Mine", then "Get Down on Your Knees and Pray", during the last one they changed a few of the words to Saddam Hussein you better get down on your knees and pray. The crowd went wild! Sometime during the show they sang "Burn Me Down" and Harry asked if there was a fireman in the house.
All too soon came "Hillbilly Rock", Marty thanked everyone for coming and took off his guitar, people ran toward the stage and he shook hands with several before leaving the stage. The crowd demanded more, stomping, screaming and applauding. They came back for two more songs, can't remember what they were........ then the guitar was removed again and he danced across the stage again shaking hands and giving away guitar picks.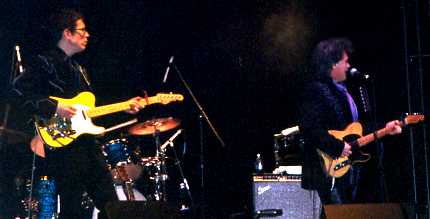 Several co-workers of mine were in attendance and all said what a talented band he had and how they really loved the show they though it was excellent. It received a good review in our local paper The Roanoke Times as well.
After the show I had the opportunity to meet Brian Glenn for a moment, then we were ushered backstage to see Marty. There were hugs and howdy's all around as well as pictures. It was so great to see him again, he looked good just a little tired which after all the energy he exerted on stage was to be expected. After everyone had been given autographs etc., he waved good bye and headed to the bus. At this point I saw Harry Stinson standing near the bus so I took the opportunity to go introduce myself, he was a very nice guy.
Now comes the wait for June and Fan Fair.
Review and photos by Serena Wimmer, Copper Hill, VA