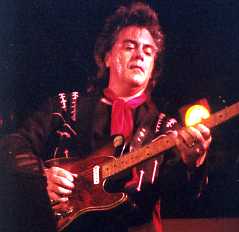 The Danville-Pittsylvania County Fair in Ringgold, VA was the place to be on Friday September 20th. Marty Stuart and the Fabulous Superlatives had rolled into town! We arrived plenty early and, even though it was an hour or so before the gates opened, we could see a big shiny bus behind the stage We drove back to town for a bite to eat and arrived as they were opening the gates. We could hear music and a familiar voice coming from the stage, so we headed over to the bleachers and were excited to see Marty and the whole band on stage doing a sound check. What a great preview of what was to come!
The crowd gradually got larger and larger. There were several stands of bleachers and a large area right in front of the stage with plenty of room for standing. We all know it only takes one person heading to the front of the stage to get everyone else moving and, sure enough, about 20 minutes before show time, one lady grabbed center stage, that was my cue! I got what I think was the best spot, to the right of Marty's mike (if you were facing the stage) between two monitors this is where he chose to step up to the edge of the stage to play and carry on all night! From what I heard, the whole area for standing was full and the stands seemed to be pretty full as well.

At 7:30 p.m. came the announcement we had all been waiting for -- "Ladies and Gentlemen, Marty Stuart!" The crowd was very "into" the show. Clapping, screaming and just having a good time. Marty was looking fine in his black pants, black shirt, black jacket with the pink piping on it and a pink scarf. No way can I remember the set list. Lot's of the old favorites, "Tempted", "The Whiskey Ain't Workin", "Honky Tonk Crowd", "Now That's Country", "Me, Hank, and Jumpin' Jack Flash", "High on a Mountain Top", two new songs "I Surrender" and another one I can't remember the name of, and one I don't think I'd heard him play live before, "Get Down on Your Knees and Pray". Harry Stinson left the drums and came around front to sing harmony on this one and the crowd LOVED it!
Kenny Vaughan did his "Walk Like That", which you just don't seem to get tired of. Brian Glenn did a solo as well, but I'm afraid I can't remember the name of the song. The band seemed to be having a lot of fun and so was the crowd. It was very hot and muggy and Marty was lookin' for some iced tea! Some gentleman in the crowd came to the front of the stage with two tall glasses which Marty grabbed up quickly, he poured one into the other and made a mess, then took a big gulp. One of the stage hands started to take away the partially empty cup and Marty said, "Oh no! Bring that over here I can't get my lips around it over there!!!"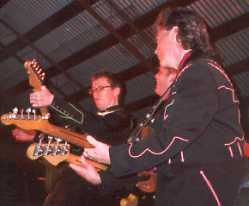 He announced that there would most likely be a tour next year called "The Electric Barnyard". This is not a solo tour but I'll have to keep you in suspense for now partially because I can't remember who all he said plus don't want to 'spill the beans' either! He stated they wanted to play small places not really big ones and could they come back to Danville. Everyone seemed to be in agreement that it would be fine for him to return. All too soon came "Hillbilly Rock". The crowd kept yelling and screaming and they came back for an encore, Harry Stinson took center stage for a gospel song then they finished out with "Streamline Lover".
There had been an announcement for a Fan Club Meet 'n Greet before the show, to be held after the show was finished. The line was really long, turns out they were not checking for fan club members so we had to wait a while. Helen Sue and I both had our membership cards signed and got hugs. Marty looked really good and seemed really glad to see us, which always makes you smile! Concerts take forever to get here then they're over too soon! Hopefully, I'll have one more to look forward to before the end of the year and we all know they're definitely worth the wait!
---
---
Review and photos by Serena Wimmer, Copper Hill, VA