The Real TREASURE at Treasure Island Casino is Marty Stuart!
We had tickets for the 7:00 p.m. show at Red Wing, MN. The doors opened at 6:40 p.m. We sat in regular padded chairs that were so close together you had the person next to you practically on your seat! When the elderly gentleman came to sit on my right side, for a while he was on part of my seat! I forewarned him that I tended to be really LOUD and really got into the "MARTY MAN." He said they had never seen him, I said you are in for a treat!! They rock BABY!! Our seats were 4th row DEAD Center! We were really close to him as it is really an intimate setting.
At 7:00 p.m. on the button, the Rock and Roll Cowboys walked on stage......then they introduced the "MAN" and out came Marty. He was wearing a powder blue jacket, black shirt with white polka dots, those absolutely FINE faded Levis with the infamous hole on the left thigh!! OH, BABY!!!!! It took me a while to gain my composure! That man is so GOOD-LOOKING!!
He opened up with "Honky Tonkin's What I Do Best." The acoustics were really great in there. I thought he'd be so loud in such a small area, but either I'm going deaf or they just do it right!!! He said that song always reminds him of his brother Travis Tritt! He said they called us "Outlaws" like Waylon and Willie. Marty said that was just good press! He wanted to know if we all had won millions out there in the casino! Ha Ha!!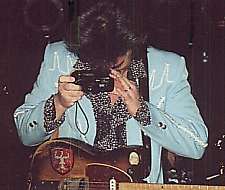 He then did "Marty Stuart Visits the Moon"! He sure can play that mandolin. I think that is my favorite part, when he just does that. He then talked about his love for Johnny Cash, and broke into "Doin' My Time"...I've always loved that one! Before he could actually play it, some woman who had WAY to much too drink went by the stage and tried to talk too him. Marty started laughing and tried answering her. She wouldn't stop....Marty then took her camera and said "I'm gonna take your picture" which he proceeded to do. Security guards came over and Marty said "oh, her words aren't gonna hurt me. How about if she takes a picture of me and the band!" So people all jump to take picture. The over-alcohol-indulged woman takes a picture, says one more, which they do! Then they all turned around and showed off their behinds!!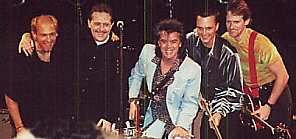 Cracked me up! Marty was so gracious! It could have been really bad and he just laughed and said, "Country Music fans are the greatest!! That took courage, let's give her a big hand of applause!!" I said to Mitch, "I think it took a few too many BEERS to do that!!" Oh, well! Then he said "Now where was I? Oh, yeah let's rock this place" and did "The Whiskey Ain't Workin' "....asked us to sing the chorus for him at the end. Actually the place didn't do too bad!! May I commend the MAN for being so gracious at a time when some stars would have pitched a fit! He didn't get mad, actually prevented me from being disgusted!!! LOL!! He has more class in his pinky than most artists do in their whole being!! Enough said!! Except I hope that lady's head hurts really bad this morning!! LOL!!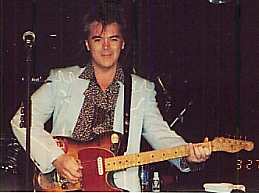 "Blue Train" was the next song they did. I really enjoy those older songs a lot. Marty sang "Tempted" next and that song always makes me smile. He was smiling and laughing so much that you can't help but have a great time. The band was having fun. He then introduced the band, and they were all full of smiles! Gregg sure does have some blonde hair now!! Looks like mine did when I was little!!
Marty then brought out the mandolin (my personal favorite), did a nice LONG intro to "Oh, What a Silent Night"...then broke into the singing. Then he went into "Burn Me Down" and we all know how he gets on that one!! He was shaking and wiggling, and making the women scream!! He just has too much fun and it just makes me laugh and forget that I'm a MOMMMY, WIFE, and 34!!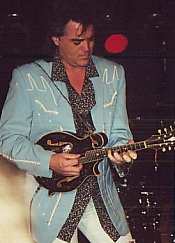 The next one he said was for his baby Connie. He played by himself, then the band joined in, then he sang "Till I Gain Control" (by Rodney Crowell, right?). I actually thought I was going to cry for a while. Such sincerity in that man or what! I can't even explain how AWESOME this song is...has to be on my list of favorites that he does!! Someone yelled after he got a BIG round of applause...."Connie's so lucky!!" He laughed and said, "Oh, yeah she's lucky!!" Made me giggle again!
Then he flew into "Hillbilly Rock." Now every time I hear this it makes me think of Mitch not wanting to go onstage at the fan club party, and Jordan for singing with him at the party!! Nice memories of that song!!
It was 8:00 p.m. at this time so he thanked us for coming, shook a few hands, signed a few autographs, and jumped offstage. We, of course, begged for more and he came back out. Told us his new album will be out in JUNE.....and played one I hadn't heard before off the new album, "Sometimes the Pleasure's Worth the Pain." Really enjoyed it....now I really want the new album!! That was it and he was done!! The show was to short for me, 65 minutes! I knew he had to save up as the second show was at 9:30. But it still got me over my "Marty Fix"!!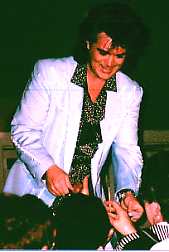 The meet and greet was held immediately after the show. I told Marty we were the parents of the little boy from the fan club party and he says, "Oh, yeah Jordan." Now my heart is totally taken from me....LOL!! I told him how sad Jordan was that he couldn't attend the show. Gave him the letter Jordan had written to him and the "Marty Poster" he had made on the computer too. We made a second one so Marty could sign that one for Jordan. He wrote, "Hi, Jordan, See you soon, Love, Marty Stuart." I told him that would make his day! He signed my picture from Wisconsin Dells last month with his long blue coat on. Got my hug....be still my heart....told him we'd see him soon and left.
Awesome as usual and now I don't know how I'll survive until June!!!!!
Review by Reneé Ollhoff, Alma Center, WI