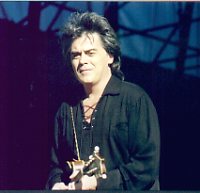 Well I have gone and seen and done a Marty Party now, and I can die a happy woman. (At least until the next time).

As you probably noticed on the tour schedule they canceled Swackhammers in Spokane (fortunately before we drove the 7 hours to get there). Turns out that Swackhammers went out of business. (they should have had Marty there sooner LOL)
On to the Marty Party!!!!
My friend Kim came to my house from Yakima on Friday, and Anne (my friend from Duncan B.C., Canada) came to my house on Saturday. We had a wonderful Saturday evening sharing "Marty" stories. Which brings up and idea that I had that I will share with you later. Ann had not heard Kim's stories and vice versa so it was really fun, we laughed and giggled all night.
On Sunday we traveled to Puyallup to the fair! Marty was to be on at 4 p.m. and the Oak Ridge Boys about 5:30 p.m. (they were the headliners). There was an e-coli scare at the fair so we brought our lunch and ate at the fair.
At 3 p.m. we were let into the seating and we were 4th row center!!! They were really great seats. Marty came on in an all black outfit. It looked like a cotton spandex blend, the pants had embroidered roses down the legs. It fit well but was not skin tight, HE LOOKED REALLY GOOD, as usual. He looked really relaxed and happy. Connie had flown in right before the show and Marty introduced her on stage.
Marty did:
Hey Baby
Doin' My Time
The Whiskey Ain't Workin'
Oh What a Silent Night (with/mandolin)
Tempted
Southern Accent
Burn Me Down
Red, Red Wine and Cheatin' Songs
Guitar with Brad
New Song - did not get name
Hillbilly Rock
Finale - I can't remember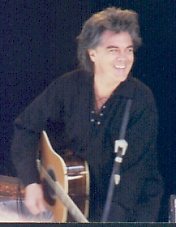 There may have been others, I just can't remember clearly. During his Guitar with Brad, William Lee Golden came out and was dancing to it (it was great!). We really loved all three of the new songs Marty did, two of which we couldn't get the names (do you know?) Marty sounded really great and was very playful and funny on stage. The crowd was OK, but my friends and I definitely made the most noise. A couple of times it was like Marty was looking and smiling right at us. Steve and Brad also. When he sang "Burn Me Down," he did is usual "Touch MEEEEEE!" Then just before he went into the song, he looked over to where Connie was and said "Connie - Touch meeeee!" (LOL) Then he went into the song.

At the meet and great there were about 30 people. Several were not FC members, but were contest winners. But in the front of the line were two young girls (7-8) they had been sitting in front of us in the first row. One of them had a sign that said "Marty Stuart, Please kiss me." Anyway Marty kneeled own on his knees to talk to them and puckered up his lips, she looked at him a minute and kissed him, then turned around with the biggest eyes!!!! It was very cute! Incidentally Liz Stone was there! she found us in the M&G line and was talking a mile a minute as usual, she was very friendly and very hyper
as usual. She says HI to everyone. She is not currently on line (not even through Juno). She asked about you Nu and wished you were there. (me to, it would have been great to have both of you there!).

We were almost at the back of the line and I was the first of the 3 of us. I went up and had Marty sign a couple of things and then asked him to play a joke on Kim. You remember I told you the story of Kim and "Who do you have to sleep with to get a Diet Pepsi," well I asked Marty to ask her that and he looked at her and said "Hey come here, she wants me to ask you something"! Then he asked her, it was really funny. We did not have a chance to explain however! But I have a plan about that! Anyway he was talking to Kim and Mike noticed Kim's TWO 5-year pins and said you must be a 10-year member. I told him she was more than that. I said "Marty, Kim was your very first Washington State Fan Club member!" To that Marty said "Really?, I love you!" Kim just stood there with her mouth open. She could not say a word! Kim says "inside she wanted to say I love you to Marty, but she could not get it out." (LOL)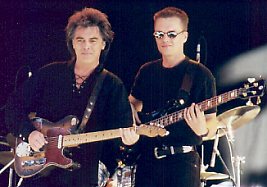 Kim had him sign a copy of Country Weekly where he talked about current country music and how is all sounds the same! Kim told him she wanted to say the same thing only she would have been much more blunt. She could not have said it as tactfully as he had. As he read it and said "What have I been running off at the mouth about now?" Mike said "Well it is probably the truth," and we all said "Yes it is the truth!" He signed the article for her.

Then it was Ann's turn and she got a hug and she told him she missed him in Merritt, BC (he had to cancel) and asked how he felt, he said he felt "Great!" She said that she really enjoyed his pictures shown on TV and asked if he was going to put them in a book. He said he hoped to some day! She had a picture that was taken of her in Edmonton, Alberta last year with Marty and he signed that. She also had Mike sign a picture she had taken with him and the band!

All in all it was a wonderful time. The M&G was done after Marty's show and the Oaks were on then! We did not go back to our seats, we just listened and watched a little from the side. Then we left a little before the Oaks ended. We were all floating on air and wanted to head back to my place before the traffic got too bad.

We were floating all the way home! (2 hour drive). It was a wonderful experience!

Review by Jana Jeffs
Photos by Donna Kerr