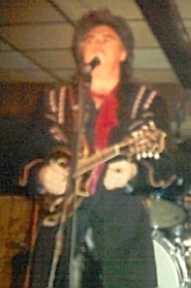 The concert was in Morgantown, West Virginia. The venue was just a small not so fancy bar!
Even before the concert day arrived, my sister-in-law Judy and I took a ride on a Sunday to find this place. It took us about an hour and ten minutes to get there. When we got there, we couldn't believe that Marty was going to be there. This really is not a very big place. Of couse, that didn't matter to us as long as we saw Marty. It was a Sunday and the place was closed, but we happened to see a man loading stuff onto a truck outside the Purple Cow which, by the way, has nothing to do with a purple cow.
Judy and I stopped and asked the man if it were possible to go inside and get our tickets to the show on Friday. He was nice enough to let us in and look around. He showed us our seats which were first row and right up front. Talk about excited!!! Just to show you what a super person Marty is this man told us that Marty was actually too much money for them to have him. They were going to end up not having him there due to that reason.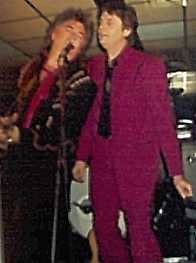 As he proceeded to talk to us about the show and Marty, he had said that Marty's management had called back and that Marty was willing to take less to come and perform. We were also told that this venue at even the lower price was not making a cent. Needless to say, we were certainly happy to hear that this all took place.
So after all of that we headed home and waited for the show that Friday evening on the 11th. Now comes Friday and I am on my way to the show with two more of my friends, Terry and Liz who have never seen Marty perform live before. Let alone been in the first row for a concert. Myself Judy and Terry and Liz were so excited for this performance that evening.
When we got there, the place was packed with as many people I guess were allowed. We had heard that Marty was at the hotel right up the road and before the show people were there and he had signed autographs for all that showed up there. (That's our Marty for ya.)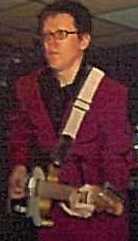 We all took our seats by now and saw the bus right outside the door. What a rush! Finally in comes Kenny and he walks up to the small stage and checks his guitar. He quickly proceeds to go out to the bus. Shortly after he returns with his bright pink suit and stands around and mingles a bit. Then someone comes up on stage and tells us that Marty is coming.
Now the real fun begins!!!
In comes Marty and company all dressed to kill. In fact the exact suits as the person who just did the last concert review for this site had pictures of. So mine look the same. He played all of his normal songs and talked about his new CD coming out and I swear he said in the fall. That's too long for me to wait.
He joked a little about the place that he was in, but put on a most wonderful show! My friends will never be the same again. He was just so good. Marty did say that his CD was strictly country and he did tell us the name but I don't know if I remember it correctly. It was something like "Just Country," plus the name of his band was first. After that he said, "If you don't like country then don't buy my CD."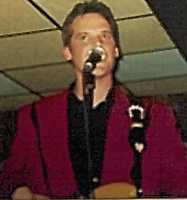 By now the show is over and he signs outside by his bus for all of his fans. As I waited in line for him to come out I heard people from the Purple Cow say that this was one of the best shows that they had ever had there. That's our Marty for you.

All of a sudden here he comes with a jacket on due to some rain and a little chilly weather. That didn't help for signing autographs though. Now it is all over and I told Marty that I would see him in Pittsburgh next Friday, April 18th. I can't wait!

Thanks Marty for a great night from all of us.

Review and photos by Rosalie Keough, Export, PA