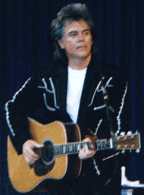 Such a long two years between shows but well worth the wait!!!! Heather and I got to the fairgrounds early around 11 A.M. to get our place in line. Rounded the corner by the ampitheater and got a surprise. Ffriends of ours from Reno, NV had driven down and surprised us. John and Linda love Marty also! We took turns waiting in line and trying to keep cool. They let us in about 5 P.M. and we got in the 2nd row center. Just where we wanted to be.
Marty came out and looked good. He looked happy, well rested and ready to have fun!!! Which, believe me, he did. I will be very honest with you, the first show I could not tell you the set list I was so into absorbing every minute of this show. He played alot of new stuff with several of our favorites too. I do remember him playing "Tempted," "Rocket Ship." He had on one of his black coats with white t-shirt and black leather pants. He had to be dying during that first show. It was so warm still. He laughed and smiled and had a great show.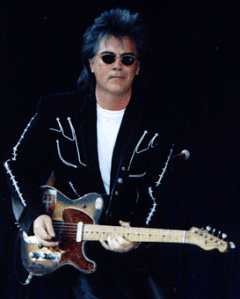 After the first show, we saw Les and asked about meet & greet and his response was "don't know but I will find out." He came out and made an announcement and several of us went backstage for the meet & greet. We were towards the last and it was great to see Marty. Got my hug and a picture with him. For Heather and I's photos he was making silly faces which I love the pictures we got. As soon as I get a program set up to scan, I will send pictures. We got some good ones including one of all 4 of the guys when they came to the front of the stage of course, we got the front and rear view bows. LOL!!!
The second show started out with "Hillbilly Highway," then Marty said "With all that is going on in Nashville this last week, I need to sing this song" and did "Southern Accent." He then thanked us for allowing him to sing that. Next up was "Whiskey," "Honky Tonk Crowd," "Just to Satisfy You," "Tempted," "Blue Train," "Doin' My Time," " Long Black Veil" (my favorite), " Hobo's Prayer," then he said we needed to do a sing along with him on "Ring of Fire," "Jackson," "Swingin Doors." He made mention that he was doing country radio his way that night. He also did "Today I Started Loving You Again," then "Now That's Country" and then the dreaded "Hillbilly Rock" cause that means it's over!!! Marty came back onstage and asked what people wanted to hear. Someone on the other side yelled out "Western Girls." That is what we wanted but he started out with another favorite -- "Hey Baby," "Rocket Ship," and then "Western Girls." It was a great trip and I enjoyed seeing Marty again. Heather and I had another great Marty trip!
---
Review and photos by Deanna Stevens, Chino, California