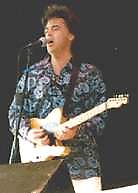 When Sara (my sister) and I went to breakfast on Saturday morning we were excited to find a big black bus with silver horseshoes over the back wheels parked in front of the hotel. We went into the empty dining room and ordered breakfast. I had a perfect view of the motel lobby from my seat. After a little while Steve and Gregg came into the lobby and then into the dining room to say Hi. They talked for a few minutes. Steve's hair is very short. He said it is long compared to the way it was. Also Gregg is a blonde. Steve told us about the show at Cowboys the night before. He said they did about 10 Marty songs and then Travis came on and finished the show with Marty. After a little while they took off.
The next thing I know, in walks Marty and sits down in the booth with us. He came in and said "I see it is the Johnson sisters." He ordered unsweetened ice tea and sat and talked for a while. We talked about the new album and the story that is the basis for the album theme. I will leave that for Marty to tell everyone. I am sure you will hear it when he begins interviews about the album. If not then I will write about it later. Marty's picture was on the place mat. He looked at it smiled and said "that's how you know when you have really made it." I told Marty how I had made $25 when they used the picture of him, the guitar and me in Country Weekly. He said it is about time I got some money to pay for all the gas money I have spent. After a little while Gary and Brad came in for breakfast and Marty went off to join them.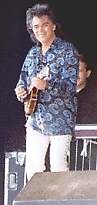 The shows were a lot of fun. Marty had outfits I had never seen at both shows. The first show he wore a blue velvet shirt, white pants with lacing up both legs, and blue suede boots. The show started with mandolin playing before Marty comes on stage. Then "Honky Tonkin's What I Do Best," "The Whiskey Ain't Workin," "Blue Train," "Tempted," "Oh, What A Silent Night," "Burn Me Down," "Hobo's Prayer," "Southern Accent," "Shake Your Hips," "Now That's Country." Next he asked for requests and, when no one did (except "Hillbilly Rock"), he played "Long Black Veil," then Marty and Brad played dueling guitars and then "Hillbilly Rock"s. No encores at the Strawberry Festival shows. It is the strangest thing when the show is over everyone gets up and leaves instead of clapping for an encore.
The meet and greet was between shows. I met Jill Cantrell and also one of the pen pals Cindy. We were in line together so we got to chat while we waited. I got a great Marty hug.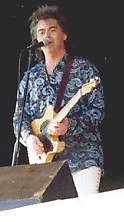 The second show our seats were a little closer to the stage. The show started the same as the first with the mandolin playing and then Marty coming on stage, then "Hey Baby," "Doin' My Time," The Whiskey Ain't Workin," "Tempted," "Body and Soul," "Burn Me Down," "Red, Red Wine and Cheatin' Songs," "Greatest Love of All Time," "Rocket Ship," "Country Girls," "Hobo's Prayer," "Till I Gain Control Again" (which he dedicated to Connie), "Shake Your Hips," "Hillbilly Rock" (when he started with a blues version). I am sure there should have been an encore but once again most of the audience left for home. This did not happen just to Marty but to the others we saw there too. Marty's outfit for this show was a pink polka dot shirt, black pants with silver strips up the side of the legs and a black jacket with red lacing. It was definitely a very memorable trip, I would like to start it all over again!
Review by Pat Johnson, New Milford, CT