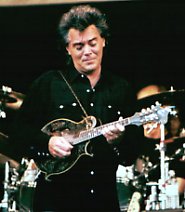 The show was at Point State Park. It's almost surrounded by rivers, right smack in the middle of Pittsburgh. Not the easiest place to get to (even the buses had trouble), but once we figured it out, it was a pretty nice park. We got there early to set up our lawn chairs. No waiting in line, you could set them up whenever you got there.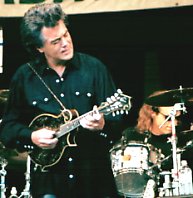 We were in the front row, but that was behind about 20 feet of flowers and a fence. We went to look around at the rivers and stuff, waiting for the buses to arrive. The sky was starting to look pretty stormy by the time they got there, but we did get to say hi to a few of the guys before it really got going. We ran for cover under a highway bridge that went over the park. Found out later there were tornado warnings! By show time it was pretty well cleared off, which I was extremely thankful for because I wanted to try out my brand new camera before Fan Fair!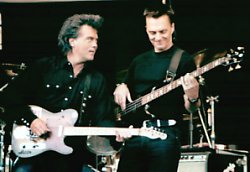 Marty opened the show with "Hey Baby," then joked about not hurting the flowers when we jumped the fence. They did "Doin' My Time," "The Whiskey Ain't Workin'," the Mr. Cobb story, then "Country Girls." Marty and the guys seemed to be in a great mood, they were having a blast! Then the mandolin came out, and he started with "Oh, What a Silent Night."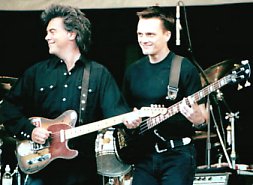 He mentioned some long-time fan club members in the front row, including Barb and Roxie from Maryland, and two girls from Massachusetts that travel all over... : ) , and then he did his absolutely beautiful instrumental version of "Can't Help Falling In Love With You." Barb was crying and the rest of us weren't far from it. It was incredible!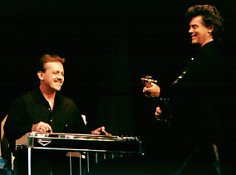 Then he picked on Randy, introduced the band, and did "Burn Me Down." After that he talked a little about working on the new album and did "Hobo's Prayer," then "Tempted," and another new one called "Red Red Wine and Cheatin' Songs" that we had heard for the first time in Wilmington, OH. It's an awesome honky-tonk song. Then the mandolin was back for another new one called (I think) "Miles and Miles of Memories." Gorgeous! This new album is going to be worth waiting for!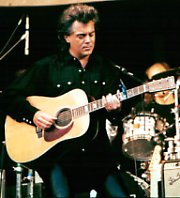 Then "Honky-Tonkin's What I Do Best" and "Now That's Country," And then...the instrumental "Soldiers Joy" with Brad, which I absolutely love!! It never stops flipping me out what awesome musicians they both are. We *were* a little disappointed that they didn't do "Clyde," or "Last Date," because Steve, Gregg, and Gary are awesome too!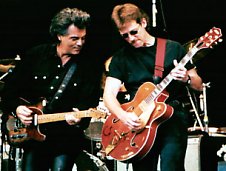 They did "Hillbilly Rock" and came back for the encore with the new one they did on PTC. I'm not positive of the name, but it's something like "That'll Be All Right With Me." Gregg has a great drum intro on that one. It really was a great show (aren't they all? ) Then they were off to Berea,OH, and we were off to Nashville, TN. At least we were going to see them again soon. Only a few days till the fan club party....