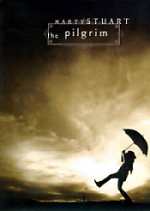 Release Info, Selections, Artist Info
Release Information:
Street Date: June 15, 1999
Catalog #: MCAC/D - 70057
Suggested List Price: $10.98 CS / $16.98 CD
Discount: See your Universal Sales Representative for details
Selections:
Side 1

1. Intro (Instrumental)
2. Sometimes the Pleasure's Worth The Pain
3. The Pilgrim (Act I)
4. Harlan County
5. Reasons
6. Love Can Go To.......
7. Red, Red Wine and Cheatin' Songs
8. Truckstop
9. Hobo's Prayer
10. Goin' Nowhere Fast
11. The Observations Of A Crow
12. Intermission (instrumental)

Side 2

1. The Greatest Love Of All Time
2. The Greatest Love Of All Time Reprise (instrumental)
3. Draggin' Around These Chains Of Love
4. The Pilgrim (Act II)
5. Redemption
6. The Pilgrim (Act III)
7. Outro
8. Mr. John Henry, Steel Driving Man (instrumental)
Artist Information:
Management: Bonnie Garner Management: Bonnie Garner

Booking Agency: William Morris Agency: Gayle Holcomb

Fan Club: Marty Stuart Fan Club, P. O. Box 24180, Nashville, TN 37202, www.martyparty.com
Catalog:
Title:

Hillbilly Rock
Tempted
This One's Gonna Hurt You
Love And Luck
Hillbilly Rock Video
The Marty Party Hit Pack
Honky Tonkin's What I Do Best

Catalog #:

MCAC/D-42312
MCAC/D-10106
MCAC/D-10596
MCAC/D-10880
MCAV-10881
MCAC/D-11204
MCAC/D-11429:
Top 25 SoundScan Markets:
Based on Sales of last 3 projects combined:
1. Chicago, IL
2. New York, NY
3. Los Angeles, CA
4. Washington, DC
5. Cleveland, OH
6. Detroit, MI
7. Indianapolis, IN
8. Minneapolis-St. Paul, MN
9. Boston, MA
10. Philadelphia, PA
11. Atlanta, GA
12. Nashville, TN
13. Dallas-Ft. Worth, TX
14. Cincinnati, OH
15. Columbus, OH
16. Pittsburgh, PA
17. St. Louis, MO
18. San Francisco-Oakland-San Jose, CA
19. Louisville, KY
20. Seattle-Tacoma, WA
21. Baltimore, MD
22. Dayton, OH
23. Charleston-Huntington, WV
24. Charlotte, NC
25. Kansas City, KS-MO
Based on Sales per 1,000 people, based on Sales of last 3 projects combined:
1. Springfield, MO
2. Burlington-Plattsburgh, VT/NY
3. Paducah-Cape Girardeau-Harrisburg-Marion, KY/IL/MO
4. Lexington, KY
5. Evansville, IN
6. Portland-Poland Spring, ME
7. Charleston-Huntington, WV
8. Springfield-Decatur-Champaign, IL
9. Nashville, TN
10. Johnstown-Altoona, PA
11. Indianapolis, IN
12. Roanoke-Lynchburg, VA
13. Knoxville, TN
14. Bristol-Kingsport-Johnson City, TN
15. South Bend-Elkhart, IN
16. Madison, WI
17. Davenport-Rock Island-Molin, IL
18. Lincoln-Hastings-Kearney, NE
19. Toledo, OH
20. Louisville, KY
21. Des Moines, IA
22. Albuquerque, NM
23. Wilkes-Barre-Scranton, PA
24. Green Bay-Appleton, WI
25. Cedar Rapids-Waterloo-Dubuque, IA
Percentage of Sales by Geographic Region: (Based on Sales of last 3 projects combined)
Pacific
(AK, HI, WA, OR, CA)
9.00%
Mountain Pacific
NV, AZ, NM, UT, CO, WY, ID, MT
5.71%
West North Central
ND, SD, NE, KS, MN, IA, MO
9.80%
South Central
TX, OK, LA, AR, MS, AL, TN, KY
17.07%
East North Central
IL, WI, MI, IN, OH
23.89%
South Atlantic
FL, GA, SC, NC, VA, WV
19.20%
Middle Atlantic
DE, MD, PA, NJ, NY
10.69%
Northeast
RI, CT, MA, VT, NH, ME
4.64%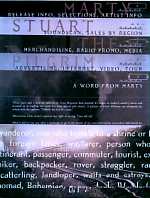 Merchandising, Radio Promo, Media
Merchandising:
The following will be available for merchandising The Pilgrim:
2' x 2' poster
12" x 12" flat
Radio Promotion:
The first single from The Pilgrim will be "Red, Red Wine and Cheatin' Songs." The single will ship on April 22 and will begin receiving airplay on May 10.
Americana radio will be serviced with The Pilgrim in its entirety on June 7. An Americana radio special is in the planning stages.
Media:
The Pilgrim is an exciting, incredible concept album; a musical journey we feel critics will want to share with their readers. The best tool in generating excitement about this project has been Marty himself. Marty's passion for this project led him to play an intricate role in the development of the album packaging and press kit as well as the video concept for the first sing, "Red, Red Wine and Cheatin' Songs."
An extensive press kit using the album package design concepts was prepared and serviced with an advance CD to more than 200 key radio critics. The press kit includes:
An in-depth, track-by-track narrative written by Marty detailing the thought process used in making The Pilgrim.
Quotes from key figures in country music and film. Those singing praises of Marty and The Pilgrim are Billy Bob Thornton, Emmylou Harris, Johnny Cash and Don Was.
The actual 'story of The Pilgrim'
A personal note from Marty
Key outlets being serviced include some of the following:
Rolling Stone
Los Angeles Times
New York Times
USA Today
Entertainment Weekly
People
Request
Pulse
Guitar and technical oriented outlets to be serviced include:
Guitar World
Guitar Player
Guitar School
Guitar Shop
Acoustic Guitar
Fender Frontline
Guitar For The Practicing Musician
The following national television outlets will be pursued for performance slots:
The Tonight Show With Jay Leno
Late Show With David Letterman
Late Late Show
Rosie O'Donnell
Late Night With Conan O'Brien
Non-traditional outlets targeted for coverage include:
Life Magazine
UTNE Reader
Oxford American
George Magazine
Time
Six weeks prior to release, Chet Flippo at Billboard will write an extensive piece including an interview with Marty.
Advertising, Internet, Video, Tour
Advertising:
MCA Nashville will take a unique approach in advertising The Pilgrim. Conventional media outlets will be blanketed through publicity efforts. To increase and broaden consumer marketing efforts, non-conventional avenues will be targeted as well. Direct mail and e-mail campaigns will target previous purchasers of Marty Stuart product. In addition to Country radio, the Americana format will be targeted as well as special programs distributed via the Internet. Other non-conventional media being considered include NPR (National Public Radio), APR (American Public Radio) and borad.com.
Video:
A video for the first single, "Red, Red Wine and Cheatin' Songs" was shot on April 26 and 27. It is expected to have an air date of May 19 on CMT.
Internet:
With the release of The Pilgrim, new Marty Stuart web pages will be posted at www.mca-nashville.com. The new web pages will have a railroad theme and will include the following: Biography, famous artists and instruments on the album, news, discography, sound bytes, video and the story behind the album as told by Marty himself. A contest is in development entitled, "Marty's Internet Pilgrimage," in which users will visit different websites in search of answers to questions. At the conclusion of the contest, a winner will be selected from all correct entries.
Tour:
(Listed current tour dates)
Three years ago I read an editorial in Time Magazine that pointed its finger at modern country music and accused us of trading our souls for mass appeal and money. A picture of Hank Williams ran alongside the article with the caption, "Hillbilly has lost its voice."
Who knows if the writer's opinion was right or wrong. Time will tell.
What it did for me was offer a challenge to go to the depths of my soul and find the connection that linked me to the very heartbeat of pure country music. I wanted this album to be a reflection of everything that caused me to fall in love with country music. I also wanted a project that was undeniably commercial, yet offered insight into one of America's most original art forms.
This is my 8th project for MCA. We've scored four gold and one damn-near platinum record. I'm proud of every one of them but, after making The Pilgrim, it seems as if every note of music since Hillbilly Rock was merely dots to step on leading to this moment.
If I could have one wish granted before the door is completely slammed on the hands of this century, it would be to walk away with a platinum project that signals to the world that MCA and Marty Stuart finally scored the big one they've been working so hard for the last ten years.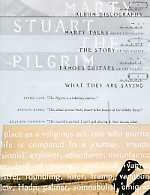 Album Discography
1999 - THE PILGRIM (MCA Records)
1996 - HONKY TONKIN'S WHAT I DO BEST (MCA Records)
1995 - THE MARTY PARTY HIT PACK (MCA Records) - Gold
1994 - LOVE AND LUCK (MCA Records)
1992 - LET THERE BE COUNTRY (Columbia Records)
1992 - THIS ONE'S GONNA HURT YOU (MCA Records) - Gold
1992 - MARTY STUART: THE SLIM RICHEY SESSIONS
1991 - TEMPTED (MCA Records) - Gold
1989 - HILLBILLY ROCK (MCA Records) - Gold
1986 - MARTY STUART (Columbia Records)
1982 - BUSY BEE CAFE (Sugar Hill Records)
1978 - MARTY STUART: WITH A LITTLE HELP FROM MY FRIENDS
Marty has been nominated for eight Grammy Awards and has won three.
He is currently serving his third term as President of the Country Music Foundation
Marty has recorded duets with Ralph Stanley, Hank Thompson, B.B. King, Travis Tritt, Willie Nelson, Steve Earle, George Jones, John Anderson, The Staple Singers, and The Jordanaires.
He has written songs that have been recorded by the likes of Linda Ronstadt, Clint Black and Del McCoury.
His essays have been published in everything from the Oxford American to Southern Living.
His photographs have been published in Southern Living, The Journal of Country Music, Country Music Magazine and People.
His home state of Mississippi recently awarded Marty with the Governor's Award for Excellence in the Arts.
THE PILGRIM is...
A rompin', stompin', ramblin' journey that sails
through the backdoor of 20th century country music
and then flies out onto the dark edge
of the 21st century.
The more I told the story of THE PILGRIM the more it sounded like a country song.
One night while I was in California riding out an earthquake, it hit me that this story was more than a song. It had the force of an opera, or in my case maybe, an Opry.
I decided to write some words, hang them on the backdrop of mine and country music's musical journey. Then cast it with some of my favorite characters.
It took me three years to complete. The only thing I knew for sure was that I wanted it to be based around my band. I wanted us to live out this project together. It was a challenge my band and I needed. From there, the only thing I knew to do was follow my heart.
The first place it led me was 706 Union Ave, Memphis, TN. That's the home of Sun Records. That place is always ground zero for me. When I'm looking for a new groove I go to Memphis. It has soul and it offers a musical freedom that can't be found anywhere else.
I booked two days at Sun Studio without even having a song to record. Although I felt if I went there and waited, one would come along. It did on the second day. I got a call from Bill Monroe's manager saying that Mr. Monroe had passed away. He asked if I would come home and play at his service. I took a break from recording and went walking around the back streets of Memphis. I didn't want anybody to see me crying. I loved that old man. He'd been a part of my life since I was 12 years old. The first time I met him, he gave me his mandolin pick and told me to go home and learn how to use it. Since that day we were friends and not having him around was going to take some getting used to. I was alone but I couldn't cry. Not one tear would come. I tried dancing, singing his songs, I prayed, I cussed but nothing would happen until out of nowhere I said,
I am a lonesome Pilgrim, far from home
what a journey, I have known
I might be tired and weary, but I am strong
Pilgrims walk, but not alone
Those four lines unlocked a world of emotions inside of me. I wrote two more verses and then took the song into the studio and played it for the band one time. We dimmed the lights and recorded the song in one take.
For a year and a half, it was the only song I had to show for this project. As it turns out, I wrote the last song first and had to work my way backwards from there. THE PILGRIM started out as a song, then it grew up and became a story.
It finally dawned on me that Memphis was the beginning. It's where white boy rock & roll began when Elvis sang Bill Monroe's Blue Moon of Kentucky at Sun. It's where the Pilgrim came to start his journey.
The Pilgrim laid his heart on the line for Rita, when he said, "I give my heart and soul to you. That's all I really know to do." Even though she wanted to she couldn't respond because she was married. It tortured him but he felt that Sometimes the Pleasure's Worth the Pain.
One song I'm so proud of from this past decade is Tempted. I love that record. I felt it gave me an identifiable sound. Parts of Sometimes the Pleasure's Worth the Pain breathe life from Tempted. It is a sound I want to carry forward with me.
Emmylou Harris also sang at Bill Monroe's funeral. Her voice sounded so lonesome to me that day at the Ryman. I wanted to find a place for that feeling somewhere on The Pilgrim's story. Just her and the strings start the journey with The Pilgrim. Ralph Stanley is a Voice of God mountain prophet. He brought his Clinch Mountain sound to Nashville to record the events that lead up to Norman's suicide in Harlan County. The sound of Ralph's voice naturally gives the song that rock of ages quality. Singing with Ralph and the Boys takes me back to my first days in country music when we played the bluegrass festivals. Now after years of playing all kinds of country music, it seems to me that Ralph Stanley personifies country music in its purest form.
Reasons is the suicide note that Norman wrote, his cry of despair. The song called for some crying in your beer steel guitar and harmony singing that touched your heart. I immediately thought of Pam Tillis. She comes from traditional roots and knows how to make vintage Nashville sounds come alive.
It's unimaginable how it must feel to be guilty of nothing but loving somebody only to find out they belong to someone else. And then to be blamed for causing a man to take his life and have a town crucify you for it.
The defiant last words from a parched soul are:
forget this town
ain't hanging 'round
Love Can Go To hell
Red, Red Wine and Cheatin' Songs is a direct descendant of the glory days of honky tonk music. It also marks the beginning of the Pilgrim's appointment with the dark side of life. He hitchhiked from Mississippi to Memphis. That's where he came apart and went off the deep end.
He headed west. The only plan he had was to stay numb until he could get to the Pacific Ocean. If he made it that far, that's where he wanted to die. At first he hitchhiked and rambled the backroads from town to town. And like all westbound drifters and loners do, he eventually made it to the Red Hot Truckstop. It's one of those old style stations with a dirt floor parking lot and a jukebox inside that is stacked with George Jones records. If you want to find the last of the true believers, go find a truckstop. Here, George Jones is a way of life. Along with being the "King of the Sad Songs" he's our chief correspondent concerning hard luck stories and broken hearts. And consider the truckstop angels who appear to the unknowing in the forms of waitresses. Like bartenders, they've seen and heard it all. Truckstop is a snapshot from the backroads where coffee and cigarettes are still the breath of life. Emmylou portrays Shirley the waitress, Earl Scruggs adds the master's touch on the guitar offering the closing remarks to Shirley's discernment of Pilgrim's misery in the making.
I've always respected hobos. What a life. From my road dog perspective, it's hard enough to sacrifice home and live on the road by way of buses, planes and hotels. To exist on the fly and then live off of hand outs from the fat of the land is a down right art.
In the parking lot of the Red Hot, the Pilgrim met a hobo named St. Peter, the train yard prophet. He told him about a hobo camp east of Texarkana and then gave him a can of beans and a rusty blade, followed by a fast course in boxcar etiquette. St. Peter was headed home to Jacksonville to die. It was his 60th year rambling. The Pilgrim found the hobo's camp and traded his hitchhiking routine for the drink and ride program. Hobo's Prayer takes me back to the days when I played folk music with Doc and Merle Watson. It's a song about a vanishing way of life and the code of honor that goes along with it.
The world is a funny place. Its rules are sometimes backwards. When you're successful and prosperous you get a lot of things for free, perks. When you're down on your luck and really need a helping hand, it's harder to get your calls returned. I've been on top of the world and I've also been down to nothing. It made me feel like a stray dog. That's what the Pilgrim is about in this point in the journey. He's thoroughly on the lam, running wide open drunk, totally lost and one breath away from letting the devil have his soul. Deep down, stray dogs long for peace. Wanting to straighten up and having the strength to do it are two different things. Going Nowhere Fast is what the Pilgrim had to say to himself when he saw his reflection in a window at the Kansas City train yards. It's free-wheeling poetry backed by some Memphis rockabilly that I learned during my boy-in-black period. Kansas City was the first place I ever took a band and played a solo gig after years of working for country music legends. I left a piece of my mind in a nightclub dressing room that evening. When I went back to get it last year, I immediately noticed that it was cracked. The best I can figure is, from that crack in my mind came The Observations of a Crow. I love crows. They are the countriest of birds and they sometimes get a bad rap. Any bird that wears black all year around can't be all bad. I had stopped at a diner on Route 66 in New Mexico. I noticed a crow perched on a high line pole in the parking lot. I said hello. He didn't speak but watched everything that was going on. I pointed him out to the gas attendant and he said, "He's always watching. He's there everyday. It's like his job." The minute the Pilgrim walked by, the crow knew what his deal was. I don't know what kind of country music The Observations of a Crow is, but I do know that I like it.
I've never cared much for shows that called for an intermission. In truth, intermissions are merely 30 minute excuses to sell popcorn. I gathered Ralph Stanley's Clinch Mountain Boys around one microphone and asked Poogie the fiddler to record Cluck Old Hen. It's bound to be the shortest intermission in the history of show business.
The prelude of Act II is the sound of Uncle Josh Graves' hound dog dobro guitar. His lonesome style found its way inside me when I was just a kid. He's known primarily as a bluegrass star who spent years playing with Lester Flatt and Earl Scruggs. He introduced me to the blues. He sets up The Greatest Love of All Time. The Pilgrim came to one morning after another night of drinking. He decided that it was the end of the line. There wasn't enough liquor in the world to cover his misery or drown out the true feeling in his heart. He still loved Rita. Right or wrong, he couldn't get over her. He decided that the time had come to find out where she was and call her. He wanted to hear the sound of her voice one last time. The Greatest Love of All Time holds everything I love about country music. A story and a melody that welcomes instrumental sounds from all realms of country music. It's filled with simplicity and elegance alike.
I love the outer edge of country music. It's amazing the people you bump into out there. Mike Campbell is one of them. He plays guitar with Tom Petty's band, The Heartbreakers. I get the feeling he looks at the world through similar glasses. I flew out to California with the specific purpose of writing a jukebox anthem with him. Draggin' Around These Chains of Love is what we came up with. He came to Nashville and played guitar on this track. I used to think he was one of my favorite guitar players. Now I know he is.
Rita asked the Pilgrim to come home. She told him again that she loved him and when he got home she'd prove it to him for the rest of his life.
He told her that he'd be home soon, but there was one thing he had to do before he came back.
He barely made it. He almost had to crawl from the train to the little church outside the city limits of Oildale, California. In the middle of the night he wandered into the graveyard where his mother was buried. It was the first time he'd been back since the day of her funeral when he was 12 years old. He ran away from home that night and never faced it. After all these years he was still running from it. He lay his head on her tombstone and cried himself to sleep. While sleeping he dreamed his mother came back. She brought Jesus with her. She introduced Him to the Pilgrim. Jesus held him and said, "Surrender, son, and rest. I've come to bring you peace." When he awoke, he knew that he was ready for the other side. Redemption can be interpreted as the other side of life, the other side of the nightmare he's been living or the other side of rambling, which meant going home.
I am a lonesome pilgrim far from home
what a journey I have known
I might be tired and weary, but I am strong
pilgrims walk, but not alone
The Pilgrim went home and married Rita. They moved away from all the bad memories. They are now happily married with a family.
Dreams do come true. I fell in love with country music when I was 5 years old by way of two albums. The Fabulous Johnny Cash and Flatt & Scruggs' Greatest Hits. My dream was to meet them. I got to. It turns out that the only two steady jobs I've had since 1972 were with Lester Flatt and Johnny Cash. I didn't plan a finale beyond the last note of The Pilgrim but fate has a way of charting its own course.
I bought a piece of 18th century stained glass in Austin, Texas. It had pretty words written on it. I learned they were taken from the poem, Sir Galahad by Alfred Lord Tennyson. I wanted to include it and knew the reading belonged to Johnny Cash. He agreed to do it. I took my engineer, Matt Spicher, with me and in the spirit of Alan Lomax and Ralph Peer, we embarked on a field recording adventure in Jamaica where Cash has been for some months.
We flew into Montego Bay where I was supposed to spend one night. It turned into three of the nicest days of my life. We recorded and did a lot of talking. Everything's all right as long as I know Johnny Cash is all right. He is.
The last song is Mr. John Henry, Steel Driving Man, performed by Earl Scruggs and me. Through the years I've spent countless nights playing music in Earl's living room. I finally found a reason to move it to the microphone. This track is for me. It's a treasured keepsake. Ending THE PILGRIM with Cash and Scruggs tells me that I absolutely came full circle.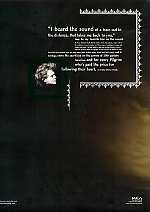 The Story Of The Pilgrim
THE PILGRIM is based on a true story.
It's about a man named Norman I knew while growing up. He was always friendly and kind to me, but even as a kid I'd get the feeling that something inside him was beyond his control and one day it was bound to explode.
Everyone in town was shocked when Rita, the town beauty queen married cross-eyed Norman. It was unbelievable. They appeared happy for a while but he inevitable finally occurred. Tired of living in the confines of Norman's jealousies and possessiveness, Rita began to take comfort in the charms of a man she worked with at the hospital. That man is the Pilgrim. He came from a town 40 miles away and didn't know Rita's entire story. However, she never fully responded to his affections even when he begged her to marry him. She hid the fact that she was already married.
Norman was feeling the chill at home. It began to drive him crazy. He knew Rita was on the verge of leaving him. He suspected there was another man although he couldn't prove it.
He came home one evening and Rita wasn't there. Norman wrote her a letter, put it in the pocket of his coat, got his gun and went in search of his wife. He found her sitting in the break room at the hospital, holding hands with the Pilgrim. Norman went into a rage and started making threats. He would hold Rita and tell her he loved her one minute then threaten to kill her the next. The Pilgrim, not knowing who Norman was, immediately jumped up to defend her. Rita finally had to admit to him that she was married and asked him to step aside. By now, Norman was out of his mind. But when he looked at the Pilgrim, he regained control. With dead eyes, he shook his hand and said, "I just wanted to meet the man that tore up my home and let him see what it's done." The Pilgrim tried to reason with Norman, telling him he did not know Rita was married and there was no cause for trouble. He said, "I give you my word I'll never as much as speak to her again, besides we have done absolutely nothing wrong."
Norman wouldn't hear it. He kissed Rita and told her that he loved her more than life itself. He then handed her the letter, drew his gun, waved it around, smiled, pointed the gun at his own head and pulled the trigger.
After Norman's funeral, Rita left town to escape the heat of the scandal. The Pilgrim stood by helplessly as small-town gossip crucified him. The most heart-wrenching part of the story is that he truly loved Rita. The only thing the Pilgrim was guilty of was falling in love with a woman he didn't know was married. He ran. He hitchhiked to Memphis. He went crazy, started drinking and hoboing. He rode the rails and hitchhiked all across America. When he got to the Pacific, he stopped and surrendered his soul. He gave way to his heart, made peace with God and decided that no matter what had happened, this love could be put back together. He still loved this woman and she probably needed him as much as he needed her. He went back home and now they're happily married and raising a family.
LUTHER: 1955 Fender Esquire originally belonging to Luther Perkins of the original Tennessee Three and played on the original Cash Sun recordings.
CLARENCE: 1954 Fender Telecaster with original B-string bender originally belonging to Clarence White.
DON RICH: 1964 Fender Telecaster (silver sparkle) originally belonging to Don Rich. Given to Marty Stuart by Buck Owens.
WAYNE: 1964 Fender Jazzmaster originally owned by Wayne Moss. Played on Pretty Woman, Only Daddy That'll Walk The Line and Almost Persuaded.
MAYBELLE: 1967 Fender Palomino made for Mother Maybell Carter.
HANK: 1936 Martin D-45 originally belonging to Hank Williams and Johnny Cash.
LESTER: 1950 Martin D-28 originally belonging to Lester Flatt.
MARTY: 1996 Martin Marty Stuart Signature Acoustic HD40MS
UNCLE PEN: 1950 D-28 Martin. Played on the original Bill Monroe recording of Uncle Pen. It now has a Gene Parsons B-bender and a stack of Fender twin amplifiers attached to it as well as death threats on Marty's life from hardcore bluegrass fans.
LLOYD LOAR: 1933 Lloyd Loar Gibson F-5 mandolin.
EARL SCRUGGS GUITAR & BANJO
Plus other assorted state-of-the-art vintage guitars from the Marty Stuart collection.
| | |
| --- | --- |
| JOHNNY CASH: | "The Pilgrim is a fabulous journey." |
| EMMYLOU HARRIS: | "This album proves Marty Stuart is the keeper of the hillbilly flame" |
| BILLY BOB THORNTON: | "This record is perfect. I can't quit playing it. Now we see what Marty really wants to do and who he is. It defies all categories. I wish critics weren't allowed to listen to it. This is pure, honest, beautiful art and shouldn't ever be commented on by anyone other than the kind who made it." |
| DON WAS: | "This is an amazing album." |