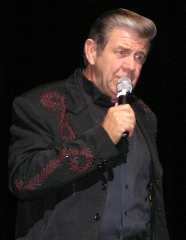 Connie Smith and Marty Stuart shared the stage at the Country Tonite Theater in Pigeon Forge. Surprisingly, the crowd was made up of mainly elderly couples. The theater was nearly full when Jim Hill took the stage for some fun and games, asking if anybody had a picture of Abraham Lincoln. Now I didn't remember he was on the $5 bill. I was thinking more of a penny, but my friend, Mary Runyan, rushed to the stage waving a $5 bill, which Jim Hill promptly took. Others audience members came up to join in the fun. Mary did get her $5 returned and a prize too.

Connie took the stage to thunderous applause. Dressed strikingly in a black top and black jacket and bluejeans with sequins on the side, she opened with "I'll Come Running To You." Connie's voice is mesmerizing and gets better and stronger with age. She didn't hide behind a microphone stand, instead holding the mic, moving about the stage and interacting with her talented band, The Men in Back.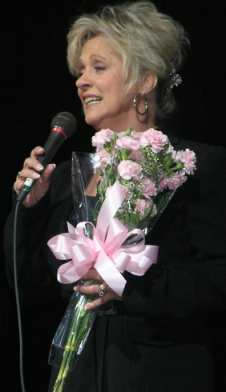 "Just Let Me Know" was next. Connie received a beautiful bouquet of flowers from a fan as well as a single red rose from long-time fan Ric Schwimmer who came all the way from California for the show. Connie thanked both fans for their flowers. For Marty, she performed "I Never Once Stopped Loving You." Next was "I Ain't Had No Lovin'."
Connie then introduced her band mentioning the steel guitar player, Gary Carter, was performing with her for the first time. Isn't it great that Connie still sings traditional country music? Next she introduced Rick Wright (lead guitar), Rick McClure (drums) and Rod Ham (bass).
Connie then sang one of my favorite Connie Smith songs -- "Where Is My Castle." She talked about her friendship with the late Marty Robbins and performed "Ribbon of Darkness." Next came "The Hurtin's All Over," "Cry, Cry, Cry" and "The Latest Shade of Blue."
She started singing the Bill Anderson-penned "Cincinnati, Ohio" when Marty came out on stage. He stopped and picked up the red rose that Connie had placed on an amp. Marty walked over to her and handed her the rose. Connie started laughing so hard that she couldn't sing. Marty took over singing the song. Naturally, the crowd loved seeing Marty and Connie singing together.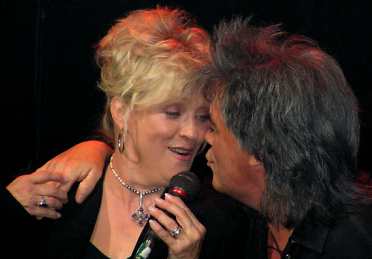 Connie's next song was her monster hit, "Once A Day," then Hank Williams, Sr's, "I'm Gonna Sing." Connie talked about singing a song for the victims of the flooding in New Orleans due to Hurricane Katrina. She said she always wanted to record the song and finally did with Barbara Fairchild and Sharon White. The song was "Fight On." Connie closed the set with her signature song, "How Great Thou Art."
After a short intermission, Knoxville DJ Gunner came on stage to introduce Marty. Marty, dressed in all black, and his Fabulous Superlatives, in their fuchsia suits, opened with "Now That's Country," then went into "Country Boy Rock and Roll." Next was "The Whiskey Ain't Workin'."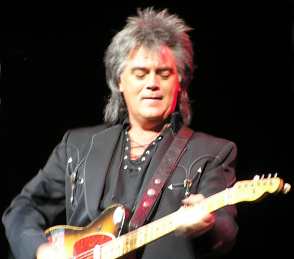 Marty then asked "Who was that girl that opened the show? I'd like to meet her. Maybe she'll let me go home with her." He also mentioned that it cost them $73,000 in gas to get to the show from Nashville. Then he said if you didn't enjoy the show, send your ticket stub to Travis Tritt and he'd give you your money back.
Next up were "Homesick," "Rock Island Line," and "Tempted." Marty introduced the band during "Shake Your Hips." He asked Cousin Kenny Vaughan to come over to the mic and sing a song. Shy (?) Kenny wasn't wanting to sing, so Marty went over and grabbed Kenny's arm and brought him over to the microphone. Kenny sang "Country Music's Got A Hold On Me." Brian Glenn sang "Everybody's Trying To Be My Baby."
Marty talked about the people of Pine Ridge, South Dakota and how dear to his heart they were. He said he fell in love with them in the 80's when he was touring with Johnny Cash. He mentioned the Badlands' CD that will be out in October. He also talked about how people thought casinos were the savior of the Indian Reservations when they really aren't. He sang a song he wrote about it called "Casino," which will appear on the upcoming album.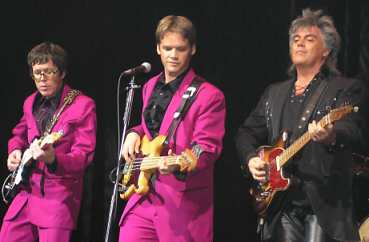 Then he said that people have been asking him for 10 years to record a gospel album. So after, 30 years, he finally did. Marty said they wanted to sing three songs off Souls' Chapel. He sang, "The Gospel Story Of Noah's Ark," Harry sang lead on "Slow Train," and then they sang "There's A Rainbow At The End of Every Storm." The set closed out with "Hillbilly Rock."
The audience definitely wanted more. Marty came back on stage (minus his jacket) with his mandolin and played a mandolin solo. Then he went into "The Pilgrim." Marty picked up the acoustic guitar and talked about living near the train tracks in Philadelphia, Mississippi and how he used to go down there and talk with the men that hung out by the tracks. He said he talked one with a man with strange hair, strange clothes, who had been to Arkansas and Alabama. Marty asked what he was and he said a hobo. "so I told my mama that's what I wanted to be. I got strange hair, strange clothes, and I've been to Arkansas and Alabama. I'm a hobo!" He sang "Hobo's Prayer." The Fabulous Superlatives came back on stage and Connie joined them on "The Weight."
Marty and Connie signed autographs at the merchandise table. Mario and I were able to visit with friends (and fellow Marty fans). All too soon, we are shooed out the door by employees wanting to close up the theater for the night. It really was great seeing Marty and the Fabulous Superlatives again.
Click here to view more pictures of Connie, Marty and the Fabulous Superlatives
Review and pictures by Sherry Mattioli, Nashville, TN