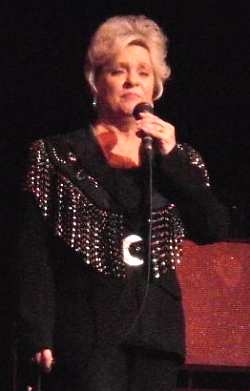 My husband Joey Totty and myself got to see Connie Smith and Marty Stuart in Paducah, Kentucky on January 25, 2013 at the Carson Center.

The seating was great. Seven rows from the stage, Still could see the stage just fine. As we were seated, I saw a friend from our hometown Mayfield, Kentucky. Wasn't sure if it was him till I looked again. He asked, "What are you all doing here?" I replied, "Same thing you both are doing here. Did you forget we are Marty fans?"

Connie opened for Marty. Sang songs from her CD's and some of her hits as well. She looked great in a black suit. The top had so many pretty fringes on it. She was beautiful. When she sang "Once A Day," she did two versions -- her version and a version that Loretta Lynn does, and she imitated Loretta. Sounded just like her. She also did a couple of gospel songs, too. The second song was "There Will Be Peace In The Valley." I love to hear her sing that.

In the early part of her show, she did the song, "Run Away Little Tears." Just love to hear her do that as well. She introduced her band members and one of the guitar players, Rod Hamm, sang a Merle Haggard tune.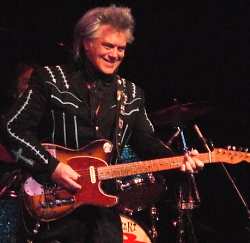 Every one in the audience loved Connie and so did we!!!!! Connie's guitar player said that they were gonna do a meet and greet in the lobby.

Had little intermission before Marty came on to perform.

When it was time for Marty's show, the local man that owns Kentucky Opry in Draffenville, Kentucky, Clay Campbell, introduced Marty and the Fabulous Superlatives. He said, quote, "Here is MARTY STUART & HIS FABULOUS SUPERLATIVES."

Lots of hand clapping, and screaming. Yes I was on of those.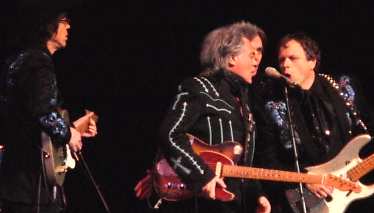 Marty and the guys sang lots of hits and even some old songs. I do remember they sang, "The Whiskey Ain't Workin'," "This One's Gonna Hurt You" and during this song Marty tried to sound like Travis Tritt to me.

Marty mentioned that they drove up on the ice to come to Paducah, Kentucky to have a show for everyone there. They did The Marty Stuart Show theme song. "Skip A Rope." They did a Marty Robbins tune, because before he did it, he mentioned he was named after Marty Robbins, and since Connie did her song in Loretta Lynn's version, he neeeded to do a Marty Robbins song.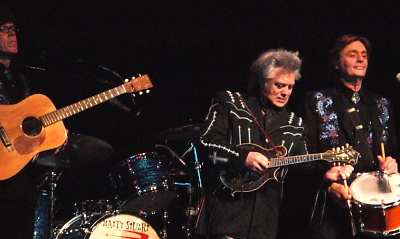 He introduced the band members. Had Kenny Vaughan sing a song, "Country Music's Got A Hold On Me." Everyone liked it lots. Then Kenny did another song, "Hot Like That." Apostle Paul sang a song. It was a nice song. Sorry can't remember the name, He was mentioned in the introduction he was from Kentucky. After he finished, Marty had Harry and Apostle Paul change instruments, and Handsome Harry sung a song


Then sometime in the show, Paducah, Kentucky was mentioned by Marty. He talked about the Executive Inn and that the last time he was in Paducah, Kentucky, they were there and that he must have closed that place down. All the audience laughed.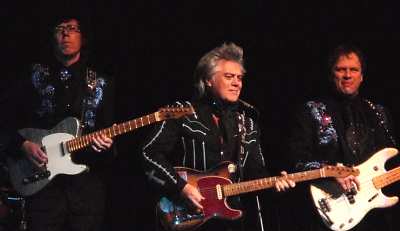 The band left the stage for a bit, and Marty played his mandolin by himself, the "Marty Stuart Visits The Moon" instrumental. Just love it when he plays his mandolin. Then the band came out, and Harry used a snare drum and they did three gospel songs. All of them pretty. After the third song, Marty yelled, "Goodnight everybody." Totally AWESOME CONCERT!!!!!!!

He did speak very highly of the Carson Center.

Joey and I left and went to the lobby for the Meet and Greet. While waiting in the line, we got be up front before others came out, Marty and the guys did come back out for encores. They did "Burn Me Down," "Hillbilly Rock," and the last song was "Tear The Woodpile Down."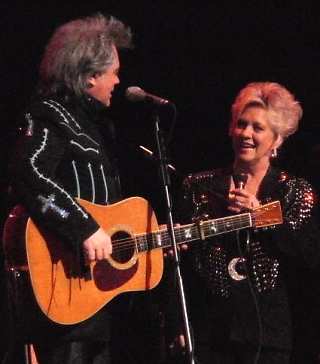 When it was time for them to come out for the Meet and Greet, lots of people just watched that weren't in the line to meet them. We were 6th in the line. Joey talked to Connie first. He bought a new photo of her and had her sign it, and then talked to Marty. He called Joey by his name and said "hi" to him and signed the Nashville, Volume 1: Tear The Woodpile Down CD cover.

Then it was time for me. I spoke to Connie and told her I just loved her show!!!!! Had her sign the ticket from the Carson Center. Then it was time to talk to Marty, and he said, "Hi Evelyn," and I had him sign my ticket too, plus a painted poster a friend did for me, and he just loved it, and showed it to Connie, and so did she. They asked me who painted it and I told them. On the painting, Marty wrote, "To Evelyn. Love, Marty Stuart."

I had him also sign a old photo for a friend of mine that he met in Nashville. Marty never has forgotten me and Joey. He still remembers us and our name every time we go, even if we don't get to go all the time.

When leaving, Marty said, "Bye Ev," and as I walked away pushing Joey in his wheelchair, a lady said to me, "He knows your name. How did you rate that?" I replied, "I don't know. He just does."

Review and photos by Evelyn Totty, Mayfield, Kentucky