Okay, everybody, here goes nothin'. After four shows in a row, I may not remember all of what happened at which show, so please forgive me for any fuzzy spots! This is not going to be a formal review, just what I can think of right now.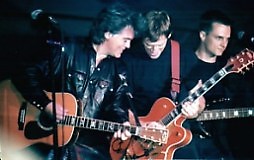 We got to Lancaster, PA about 4 p.m. and went to see if we could find anybody. Said "hi" to a couple of the guys, but security wasn't letting anybody hang around for long. After a while, more Marty fans arrived and we stood around talking in the parking lot until showtime. The opening band, to be extremely polite, was not the greatest. But then Marty and the guys came on, and they were incredible as always. They did a few of the new songs, including "Red Red Wine and Cheatin' Songs" and "Hobo's Prayer". Marty said "Hobo's Prayer" is going to be on the new album...I hope so!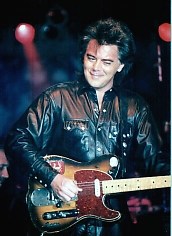 Like I said, I don't remember every detail, but I know Marty and Brad did "Soldiers Joy". They are both so good. I never get tired of seeing them play. Pam Tillis closed the show for Marty that night, but we didn't stay and watch her. We were going to go back and see part of her show, but it was really hot in there. So we talked to Jimmy for a while, and then went back outside. Funny, we ran into Pat Johnson and her friends out there. : )
We got to the fair in Bath, NY about 2 p.m., thinking, since it was reserved seats, we could see the fair. As it turns out, we could have waited. There wasn't a whole lot to see. We had front row for both shows, but the track was between front row and the stage, so it was a ways back. Still good though. There was no one between us and them!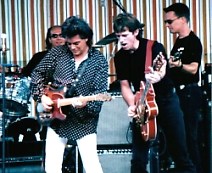 The first show was kind of short, but one of the most fun I've seen in a while. They were obviously having a blast with this show. They did a few older songs we hadn't heard in quite a while (somebody help me, I can't remember which ones), one was "Tonight The Bottle Let Me Down." Margie had asked Marty to do some old stuff the day before....I wonder if that helped? They did "Soldiers Joy" again and "Clyde" (Steve Played Electric Bass) which is always awesome. Who but Marty would do so much to show off their band? Of course, they certainly deserve it, they're all such great musicians.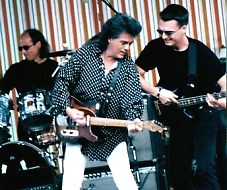 The second show was a little longer, and they were still having a lot of fun. One song in particular that I do remember from the second show is Waylon's "Amanda." It was absolutely beautiful. Marty and Brad sounded so incredible together on that song. The harmony was just perfect. It's always been a great song, but once again Marty made a great song even better.
Indian Ranch in Webster, MA was probably the best venue of the weekend. Of course, I may be prejudiced because it's so close to home! They have shady picnic areas (with BBQ grills), a lake if you want to swim, and it's all fairly close together. You can sit at your picnic table and still see what's going on.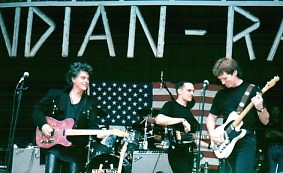 My daughter came to this show. It was her first time seeing Marty. (She's eight) She just loved it. She's been wanting to see him for so long, but everything's been either too far or too late. She was clapping and dancing and singing along, obviously having the time of her life. I could see Marty and the guys smiling down at her a few times. It was really cool. She wasn't shy at all when she met him. Got her shirt signed and gave him a great big hug. Got a hug from Mike, too. (Now where do you suppose she learned that?) Okay, sorry, enough of the rambling mommy stuff!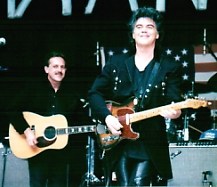 The show was great, as usual. They must have been getting tired (I know I was) but they didn't show it much. They were still joking around and having fun. They did "Western Girls" which we hadn't heard in a while, and Marty did "The Way it Used To Be." He also did "I Can't Help Falling in Love With You" on his mandolin and asked the audience to do the singing. It was really nice, but it can't top the fan club party where everyone sang it without being asked. They did some more older ones, but I'm going to need help from someone who wrote down the set list!

Review and photos by Judy Brodmerkle