Marty performed two shows. The showroom is intimate, there are tables right up at the stage and Marty always puts on wonderful shows.

It appears that Marty has revamped his show. He opened the first show with "Hey Baby," then went into "Doin' My Time" and "The Whiskey Ain't Workin' Anymore." His voice sounded a little strained. He told the story of how he and Travis Tritt got together on that song and continued with the banker joke that we've heard countless times (which is always funny and gets a good response from the crowd). He also performed "Country Girls," "That's What Love's About," "Honky Tonkin's What I Do Best," "Steve Played Electric Bass" (which also featured a great drum solo from Gregg), "Oh, What A Silent Night," "Burn Me Down," "This One's Gonna Hurt you," and "Tempted." He then got back into a Waylon Jennings mood and performed "You Asked Me To." Next, Brad and Marty did their acoustic duet. Are those two talented or what? The last song was "Hillbilly Rock." Since the show had started late, the only song performed for the encore was "Last Date," which featured Gary Hogue on steel guitar and Marty on acoustic guitar.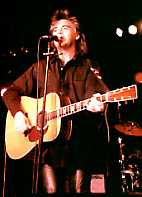 Marty did a LOT of talking and joke telling. He has wonderful stories to tell and I'd sure like to see them put into a book. (Marty told me years ago that he just doesn't have the time to do it).

Marty met with fan club members between shows. The line is always long there as it seems to be a good central location for the fans from Illinois, Indiana, Ohio, Missouri, Kentucky and Tennessee. Time sure seems to go fast when you're up there next to Marty!

The second show is always the better of the two. He opened with "Little Things," then sang "Till I Found You," "The Wild One," and "The Whiskey Ain't Workin'." Someone in the audience yelled out a line to a song and Marty sang "The Weight." It was not on the song list and he couldn't remember some of the words. It got him into a "request" mode and the audience yelled out song title after song title. He performed Steve Earle's "My Old Friend The Blues" before going back to the requested songs, which included "Don't Be Cruel" and "Rocket Ship."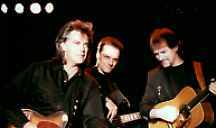 Probably, the highlight of the second show was Marty's mandolin instrumental of "Can't Help Falling In Love." He said the band had worked up the song to perform for a TV special on Elvis (during Elvis Presley week in August). Marty thought the show would pay tribute to Elvis and was glad to be a part of it. Then he realized it was going to be a show that made fun of Elvis and he wanted nothing to do with that. The irony of this song is that the audience did the singing!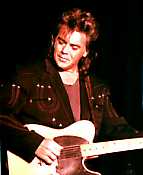 Marty also performed "Body and Soul," "Burn Me Down," and "Mama Tried." He also talked about how it wouldn't be five days before we go into Wal-Mart and see Christmas trees. He said he and the Rock and Roll Cowboys wanted to be the first ones to wish us a "very Merry Christmas." He then sang "Even Santa Claus Gets The Blues." He also did a shortened, "Me, Hank and Jumpin' Jack Flash" before launching into "Rocket Ship" and then sang "You Asked Me To" and "Shake Your Hips." The encore consisted of "As Long As I Have Jesus, I Can Face Tomorrow" and another Waylon Jennings song, "Are You Ready For The Country."
He did joke telling again, this time making Mark Collie and Steven Seagal, his co-stars in the movie "Fire Down Below," the stars of his jokes.
Review written by Sherry Mattioli
Photos taken by Mario Mattioli