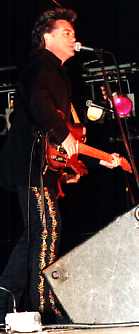 At last, a Marty concert. It had been a very, very long time! The show room at the Executive Inn is a great venue. Mario and I have seen Marty there many times. It's very much like a Las Vegas show room with tables at the stage and booths that are stepped up at the back of the room. The trip from Nashville takes about 2-1/2 hours.

My dear friend, Mary Runyan, drove over from Dayton, TN to ride up with us. I did call the Executive Inn prior to leaving to make sure the show was still on and Denise told me, "Honey, he's on his way." So were we!!!

I was very anxious to meet some of the Martypals that were going to be there and happened to run into June Yovanovich and her husband Jay in the lobby. We stood and chatted for several minutes. Maria-Elena came down the hallway to an elevator. We said "hi" and she said she was playing "roadie" for the night (and she really meant it).

It was a few hours until show time. Not a lot of people there. Margie Brodmerkle and Ellie Viscione from Massachusetts were sitting in some chairs and Margie Sullivan from Smyrna, TN was with them. I walked up to the show room doors (which were now glass thanks to a recent renovation) and could see Brad on stage and someone was banging on the bass drum. Noticed Rashelle (Brad's wife and their two kids). Saw Jodee and Gregg. Since Gregg was talking to us, WHO was on the drums???? Gregg is still working with Lorrie Morgan and also does the landscaping business with Steve. Sounds like a "busy man."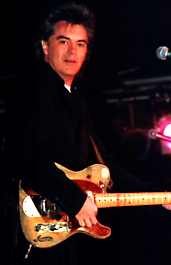 Mario was hungry, so we went into the restaurant for an early dinner. Martypals Evelyn Totty and Judy Trickett came in and were seated at a table a long ways away from us. Martypal Sheila Walters and her friend Donna popped in and came over to talk. I spoke with Evelyn and Judy on my way out of the restaurant. As luck would have it, Marty came in to eat after we'd left.
There's not much to do but wait......and wait......and wait.......and wait. We enjoyed hearing soundcheck. It didn't sound very good! They kept starting one of the songs over and over and over again. When we'd seen Jodee earlier, she mentioned that Steve had not arrived yet. He did get there for the end of soundcheck.
Evelyn's review alluded to the prom being held in a room next to the show room. Yes, we saw lots of young, beautiful girls....in an array of sizes (from anorexicly thin, to pleasantly plump). Just the fashion show of the dresses was fun to watch. We were certainly underdressed compared to them. Jeans and Marty t-shirts.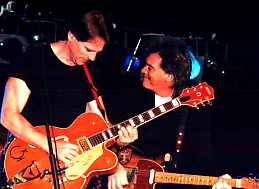 The doors finally opened about 7 p.m. and we were ushered to our seats, which were at a table way at the end of the stage. The center tables had been reserved for those who had taken the VIP gold package that included a 2-night stay at the hotel. The table next to us remained empty throughout the show.
Part of the joy of going to a Marty show is meeting up with all our friends. Martypals Cindy Allred and Kim Moore were also there, as well as Glenda and Clarence Rummell; Gary, Barb and Melanie Renfro; Lisa Phillips, Lisa Sammons, Terri Staggard and Ray. Folks had traveled far and wide and, even just saying "hello" or getting a quick hug was so enjoyable.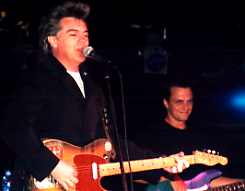 Finally showtime!!! Marty, Brad, Steve and Gregg came out on stage. The Rock and Roll Cowboys were dressed in black t-shirts and jeans. Marty came out in a black jacket, a white t-shirt, and black pants with rhinestoned designs that ran down the outside side of the pants (cuffs were cut for his boots). They opened with "Hillbilly Highway" and went right into "Hey Baby." The crowd was excited. Mario moved up to the vacant table next to us to take better pictures as we had a stage light that was shining directly in our faces. Mary Runyan, who had been sitting at the table behind us, moved up to an empty seat by me. The room was about 3/4 full.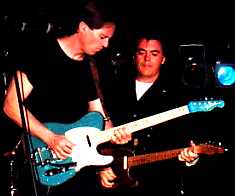 "Howdy," Marty yells. "We're happy to be here. This is the third show we've played in a year-and-a half. We're ready. We're rested up. We're about to terrorize the world. Here we go! So....same ole songs. Got a few new ones. Same ole guitar........still out of tune (as he was tuning the guitar). And I wanna hear the same ole 'Well.......' out of you guys." They went into "The Whiskey Ain't Workin'. Marty was not very talkative and went right into "Little Things."
After the song, a gal went up and gave Marty a rose. She got a kiss and he said, "Ya'll with that high school prom bunch?" She nodded "no." Marty says, "Young at heart." Marty than sang a new song called "I Don't Want No Other Baby But You." It sounded great. Mary Runyan, who was now sitting beside me said, "Bob Dylan's rubbing off on him." They went into "Tempted" where Marty's voice failed him. He had Brad harmonize on the rest of the song with him. (The pollen count is high these days and causing a lot of people problems with their throats.)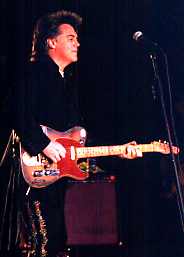 Marty says, "Let's go swimmin'." (The Ohio River is "under" the show room). "That river's so clean." (They do not allow swimming in the river.) Marty was tuning the guitar and decided to tell a joke. "Did you hear about the hummingbird jacked up on Viagra?" Last time they saw him, he was chasing a helicopter." He added, "That's all I've learned in a year." Marty got on a kick of saying "Precious, precious, that's so precious. I refuse to take this seriously. This, I take seriously. I love this song." He starts the intro to "Blue Train." He talked about it being a mystery train and you didn't need to no ticket to ride this train. "The only thing you gotta have is a bad case of the blues."
I need to note that Marty did travel "light" this trip. His sound engineer, Les Banks, played guitar tech and roadie for the night. He was the one responsible for handing Marty the proper instrument for a song. It didn't always work out and Marty was "calling" for his instruments and calling him "Lester."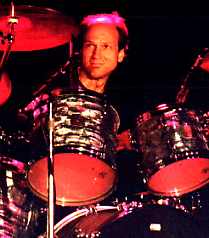 Marty then introduced the band. "Would you please welcome Mr. Steve Arnold on the bass guitar. The lovely and tanned up Mr. Gregg Stocki on the drums. How about a hand for the Stock. And Mr. Brad Davis, Jr. on the electrical guitar. And my name's Marty and I'm glad to be here." The next song was "Just To Satisfy You."
"I was raised down in Mississippi where I found myself over the past year going home a lot. Fell back in love with the pine trees and the people. It brought back the memory of a song I wrote seven or eight years....one that Travis cut. I was sitting on the beach in Barbados, writin' this song and I didn't have a bit of sympathy for myself. It's called 'Hard Times and Misery'." This is one hard-driving song that I wish Marty had recorded instead of Travis (although Marty did sing the song with Travis on his album). Someone in the audience yelled "You're back." Marty says, "I ain't never gone nowhere."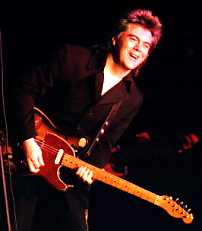 "Song that Tom Petty wrote. I wish I'd wrote this song. (While Brad tuned the guitar). "You just got to bear with us. We've got to tune for a while. Ya'll talk amongst yourselves. Thank you very much." The song is "Southern Accent." After performing the song, Marty says, "My last album was an album called The Pilgrim. Here's a song on the album that I love that's a honky tonk song. And I love honky tonk songs and this is a perfect Saturday night kind of thing called 'Red, Red Wine and Cheatin' Songs'."
Someone from the audience (the same guy who had been up to the stage several times taking pictures, dancing, raising his hands, yelling at Marty.....this guy was feeling no pain) brought Marty up a glass. Marty says, "Is that a drink? I can't drink? The whiskey ain't workin' no more. But thank you anyhow." The guy kept wanting Marty to take a sip and Marty said, "I can't, but thank ya." I don't really understand why people at these shows feel they have to be inebriated in order to have a good time. The guy was a pain in the you-know-what and very distracting to the crowd and Marty as he always seemed to be right up there by the stage.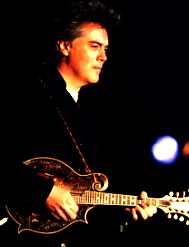 Marty then wanted the audience to sing with him on "Ring of Fire." I think we all had a grand time doing that. The crowd just went wild after the song. Marty says, "Cut loose. Go ahead. I can handle it. I can take it." Of course the crowd just roared louder. Les brought out the mandolin and Marty performed "Dark As A Dungeon." This is the song where he just pushes the mandolin to his side and makes these hand gestures to go along with the song. The band went right into "Western Girls." He never changed it to "Kentucky girls" or "Owensboro girls" like he usually does. They went right into "Now That's Country."
Marty then asked "Whatcha wanna hear?" That always brings out dozens of song titles. The inebriated gentleman (?) was whooping and hollering through the night, yelling out titles to Marty. Marty decided on "Rocketship." They went right into "Hillbilly Rock." That usually signals the end of the main show. Marty said "Thank you very much everyone for making us feel at home here tonight." and left the stage. The crowd clapped and whooped until Marty and the boys came back onstage.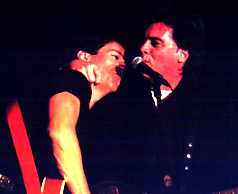 Marty threw a towel and said, "Did you catch it Clarence?" Glenda and Clarence were sitting front and center. I think it went over Clarence's head. Marty said, "Talk to me. Whatcha wanna hear?" Song titles were yelled out and he heard "Me, Hank and Jumpin' Jack Flash." So Marty goes into the song saying, "Last night I dreamed I went to Hillbilly Heaven. Oh what a beautiful sight. St. Peter came up to me and said 'who do you wanna see' so I began to think. And I said, 'Sir, why don't you call up the main man. I want to see if Hank Williams is here.' And just as sure as I was dreamin' and just as sure as I was born, around my neck came this long skinny arm. He said, 'Howdy Hoss, my name is Hank. What brings you here' and I started to think. I said 'Sir, I came up here on a whim and a dare' and he said 'that's all right just don't forget where you come from and why don't you sit down and sing me that 'Hobo's Prayer'." Marty said he wrote the song for all the hobos of the world. "Cuttin-edge transients, ain't got no home. Those who are just lost inside themselves. I know what they're talking' about. This song's for you."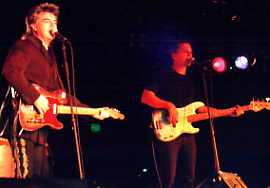 With one final bow, the show was over. Marty shook hands from one end of the stage to the other. Margie Sullivan got her hair ruffled by Marty. Then it was time to line up for the fan club meet and greet. I've seen the line go across the show room and way up the side aisle toward the back. Several hundred fan club members would come to this show. On this night, the line would barely reach halfway across the room.
Marty came out in the same clothes he wore on stage. They didn't have a bus. Everyone drove themselves to the show. Nobody checked for fan club cards. Jodee commented, "Nobody would stand in this line except fan club members." There was one guy working security standing near Marty. They allowed you to have your picture taken with Marty and Marty took his time with each person. I'm sure he loved the hugs and kisses as much as the fans.
As we walked back by the stage, Les and Maria-Elena were tearing things down. We said "hi" to Les and commented on his "helper." I didn't get a chance to talk with anybody in the band except Gregg. Said "Hi" to Brad and told Steve I was glad he finally made it. We said our "goodbyes" to some friends and started on our journey back to Nashville. It was so great seeing a Marty concert again and meeting up with friends.
Review by Sherry Mattioli
Photos by Mario Mattioli