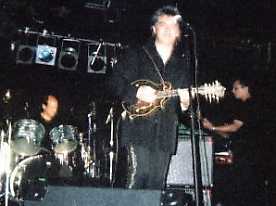 WOW!!!!! What a concert!!!!! MARTY IN OWENSBORO.

Judy and I arrived at the Executive Inn around 4 p.m. We ran in to Jodee and Elliott in the lobby and talked with them for a few minutes after picking up our tickets. Saw Glenda and Clarence arriving the same time. They are avid Marty fans as well!

We decided to go eat in the dining area. Saw Sherry, Mario, Mary R., met June, and a couple of other Marty fans as well. We talked to them for a bit. After they left, wouldn't you know who came in the dining room/restaurant to eat. None other than MR. STUART himself. He talked to me and Judy for a few minutes. Maria-Elena and some other guy was with him. Get this, I told him up front, "You are so good looking!" And he replied, "Na". Judy and I both told him, "Yes you are!" Marty was dressed casual in the restaurant, white khaki pants, and a black t-shirt, long sleeved. And that hair! WOW!!!!!

Then after we ate, we went to the showroom and waited for the doors to open, of course. (Evelyn forgot to mention that Marty was doing soundcheck and you could watch through the glass doors to the showroom.)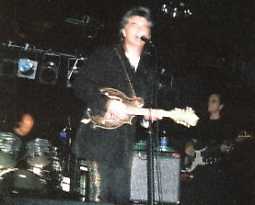 SherryM, MaryR, and Mario it was terrific talking with you all last night! And June, terrific meeting you!

There was a prom last night in the bar area next to the show room. Judy and I saw lots of girls in beautiful dresses while we were waiting for the door to open to see Marty.

When it was time to enter the show room, we found a good seat for general admission. Before time for Marty to come on, saw Cindy Allred, and her friend Lisa, and met Kim M. Great meeting you KimM. And of course always great seeing you Cindy too, my buddy!

There was a dj there playing music and, of course, he kept announcing Marty would be out to perform later.

When it was time for Marty to perform, whew, what a living doll. He had on a new suit. Well to me it was new! It looked like black jacket, white shirt, and black pants that had gold and red roses. Looked liked that to me.

I can't remember all the songs off hand in order. Judy can some. She will send a review on Monday.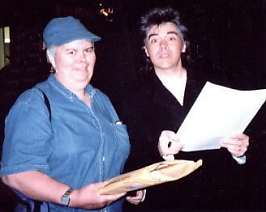 When it was time for the meet'n'greet, I was kind of disappointed. We got in the front of the line, and got interrupted, from several people, so we didn't get to talk to Marty much. Just hugs, kisses, pic taken with him, and autograph. Oh well. As I was waiting to give him a final hug, someone from behind interrupted with a guitar they wanted him to sign, I turned completely around and watched Marty sign it, then I gave him a big hug, and a kiss goodbye.

But, I had a great time seeing Marty, and being with the Martypals that were there.

LOVE THAT MAN!!!!!

Review by Evelyn Totty, Mayfield, Kentucky