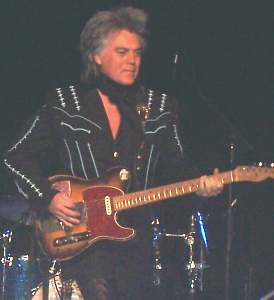 We got to the casino about 6 p.m., picked up our tickets, and found the ballroom. The line was already about 60 to 75 people, so we took our place and waited. None of the people around us had seen Marty before, but had been to other concerts there. We talked about how we all watch the TV show and agreed it should be an hour long show. By the time the doors opened (6:45 p.m.) the line behind us had really grown. As we filed in, I said let's get as close to the front as we can. Sixth row, center proved to be perfect seats.

A young girl came on stage to announce them and had a little trouble pronouncing "Superlatives", so we all laughed a bit at that. They took the stage right on time (7:30 p.m.). Marty wore his usual black leather pants. He had on a black jacket with white stitching and crosses on the upper sleeve and back, and a black scarf tied around his neck. The Superlatives were dressed in black suits trimmed in blue floral appliques. Very sharp looking!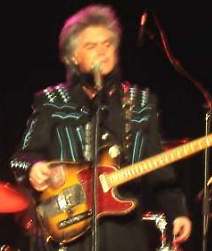 They played for a good hour, came back for a one song encore ("Hillbilly Rock"), then went out to the merchandise table for photos and autographs (I got both) but it was crowded and felt rushed. I can't begin to name the songs, but they did "Tempted," "Farmers Blues," "Bluegrass Express" and they played the instrumental that they play on the TV shows ending ("La Tingo Tango"). He mentioned that a couple more shows would air, then reruns will play over the summer, then they will be back in the studio to do it all again (yeah, another season). He told the Mr. Cobb story and sang "The Whiskey Ain't Workin' ". Marty pulled out his mandolin for a couple gospel songs (one was "The Unseen Hand"), and an awesome instrumental solo. All the guys had their solo time too. At one point someone yelled for Connie to come out, but he said she was playing the Opry tonight, but she had played here before and would be back again.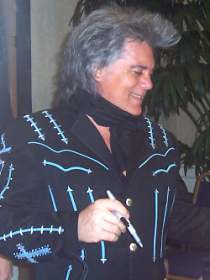 When they came back for the encore Kenny held up the 4 CD's, and Marty showed his book and said they would be out at the table selling them and signing autographs. That's all they had for sale (the books were selling for $125.00). People were buying. It was a jumbled mess out in the lobby. People trying to leave, people trying to get in line, people coming for the next show, and no rhyme or reason to any of it. I took my Hatch print for Marty to sign (remember when the fan club disbanded and they sent them to us back in 2003). He asked my name and how to spell it. Kevin took our picture and I said "great show" and moved on. If people weren't buying, they were just taking pictures (with their cameras) or having him autograph their ticket stub.

It was wonderful to see a Marty show again after several years. He loves what he does and it shows. We will always be fans.

Review and photos by Lori Shirley