Marty performed at the GEO Theater at Opryland On Wednesday, July 23. This was our first chance to see Marty in a real concert setting since December 31. It was a hot night in more ways than one. The temperature outside was in the 90's, inside the theater it was nearly 100 degrees and on stage with all the lights it had to be 130.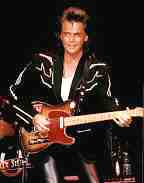 Marty and the Rock & Roll Cowboys put on a great show, as usual. This show seemed to showcase the guys particularly well. The songs varied from pure bluegrass (on which Marty played mandolin) such as "Oh What A Silent Night" and "Body and Soul," to the singles "Western Girls," "Kiss Me, I'm Gone," "The Whiskey Ain't Workin'," "Tempted," "That's What Love's About," "Hey Baby," "This One's Gonna Hurt You," "Now That's Country," and "Hillbilly Rock."

He also performed a new version of "Me, Hank and Jumpin' Jack Flash" going into "High On A Mountain Top." He's performed it on the Opry a few times. It's a terrific new arrangement. Marty always seems to find a way to change the way he performs a song--new guitar lick or a new ending. It keeps the show fresh. He also performed "Doin' My Time," "Country Girls," "Steve Played Electric Bass," "Sweet Love," "Back To the Country" and closed again with the new gospel song he's written.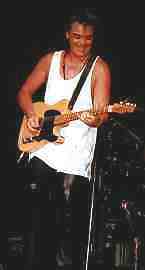 Marty and Brad did an acoustic instrumental which sounded to me to be a blend of several songs. It was during this song that Steve, Gary and Gregg decided to shed their jackets. The audience was fanning themselves--we were hot. They had to be. When Marty and the band came back on stage for an encore, Marty and Brad had shed their jackets as well.
This show was one of the best I've ever seen. Marty and the band just keeping getting better and better. Marty met with fan club members after the show. The line was long and we were near the end of it! It was a chance to offer my congratulations to Marty and wish him and Connie all the happiness in the world. When I told him, "it's about time," he said, "It was about time."
Review written by Sherry Mattioli
Photos taken by Mario Mattioli