They'd been forecasting rain for the day and they were right. It was raining/drizzling all day and very gloomy. I was glad it was a short drive for a change--only an hour and a half. We got to the fairgrounds and found where the show was. There were grandstand seats which were covered, but we'd gotten track seats and we'd brought our rain gear and decided to stick it out.
When we were waiting around, I saw Mike Copelin doing a radio interview and went over but it was done by the time I got there. I talked with him for a couple of minutes and found out that Marty was supposed to have done the radio interview but wasn't there yet. He and Connie had been at Roy Huskey's funeral in Nashville that afternoon and were flying in for the show--literally at the last minute.

Of course, I was glad he was still coming for the show, but I wouldn't have blamed him if this one had been canceled. What a way to make a living--to lose a friend, be at their funeral, and then fly off to entertain a bunch of people! Mike said that Marty would still have a meet and greet after the show, too. Now that was above and beyond the call of duty!

Marty did get there and the show started just a few minutes late. It was still raining but the crowd was sure glad to see him anyway. It was a really wonderful show. There was no way you would have ever known that it was anything except an ordinary day except that Marty apologized for being late and said why. He really looked great, though, and when the show was going on, he was the same old Marty, laughing and joking with the crowd.

The music was exceptional! As has been usual for this year's shows, he showcased each of the band members in a number during the show, except for Gary this time--and you know how much I love steel guitar! They finished the show, left the stage, and then came back for an encore. The first song of the encore was a number with Gary. Then, unexpectedly (and don't we always count on Marty for the unexpected?), he introduced Connie who had been standing near Les at the side of the stage. She looked reluctant to come out but did, and they looked very happy together.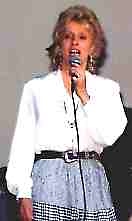 Marty was just beaming and gave her a couple of kisses. Probably stopped the hearts of a few ladies in the crowd but, for the most part, everyone was cheering and enjoying it very much. Then Marty asked her to sing a number with him and they sang "Till I Found You." Then Connie sang "Once A Day" and "How Great Thou Art" with Marty and the band accompanying her. It was incredible. The crowd just loved it and applauded and screamed in appreciation! Of course, if there's any place that Connie would be welcome, it's in the Ohio Valley.When I saw Marty after the show at the meet and greet, I thought he seemed a bit tired, but he was, as usual, very much the gentleman, and took time to talk to each person. Considering the hectic schedule he had the next few days, I thought it was just remarkable, especially after that long, exhausting day.
Review and Photos by Mel Angel